Black and yellow office space of Pocket Change designed in their signature colors, located in San Francisco, was updated with creative ideas of Blitz architects. For more images and architects' description continue after the jump:
From the Architects:
Situated in the modern, urban, tech-centric SOMA neighborhood of San Francisco, Pocket Change's new office is hip and eye-catching. Large windows flood the space with natural light while brick walls add classic San Francisco charm. In designing this space to meet the team's needs, Blitz created not only open office workspace, on-brand meeting rooms, and a dining area, but also a fully functional, custom bar that is visible to pedestrians from the street. Blitz completed the project in less than six weeks and worked with the client to keep the budget small and the impact big. The result is a functional, energetic space that feels like home to Pocket Change's mobile, laid-back team.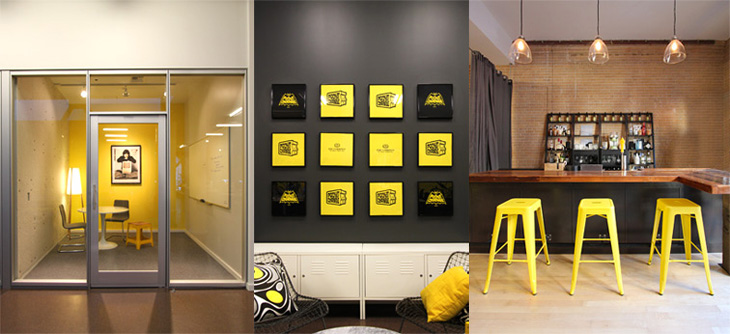 Fostering a sense of community is important to the Pocket Change team. As a result, the team dines family-style in a communal dining area, and team members share desks. No one has a separate office, so Blitz added meeting rooms to accommodate conferences and the occasional need for privacy. Warm lighting, glass walls, and simple decor give these rooms an inviting appearance, while carpeting and noise-reducing materials provide the spaces with privacy.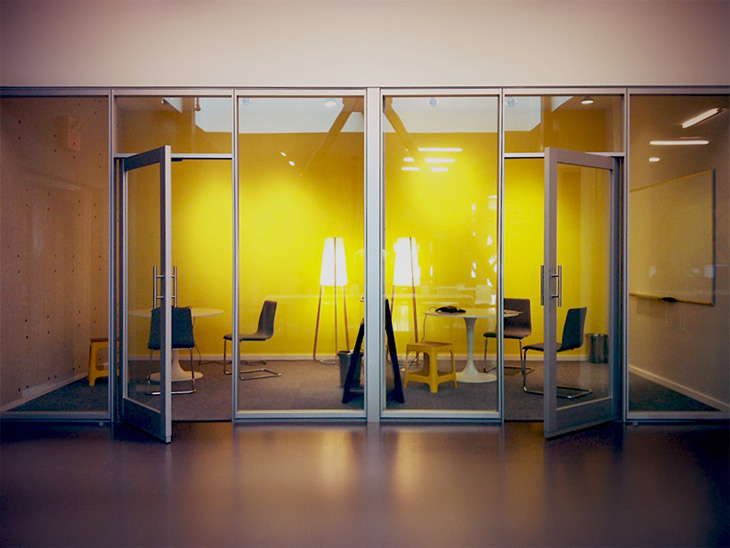 Blitz used several methods to keep costs low, including limiting new finishes such as carpet to select areas where noise reduction was needed, and strategically placing small but impactful design vignettes throughout. Blitz also added rustic fixtures like the moose trophy in a nod to the traditional style of a hunting lodge bar, but updated everything with fresh colors to give the decor a modern twist.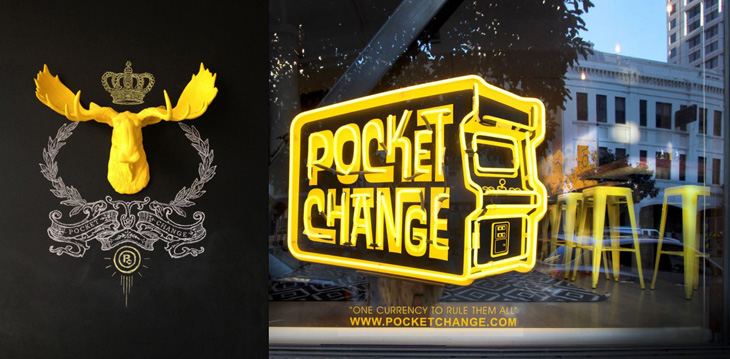 Blitz worked with Pocket Change's in-house graphic artist to produce their custom sign, resulting in a wonderful collabo- ration between client and architect.
Project: Pocket Change
Designed by Blitz
Location: San Francisco, California, USA
Website: www.designblitzsf.com