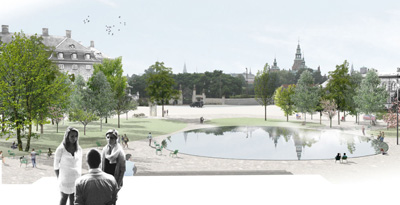 Project: New garden for National Art Gallery
Designed by Karres en Brands & Polyform Architects
Location: Copenhagen, Denmark
Website: www.karresenbrands.nl & www.polyformarkitekter.dk
National Art Gallery in Copenhagen gets a new garden designed by Karres en Brands & Polyform Architects selected for the task in an international competition.
From the Architects:
Karres en Brands and Polyform Architects have won the international competition for redesigning the Museum Garden of the Statens Museum for Kunst in Copenhagen. Their entry 'SMK tilbage i Parken' ('SMK back in the park') is based on the concept of connecting the museum garden with the neighbouring park Østre Anlæg, where, in the current situation, it turns its back on. By doing so, the SMK will be embedded into the park and the Museum Garden becomes the new entrance area for both the SMK and Østre Anlæg.
The design is simple and flexible, yet full of character. It invites visitors, artists and passers-by to multiple uses. The heart of the design is a 'socle': an unique water feature that can be used as a flexible stage for the museum, city life and many other activities. The Museum Garden will have an explicit green character thanks to the spacious lawns and vast planting of indigenous tree species. By the arrangement of spatial elements the garden becomes an intermediary between collection, museum, park and city.
Source WorldArchitectureNews. *