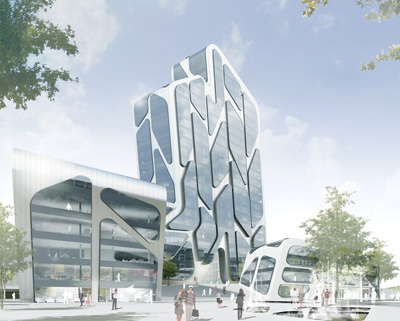 Project: "Quartier M"
Designed by Jürgen Mayer H. Architects
Investor: Lorac Investment Management, Luxemburg
Structure and facade planning: Knippers Helbig, Stuttgart
Climate and energy concept: Transsolar, Stuttgart
Traffic consultant: GRI Gesellschaft für Gesamtverkehrsplanung, Berlin
Location: Dusseldorf, Germany
Website: www.jmayerh.de
German practice Jürgen Mayer H. Architects shares with us their proposal design for Quartier M in Dusseldorf, which is one of two winning projects in the competition. This massive project accommodates office space in three building blocks, hotel and housing, construction date is set for 2014.
From the Architects:
In a three-level peer review process that resulted in two first-prize winners, an urban planning concept was developed for the area of what was once the post office on Erkrather Strasse. The so-called "Quartier M" is to serve as the future link between the Hauptbahnhof central station and Tanzhaus NRW/Capitol, becoming a lively city quarter for living and working. In addition to offices and a hotel, the trend-setting urban design also provides for both privately financed and government subsidized public housing.
Other plans include space for a day care center for children and service providers for the quarter.
The urban plan for "Quartier M" in Düsseldorf envisions three building blocks. The office of J. MAYER H. – one of the two prizewinners – will realize the commercial block including the office/hotel high rise. The planned high rise will grow like a sculpture from one of the enclosing peripheral developments. A peripheral structure unifies the "Quartier M" as a cohesive urban plan, creating a striking conclusion to the city's cultural boulevard. The required pre-construction planning proceedings are scheduled for completion in mid-2014.
The area that has until recently been used as a Deutsche Post AG/DHL distribution center in the immediate vicinity of the Düsseldorf Hauptbahnhof will no longer be needed in the foreseeable future. With it, this 38,075 square meter area is subject to a new urban development opportunity. The existing "functional architecture" building substance will be torn down, with the exception of an administration building on Erkrather Strasse, which is integrated into the concept as a whole and made available for new, additional forms of use.
The city of Düsseldorf stands to gain a number of positive points through this development of this centrally-located, downtown area: Düsseldorf will have a unique new district characterized not only by a lively and contemporary mix of uses, but also a high urbanity factor. Besides residential living options, the urban planning program will also open up a number of tightly integrated, reliable job opportunities geared toward the service metropolis Düsseldorf. Other planned attractions include a special quarter suppliers' area with gastronomy options, a 3-star category + theme hotel and integrated health and wellness facilities. Linked to the DB-trains and public transport, all of the planned construction blocks should exude a sophisticated aura and, in so doing, further the quarter's reputation as a uniquely accessible quarter for both the region and city.
Urban development values:
Planning area: 3.8 ha
Floor area ratio: 2.9
Total gross floor area: 114 225 sqm
Total residential units: approx, 500
of these, approx, 280 high-quality living
of these, approx, 30 to 40 public subsidized housing
High-rise Block 1: approx, 100 00 m
High-rise Block 3: approx, 60 00 m
Area:
Standard living: 17 600 sqm
High-quality living: 28 100 sqm
Living and working: 6 800 sqm
Commercial/offices: 32 825 sqm
Hotel: 8 000 sqm
Health/wellness: 4 500 sqm
Children's day care center
Quarter suppliers/gastronomy: 4 400 sqm