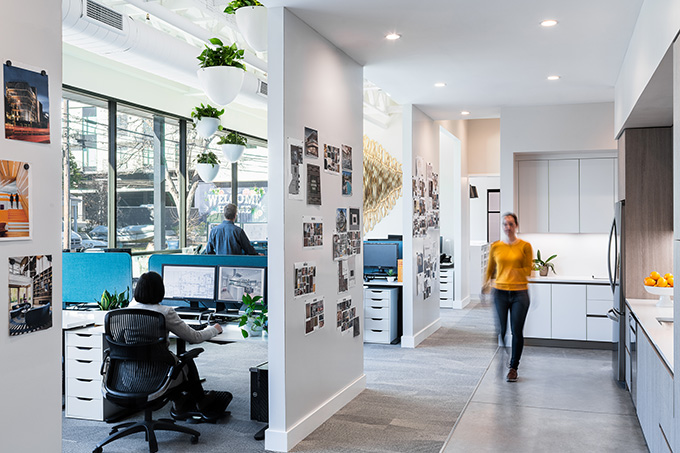 Mark Odom Studio and Britt Design Group designed this stunning WELL Build and Design office in Austin, Texas. Laura Britt, founding principal of prominent design firm, Britt Design Group, is committed to holistic build and design for clients. The team designed their new office space to WELL Standards, serving as a template for showcasing WELL design for clients in the residential and commercial space. Take a look at the complete story after the jump.
From the architects: Helmed by industry veteran and founder, Laura Britt, Britt Design Group debuts its brand-new office space – a stunning new 3,300 square foot creative office space specifically designed with a health and WELL focus — an area the firm has a strong foothold in. Britt Design Group's new office serves as a working example of WELL Building concepts. "The primary goal with Britt Design Group's new office is to showcase and educate clients and colleagues about incorporating the WELL Building Standard into their projects," says Laura Britt, Founding Principal, Britt Design Group.
Britt Design Group's office exemplifies WELL build and design – which addresses the overall well-being of the building's occupants. In designing the new office space, the team used technological integration of both AV and lighting systems allowing for maximum flexibility of the space. Various sizes and types of working and meeting areas support a wide range of activities and provide an opportunity for movement between spaces throughout the workday and a Wellness Room provides a quiet respite for relaxing, meditation, nursing mothers. Large windows provide the staff connection to the outdoors and sunlight controlled by an internal shading system. Live indoor plants support biophilic connection and air purification, and furnished outdoor spaces encourages work or breaks with the benefits of sunshine and fresh air.
The office is part of a recently completed office building, designed by architecture firm Mark Odom Studio (Bumble HQ and Torchy's Tacos). Bringing natural light into in the two-story building was one of the most important elements. Views are framed by large windows from two opposite sides allowing the users to experience the busy streetscape (front) and the quite solitude of backyard landscape (back). "The main lobby is the primary entry for interaction between offices — the backyard landscape is the same concept. "To present areas of social interaction is key. The building was intended to have a single user per floor so that the users could experience the continuous run of window from all angles of the building," says Mark Odom, Mark Odom Studio.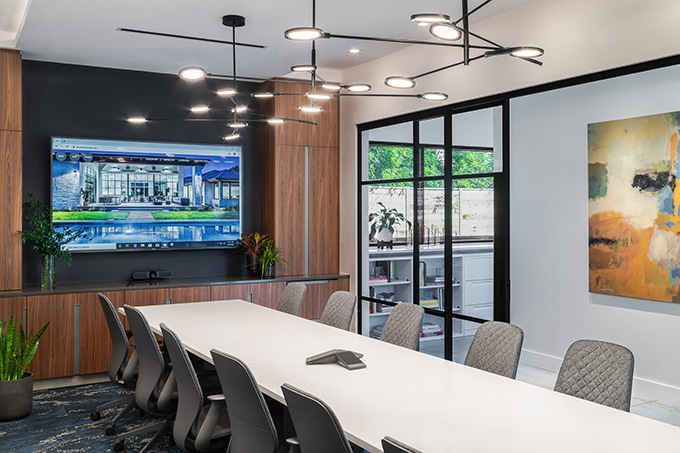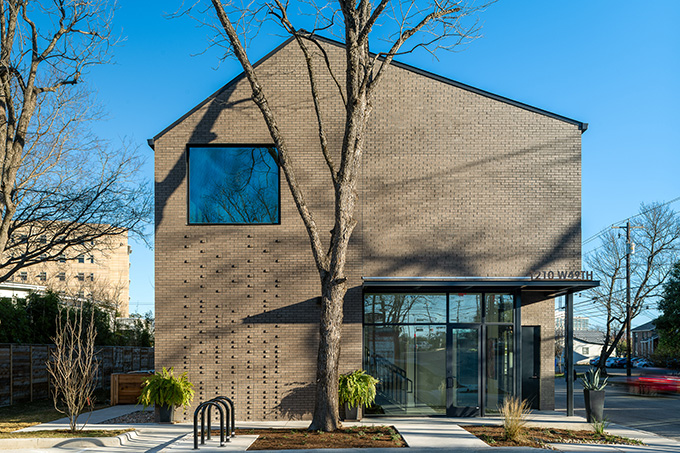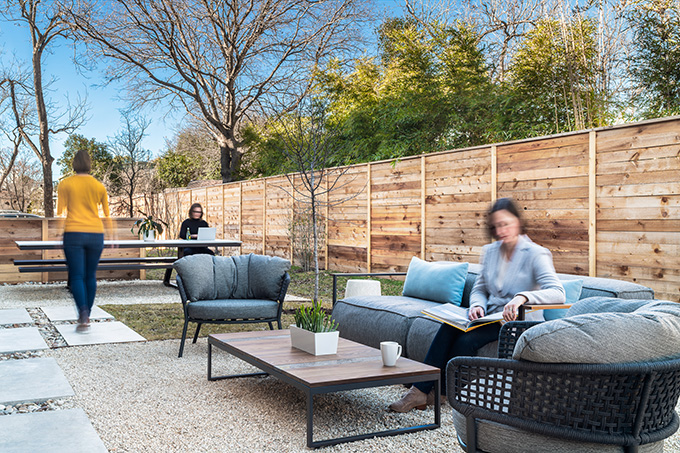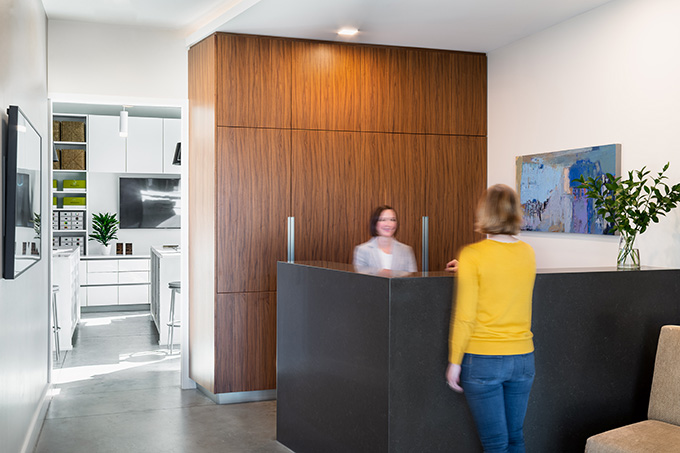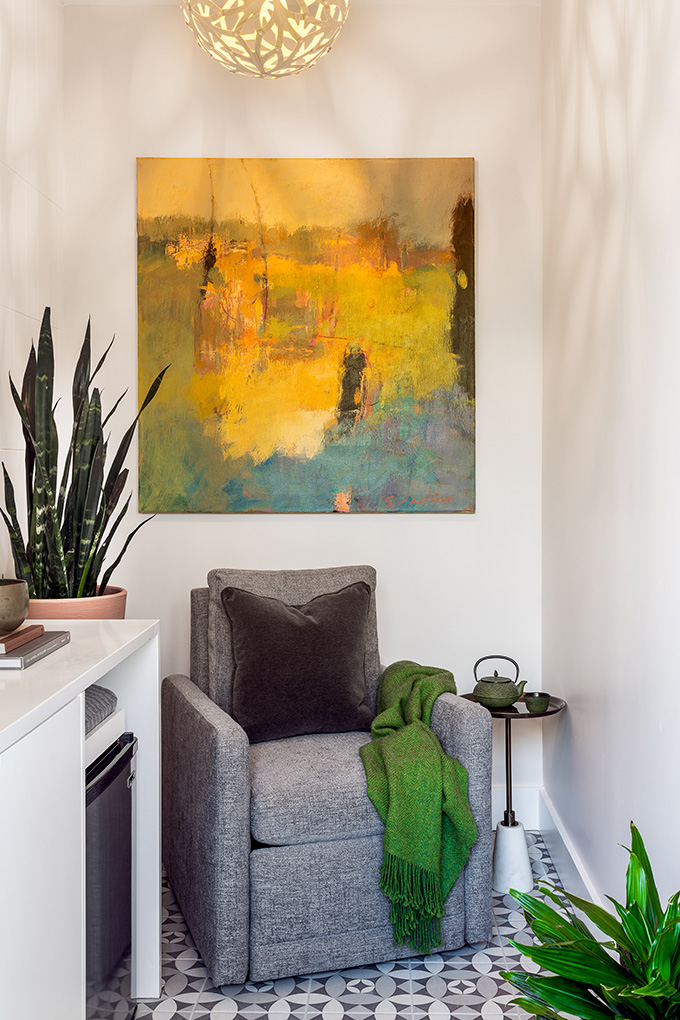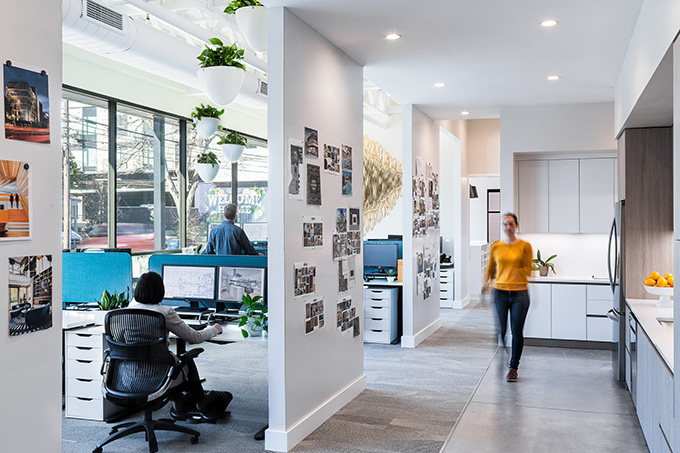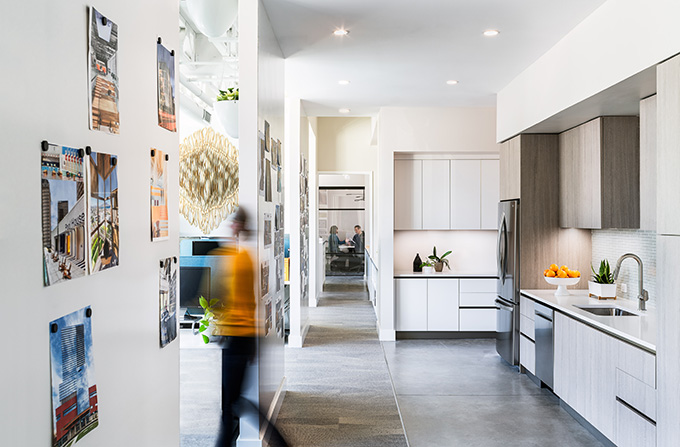 Architect: Mark Odom Studio
Builder: Franklyn Alan
Design: Britt Design Group
Photography by Matt Batista
Find more projects by Mark Odom Studio: markodomstudio.com