PAARQ Arquitectos designed this inspiring family home located in Tunquen, Chile, in 2017. The architects intended to maximize the views towards the Sanctuary of the Nature and the sea to the distant horizon and deliver the greatest natural light possible. Take a look at the complete story after the jump.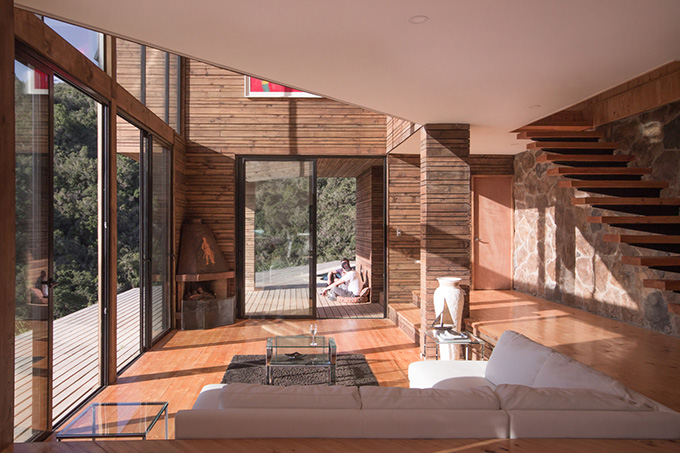 From the architects: On the coastal edge emerge the streams of native vegetation, the water courses and the eucalyptus forests where the landscape … speaks, which leads us to contemplate it. Premises that set up the Tunquén House, 160 km from the city of Santiago.
With the necessity to maximize the views, deliver the greatest natural light and protect from the climatic effects, a broken volumetry is proposed perched on the ground and whose terrace is built on concreted piles that pursue the views of its unchanging neighbors, the Sanctuary of the Nature and the sea to the distant horizon.
The modulation of this family home for four members (a young couple with two children), constitutes the heart of the volume, a wide double height, which allows to define the different degrees of privacy. On the ground floor, the diaphanous and flexible common spaces, the kitchen, the living room and the dining room give way to the front terrace protagonist.
Private areas are located on the upper floor, same as the access to the house. The connection between spaces is crossed by a bridge that immediately diverges in front of the double height, on the left side, the staircase with cantilevered structure, on the other side to the living room, on-site cabins and the main bedroom, volume with North West orientation that attracts the close-up view towards the sea.
To achieve the continuity of the landscape from the access and all its views, the wood becomes significant for the realization of this project, both as noble and warm material, as a structural element. True to the construction line previously used and its configuration, is that the use of the coating horizontally makes the ventilated facade allow greater thermal insulation.
Photography by Paula Monroy
Find more projects by PAARQ Arquitectos: www.paarq.cl