Location: Middle East
Client: Confidential
Area: 56,000 m2
Competition Proposal: 2010
Architect: 3XN and HKS 3XN
Team : Kim Herforth Nielsen, Jan Ammundsen, Majbritt Lerche Madsen, Stig Vesterager Gothelf, Rasmus Hjortshøj, Audun Opdal, Sofia Steffenoni, Marie Hesseldahl Larsen, Eva Hviid-Nielsen, Jack Renteria Engineer Arup Animation Cadpeople
Website: www.3xn.dk
The centrifugal power of the whirlwind is interpreted into this dynamic and vibrant Arena design, reflecting the energy and growth of the Middle East region. The metaphoric Arena generates a strong architectural and visionary icon defined by the idea of the whirlwind. The 'jet streams' from the whirlwind form integrated shaded corridors, which meet and extend the lines of the area and thereby create a close connecting between the building and its surroundings.
The bright shapes of the modulated ribbons are seemingly spinning about the bowl – a play on the term whirlwind moving across the desert sand. The double façade makes the building seem light, luminous almost translucent, and allows a hint of the activities going on inside the building. Besides being a decorative barrier between interior and exterior the façade design ensures that all interior spaces are shaded at all times, yet allowing plenty of light to enter the building. Maximizing the amount of natural daylight and at the same time keeping out the heat of the sun saves energy significantly and secures high quality indoor climate.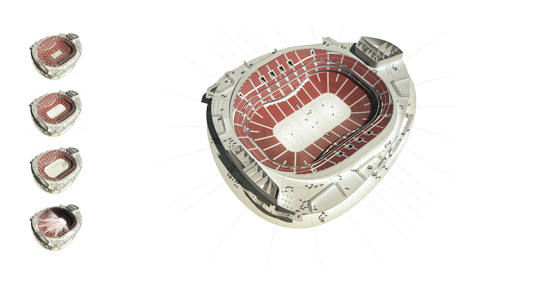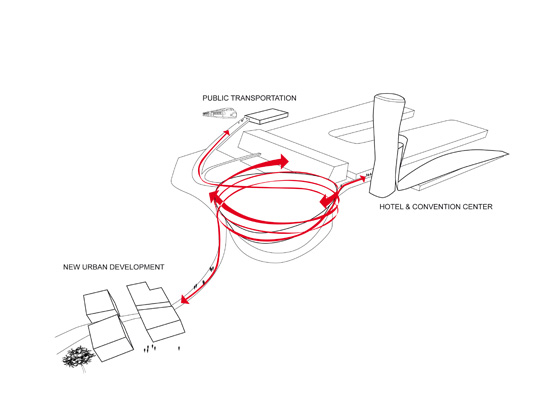 The multi-purpose Arena is designed to accommodate the widest range of events from ice hockey finals to international mega concerts. The flexibility of the design furthermore allows for the conduct of a wide variety of events within a very short period of time. Characterized by its iconic design, effective layout, the elegant interior and LEED platinum rating, the Arena meets the highest international standards within aesthetics, functionality and sustainability.