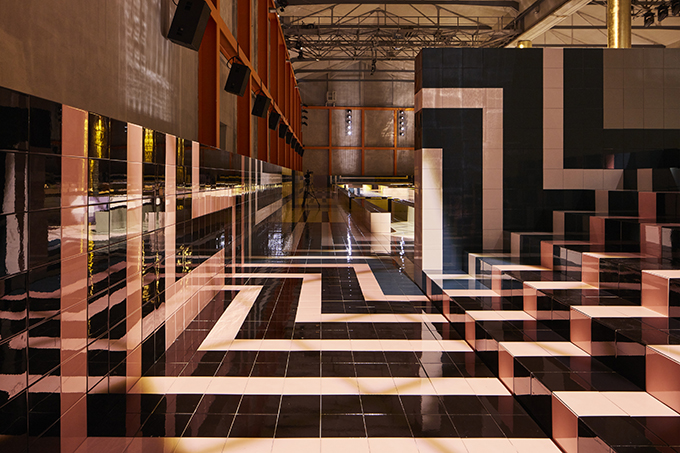 Take a tour of the Spring/Summer 2020 Prada Womenswear show designed by the label's longtime collaborator famed architecture practice OMA and it's research and design studio AMO. AMO devised a vibrant and colorful geometric pattern that enfolds across the hall of the Fondazione Prada's Deposito – an expansive, all-encompassing vista, both illuminated and infused with a summery glow. Discover more after the jump.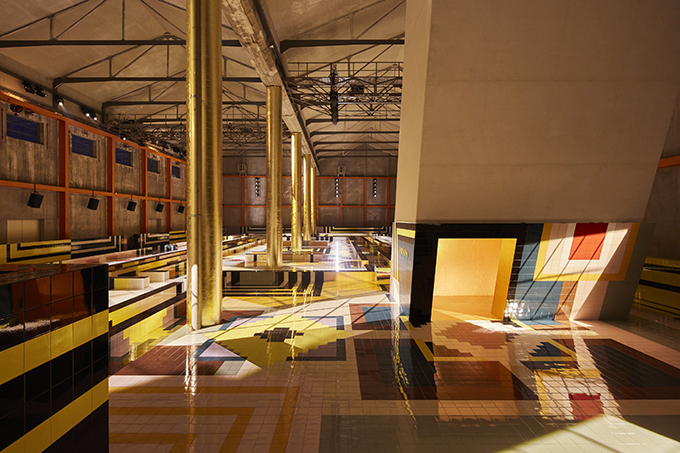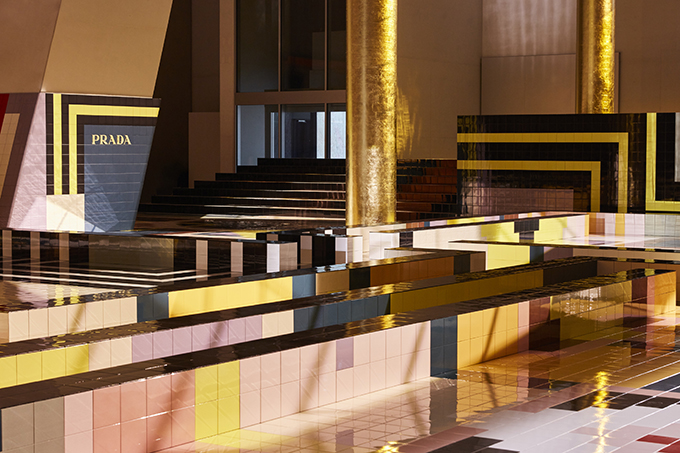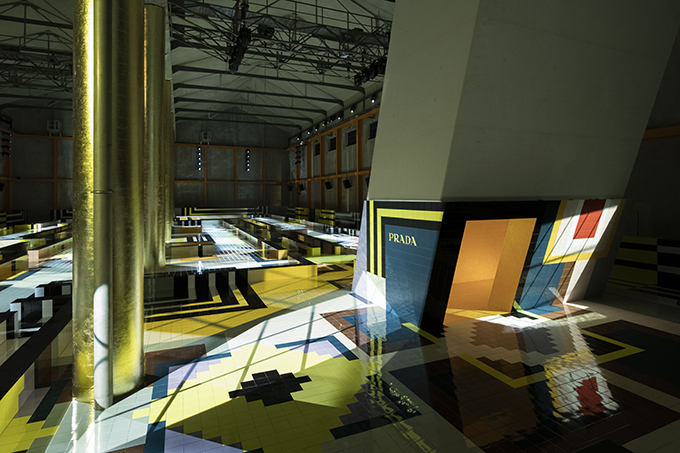 The audience enters the showspace by ascending a stepped platform: an architectural device, it serves as balcony and belvedere overlooking the panorama of the room. The installation for the first time occupies the entire space of the hall, creating a field of vision that extends to the raw concrete structure. The space is invaded by an intricate ornamental geometry, composed of a multitude of colored ceramic tiles that defines the stage. This field of pixelated gloss is surrounded by a wall running along the perimeter, mediating the industrial character of the building.
An oblique light washes the scene, magnifying the reflections of the tiles and illuminating gold leaf details on the columns. The warm glow that filtrates into the room projects lit spots and long shadows on the floor, evoking a midsummer atmosphere. Guests are accommodated in an intimate setting composed of a series of squared seats, whose forms interlace with the floor motifs. Together they define a series of terraces, of crossing perspectives. The models follow the trajectories of the tile pattern, emerging from a collective public gathered in the balmy light of an indoor sunset.
Concept by OMA/AMO – oma.eu
Discover the PRADA Spring/Summer 2020 collection on DESIGN SCENE magazine's PRADA page.
All images courtesy of ©PRADA