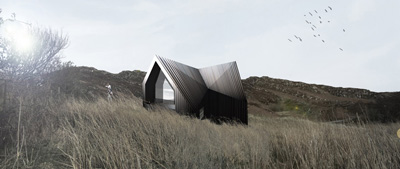 Project: Camusdarach House
Designed by Raw Architecture Workshop
Project Area: 150sq/m
Location: Morar, Scotland, United Kingdom
Website: www.rawarchitectureworkshop.com
Raw Architecture Workshop while designing Camusdarach House in Morar takes on an upside-down concept when it comes to organization at the same time while they try to get the most of the splendid view they also have in mind the environmental impact.
From the Architects:
The Camusdarach House is a family home for a young couple situated on former rough grazing farmland in Morar, north west Scotland. The site slopes steeply upwards towards the west where the beach, sea, and islands of Eigg, Rhum and Skye are visible. The project is entirely driven by the desire to capture the sunset views over the islands. In order to do so, we will explore the concept of an upside down house with the main living space on the top floor, sleeping on the mid-floor and entrance and utility at ground.
Due to the location, climate and building type we are exploring a number of environmental strategies such as intelligent building location / orientation, passive solar gain, shutter / shading systems, thermal mass, super insulation, natural cross and stack ventilation, ground source heat pump / gain, pre-fabricated timber frame / panel systems, locally / regionally sourced materials / building techniques, waste water septic tank / reed bed, rainwater harvesting, renewable wood burning energy, and temporary landscapes.