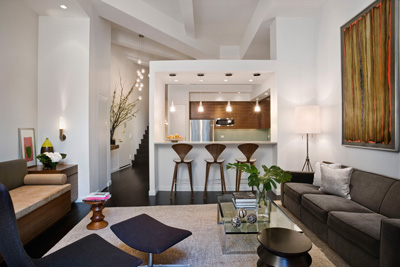 Project: 130 Barrow Residence
Designed by Ixdesign
Size: 1050 sqf
Location: New York, West Village, USA
Website: www.ix-dc.com
Ixdesign shares with us their excellent job on a renovation of 130 Barrow Residence, to have a better view of their results after the jump you can see before and after images.
From the Architects:
Located in New York City's West Village, ixdesign was commissioned to bring organized function and a warm sensibility to a 1050 sf loft space that was troubled with innumerable distracting angles, several logistic challenges and a severe identity crisis. To visually organize the aesthetic and increase the useable space, the dated lighting and finishes were stripped away to enhance the redeeming architectural elements such as the open loft and subtle zone delineations. A 50% increase in overall closet/storage and a net increase to each room's useable square footage were gained by recovering some of the dead space hidden behind a hasty 1980's renovation.

In response to the client's desire to have a warm and inviting but contemporary retreat, a natural walnut was used to anchor and unify the space, juxtaposed against a neutral but bright canvas. Plush, inviting fabrics and polished contemporary lighting infuse a dash of luxury while classic furniture pieces add functionality and a simple sophistication.