Baciocchi & Associati studio of the prolific architect Roberto Baciocchi adds up perhaps the most impressive PRADA store design to their resume. The massive new PRADA store opened yesterday in Barcelona, designed for a space of 1600 square meters. The store is located at Paseo de Gracia not far from Gaudí's famed La Pedrera.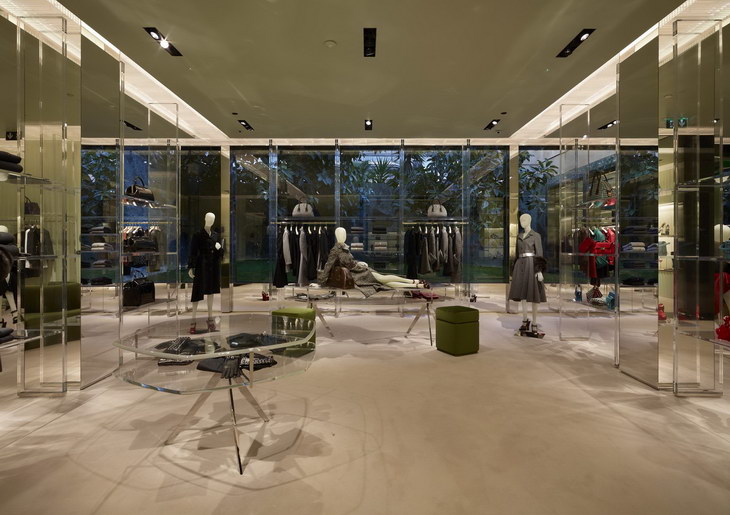 The façade blends harmoniously into that of the beautiful old building hosting the store. The entrances and store windows exhibit the brand's classic materials, such as black metal and burnished brass, which complement the building's cast iron columns. The entrances lead to two very different settings. The women's area features a perspective sequence of black marble and mirror portals flanked by elegant polished steel cabinets with black marble drawers, used for displaying leather goods and accessories. The veined black and white marble floor, the green canvas walls and the brightly coloured counter displays create a setting that is both sophisticated and exclusive, carefully studied for each individual product. The sequence of portals leads to a raised room; this, too, is devoted to leather goods. Here, the black and white marble floor is replaced by soft beige carpeting, the steel cabinets are succeeded by Prada's traditional display niches set into green canvas-lined walls. This is followed by two large rooms, the first hosting a special selection of Made to Order accessories, the second given over to footwear. The soft effect of the walls and the refinement of the polished-steel and glass tables are enhanced by the deep green velvet of 'Clover Leaf' sofas designed by Verner Panton and reproduced exclusively for Prada.
The last room, featuring womenswear, is lined with green canvas and furnished with Perspex display cases, clear skylights, Perspex and steel tables in original, geometric shapes and green velvet seating, creating an intimate, captivating ambiance. A major detail of this room is the large window, framed in beautiful, black marble, that opens onto the outdoor garden.
The masculine character of the men's area is defined by the flooring of thin Saint Laurent marble slabs and walls finished in bright orange encaustic work. The leather goods and accessories collections are in the first room. A Saint Laurent marble staircase leads to the footwear and ready-to-wear department, where orange ostrich-leather walls and sofas and ebony floorboards create a bold setting with a strong character. Palladium and glass cabinets and counters with colourful displays complete the furnishings.
The Made to Measure project is presented in a dedicated area with green saffiano leather-lined walls. The inner courtyard, reached via a travertine staircase, is particularly stunning. The green marble walls and the cast iron columns – a legacy of this elegant old building – reveal an intimate space reserved for the most discerning clientele; it can also be accessed from the women's area. – from PRADA
FOR MORE IMAGES LOG ON TO DESIGNSCENE.net.