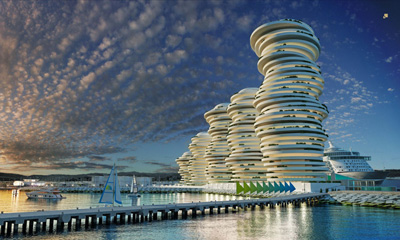 Project: Larnaca Port and Marina
Designed by Scott Brownrigg
Location: Cyprus
Website: www.scottbrownrigg.com
An impressive design by Scott Brownrigg shapes the image of Larnaca Port and Marina, the complex takes a massive scope of 250,000 square meters. For more images and architects description continue after the jump:
Architectural description:
The development provides a complementary extension to the city centre, within a waterfront setting, and comprises 250,000 sq m of diverse mixed use components including; a new Marina Quarter with a multi-purpose grand piazza for events, exhibitions and outside concerts; a striking new Yacht Club, designed as a 'floating' open-ended tube of accommodation, links the land to the marina, and is reminiscent of a dry docked sea faring vessel; a new Cruise Terminal Building, will form a gateway to and from the island. The building's form is derived from its function, and is essentially two overlapping Ls on their sides, which control movement into the building at ground floor and to the cruise ship at first floor, whilst protecting the privacy of the surrounding high rise residences; Marina Basin and Marina Park waterside residences will be low key and sensitive in relation to the existing low-rise immediate context; the Port Promontory's tall, organic 'floating' towers will form a new, instantly identifiable, backdrop and gateway to the city, as they rise from the ground toward the sea along the long port 'finger' breakwater.
Source WorldaArchitectureNews. *