CLOU Architects have designed the new flagship store for Hongmeng, the biggest dealer of used cars in Southwest China. The big extension and upgrading plan of Hongmeng's used car market is a chance to totally revamp the brand image as well as create additional room for the growth of the used high-end luxury car trading market. Hongmeng is a long-established local trading venue. Although the two showrooms are small in comparison to the market as a whole, their location at the main city intersections makes a clear statement to the entire trade market.
The quest of precision and rationality in vehicle design as well as the sophisticated aesthetics of the product served as inspiration for the two showroom concepts. According to our opinion, the architecture of the car dealership itself ought to be planned with a unified aesthetic that is founded on logical appreciation.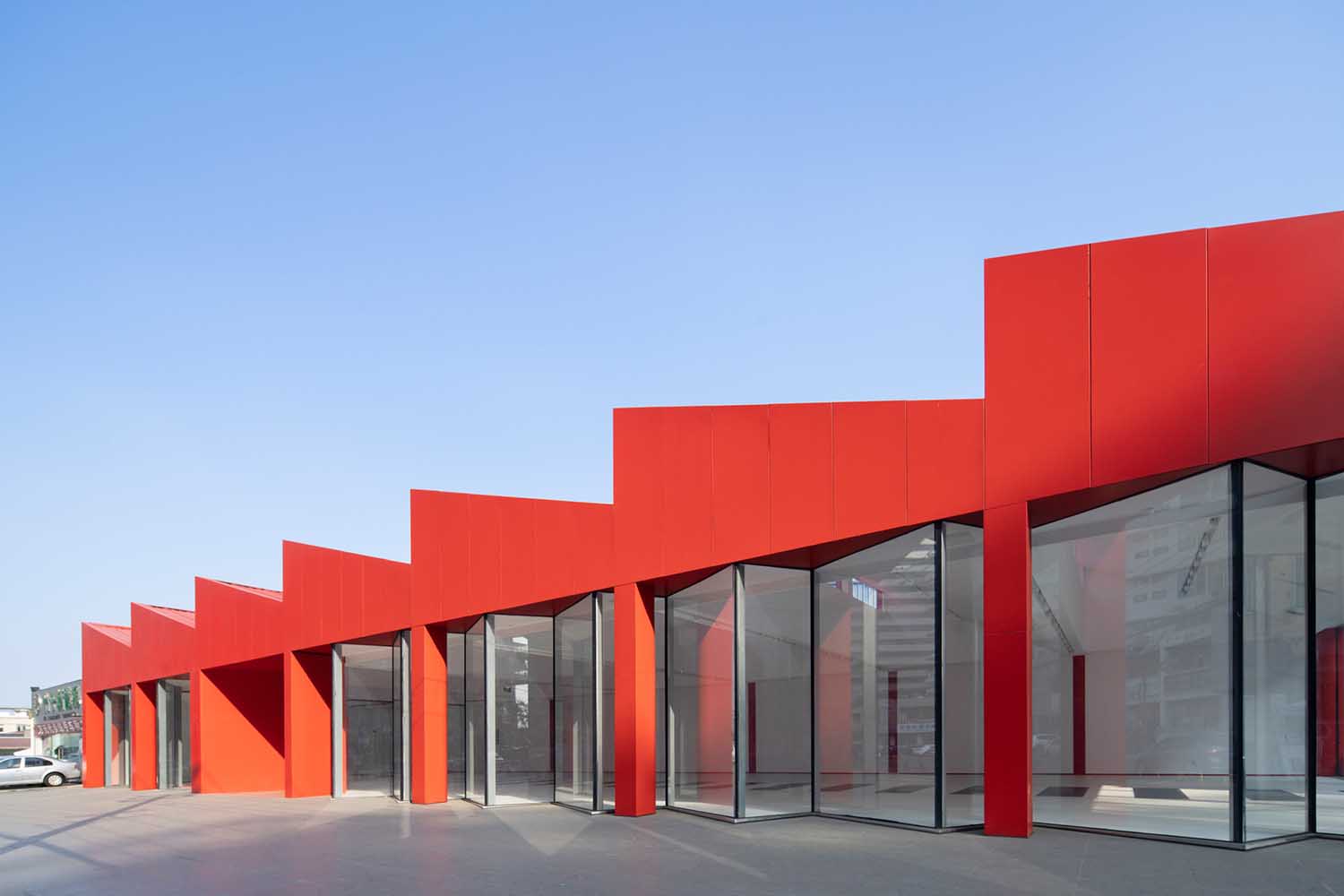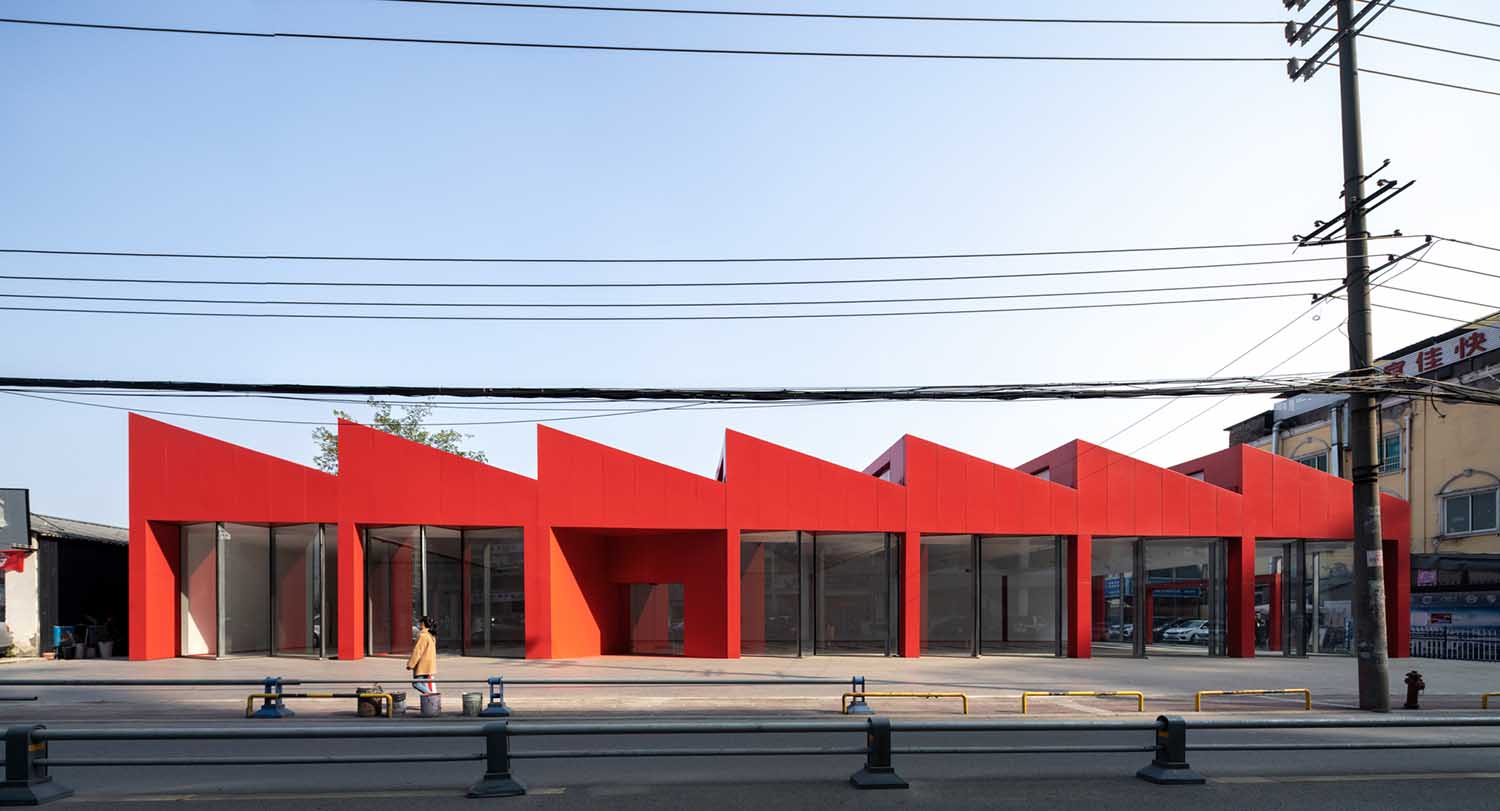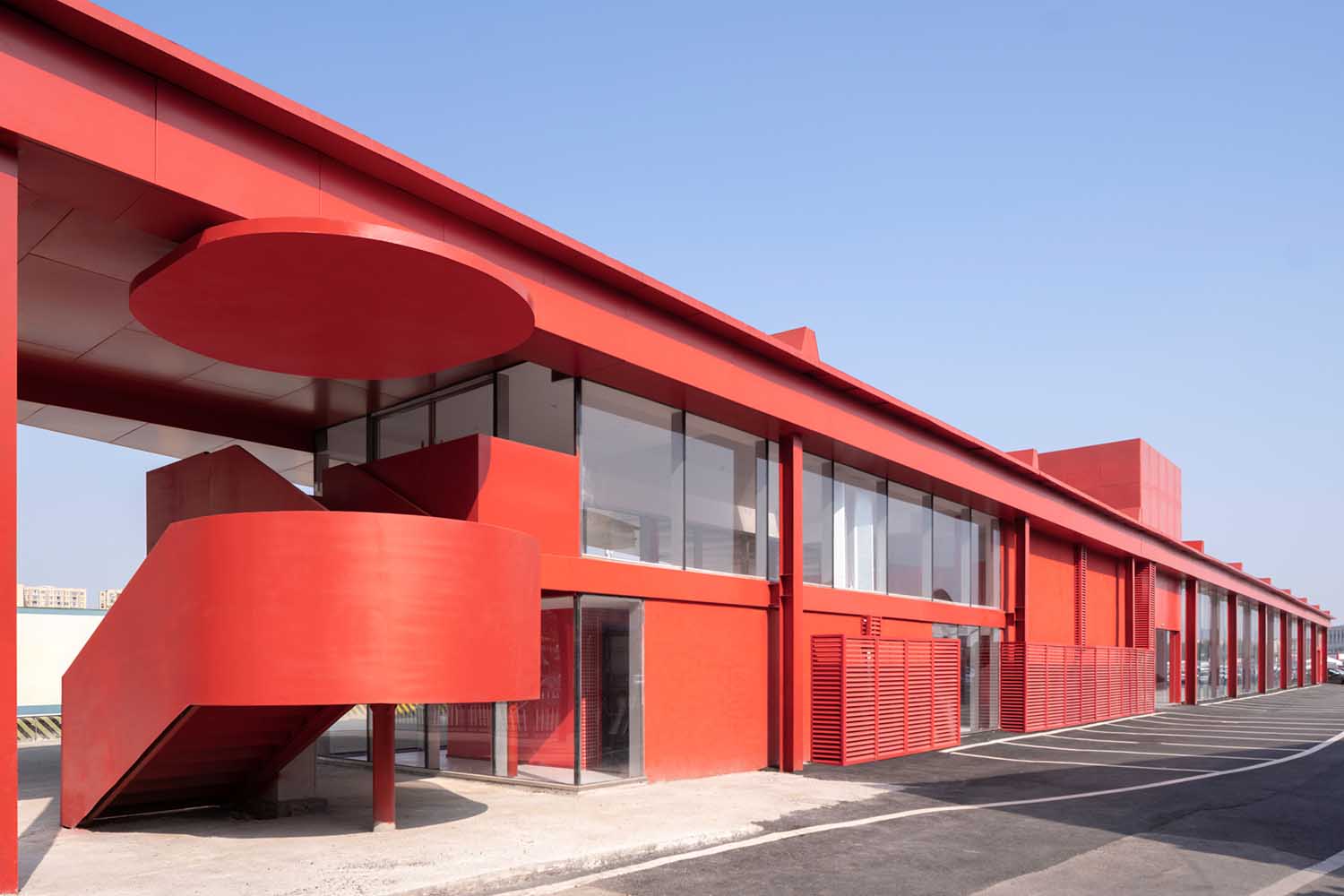 Two structures on the corner site set the tone: their open-glazed facades are emphasized by the vivid red roof and side envelopes, and the interiors are defined by strong monochromatic patterns.
Shiny metal and glass were the two primary elements we used to build the two pavilions. The decision to design a zigzag, diagonal parking area makes the most of the little space available. Additionally, this offers guests the best view of the displayed cars. Floor to ceiling glass curtain walls with alternately clear and reflective glass forming the two serrated sides of each curtain wall dominate the façade of the automobile space, giving the area a unique aesthetic.
To guarantee the internal space flows smoothly and to demonstrate the building's structural logic, the North Hall's steel beam is turned up onto the roof. The prototype car is displayed next to a red spiral metal staircase in the reception wing of the building through a completely transparent curtain wall, creating a focal point for both the interior and outdoors.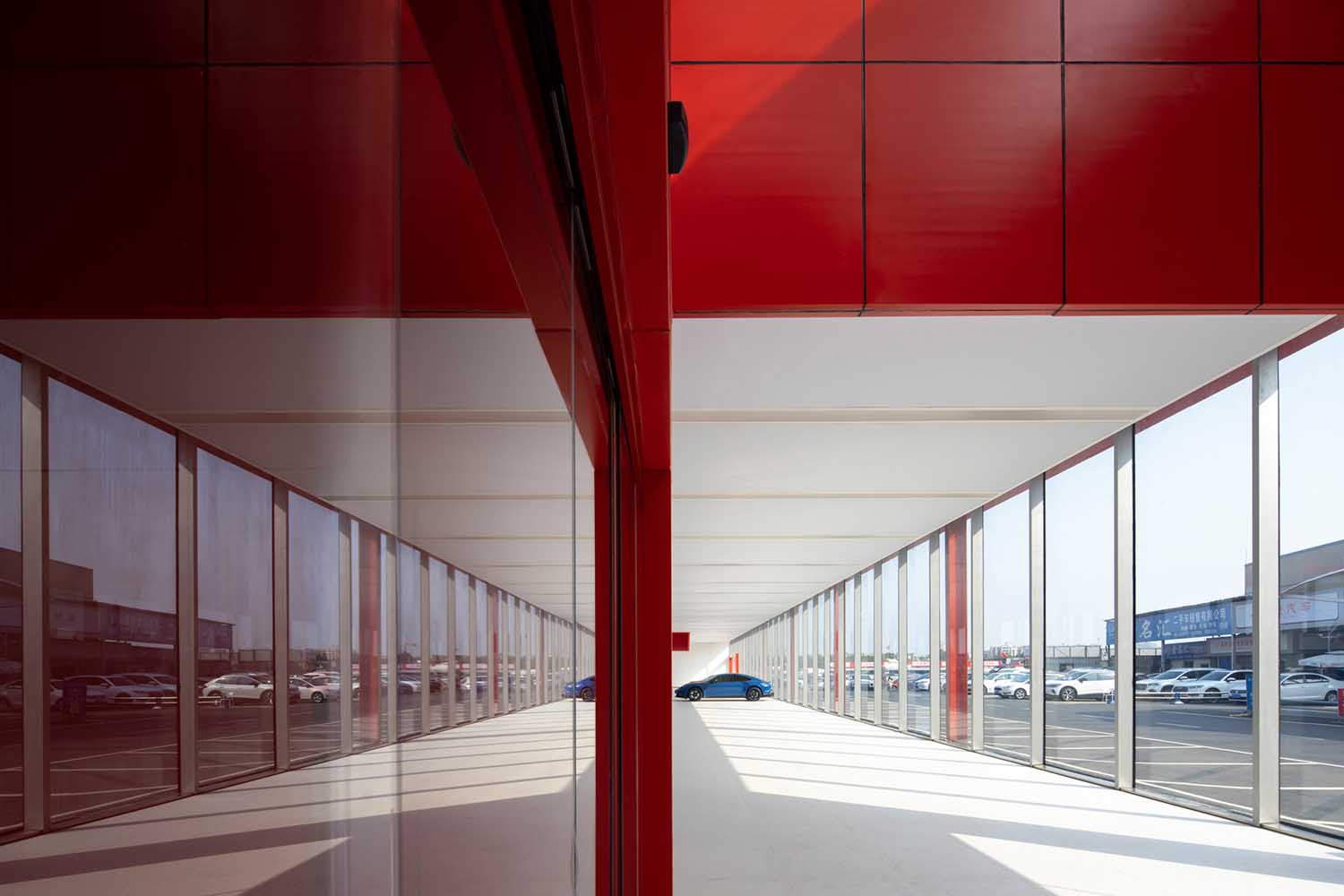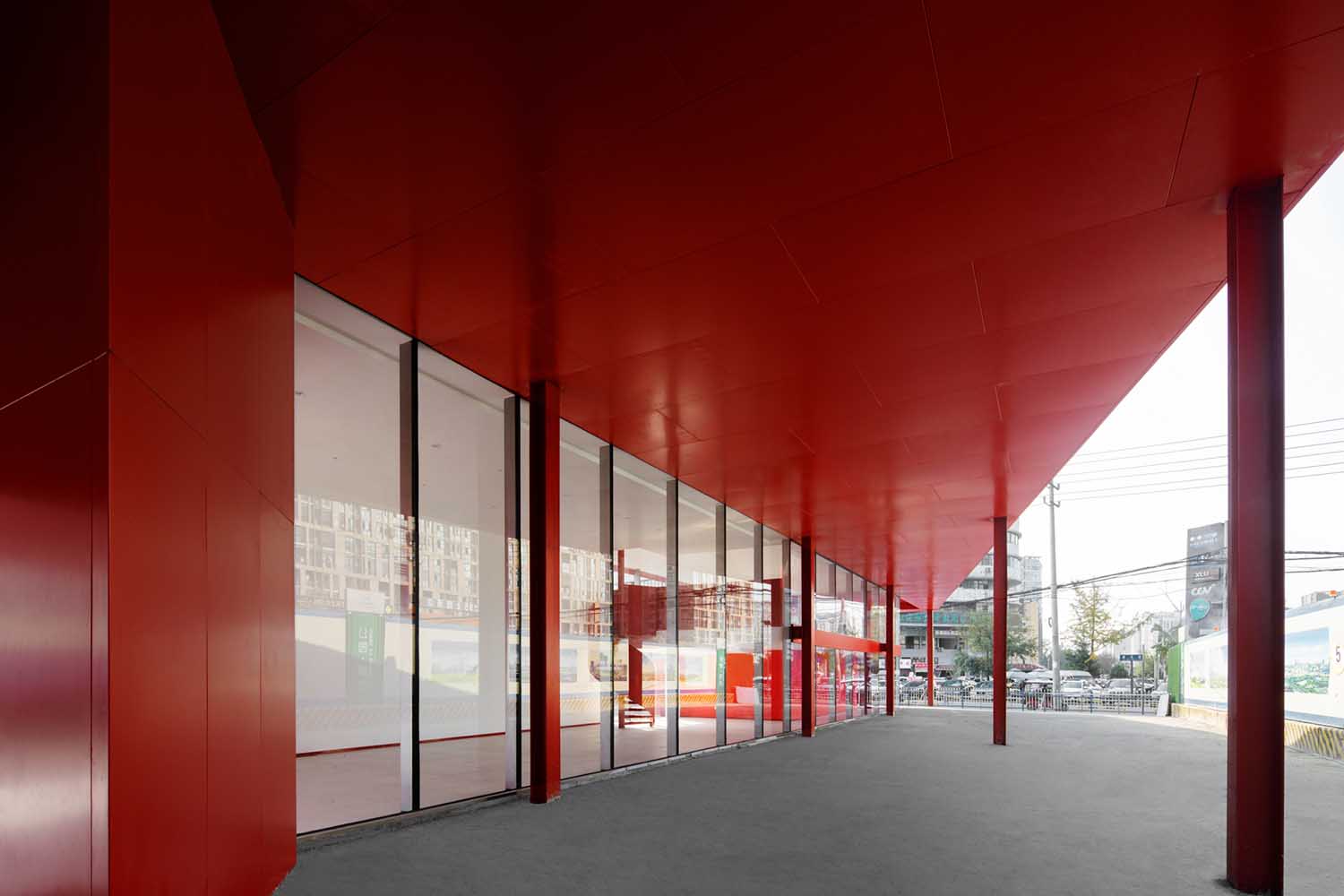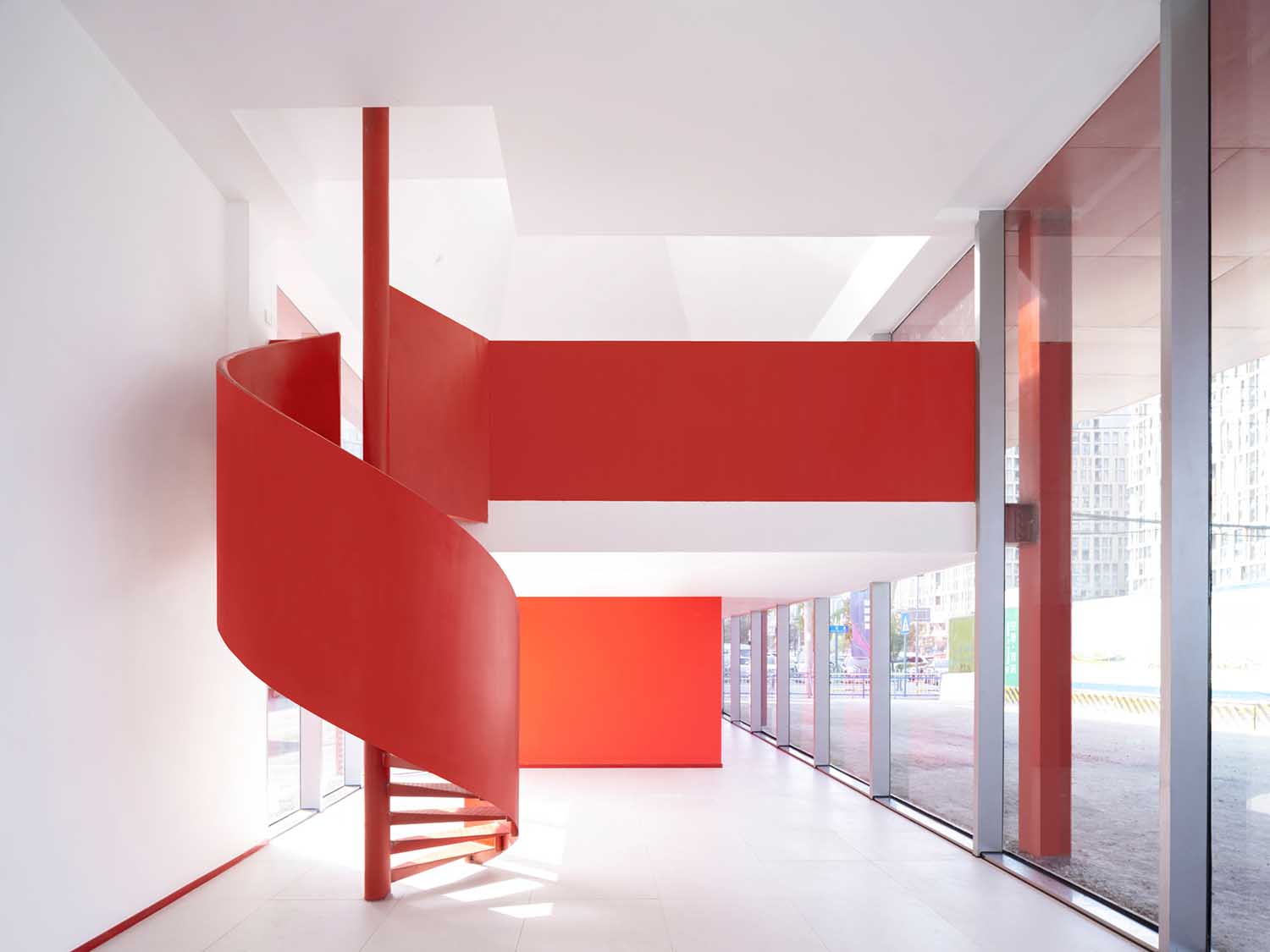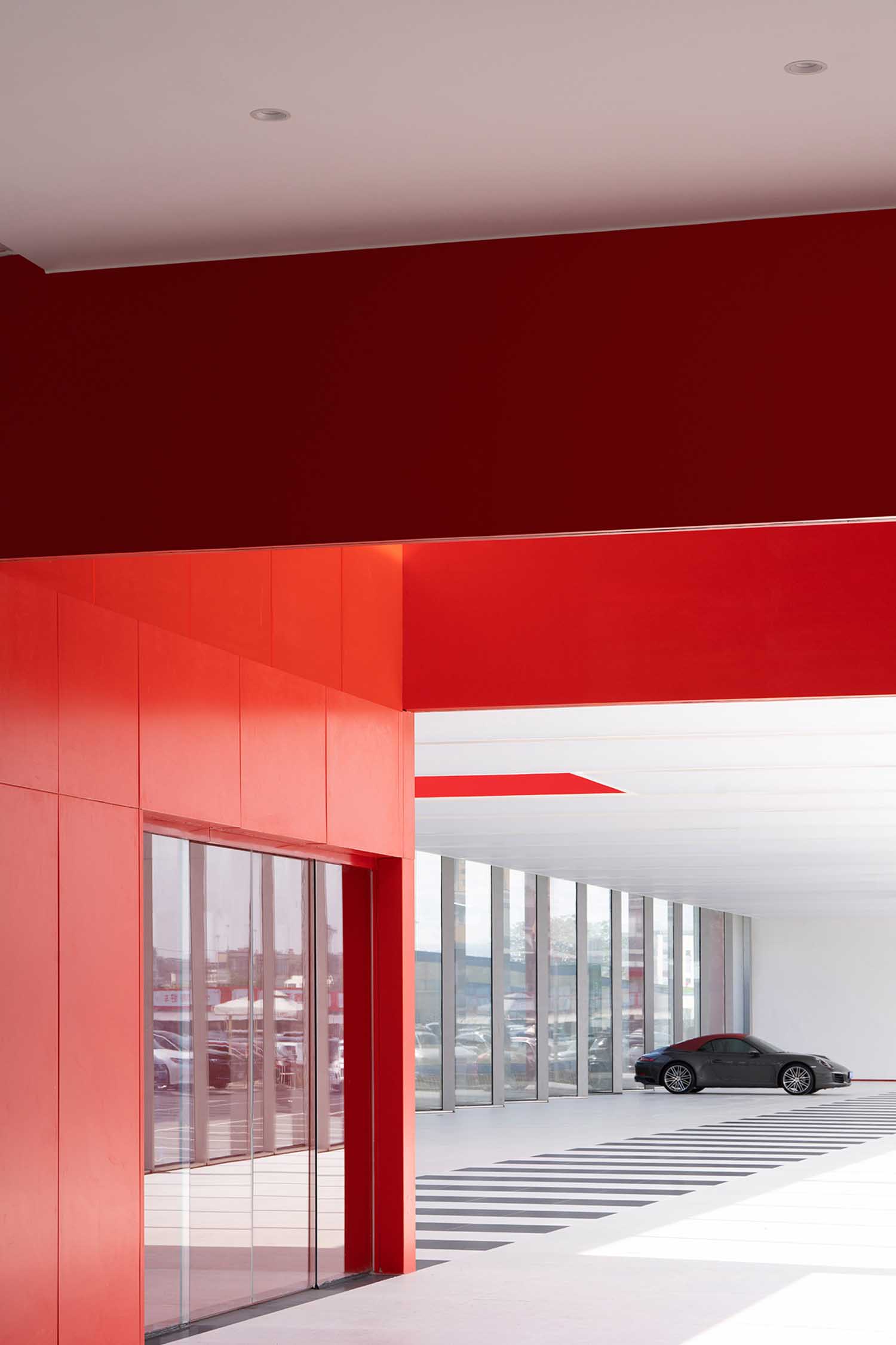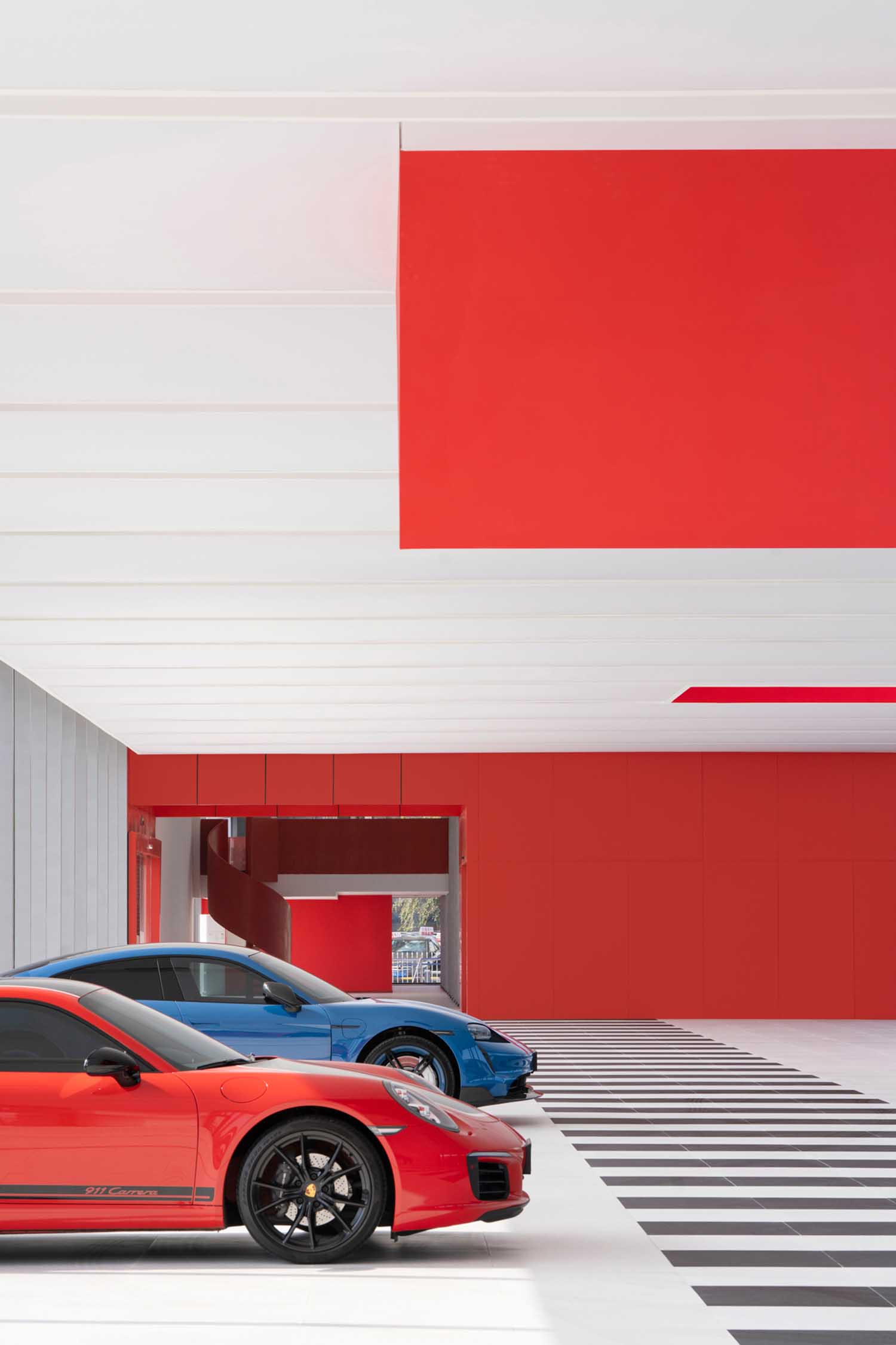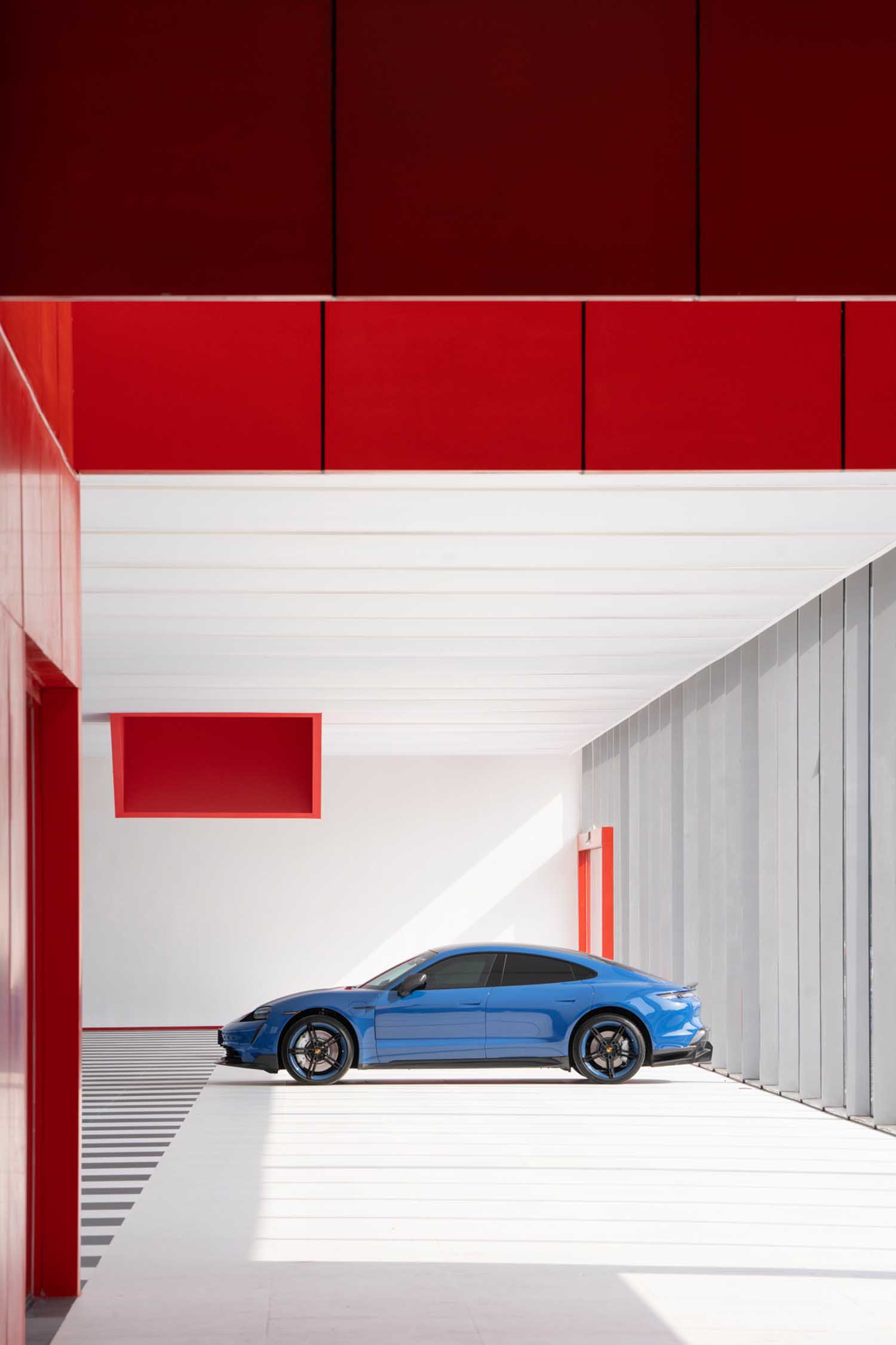 The internal areas are naturally lit by a number of variously placed light cannons that are positioned above the flat, extended roof, breaking up the flatness of the building volume.
The South Hall is about half as large as the North Hall and has a zigzag ceiling that repeats the façade's language and emphasizes the zigzag design. The finest possible display effect is produced by the side windows of the roof, which also give the inside space a gentle, evenly spread light. As a recognizable marker at the crossroads of the major roads, both showrooms have been painted the same shade of red to help visitors recognize and remember the market.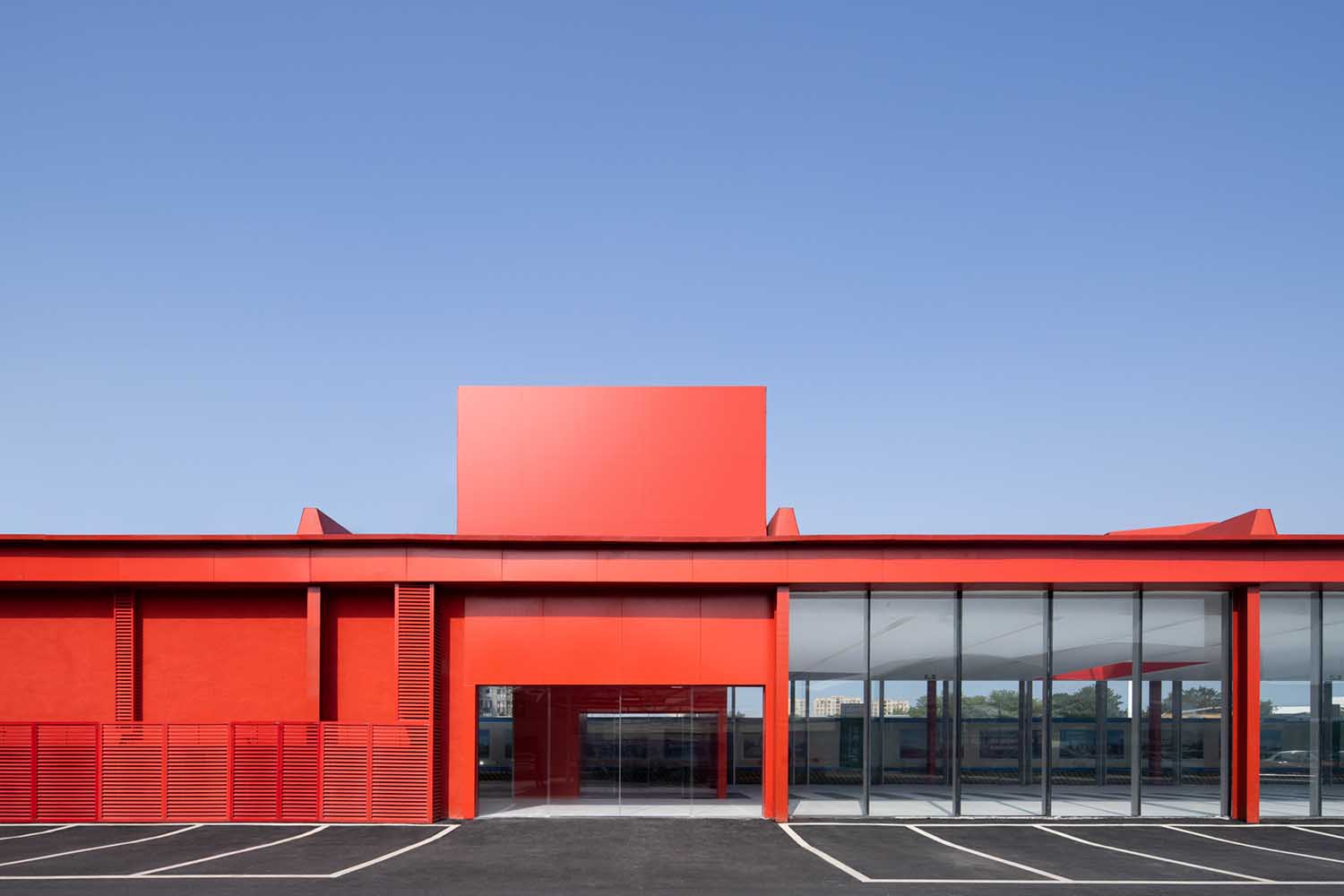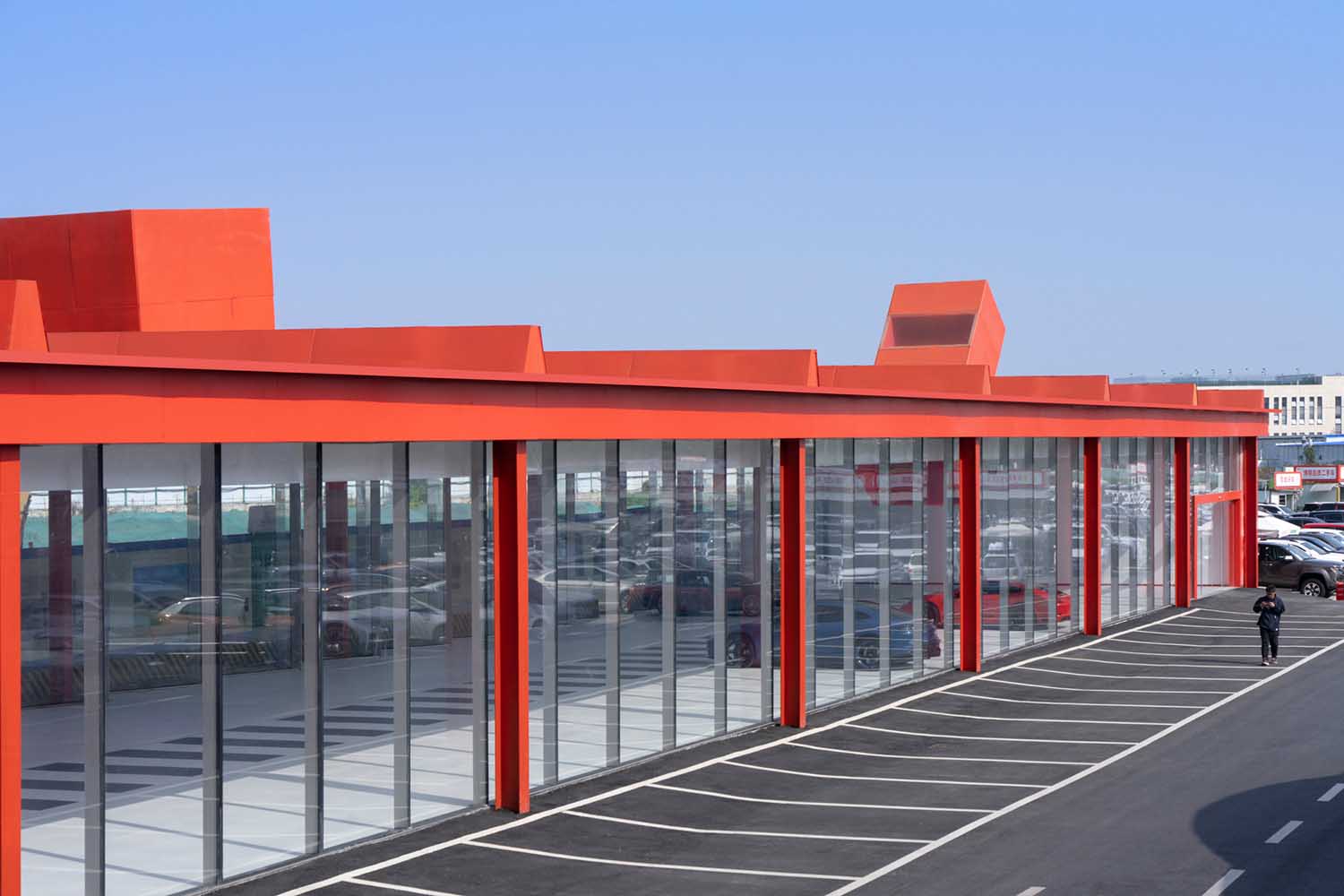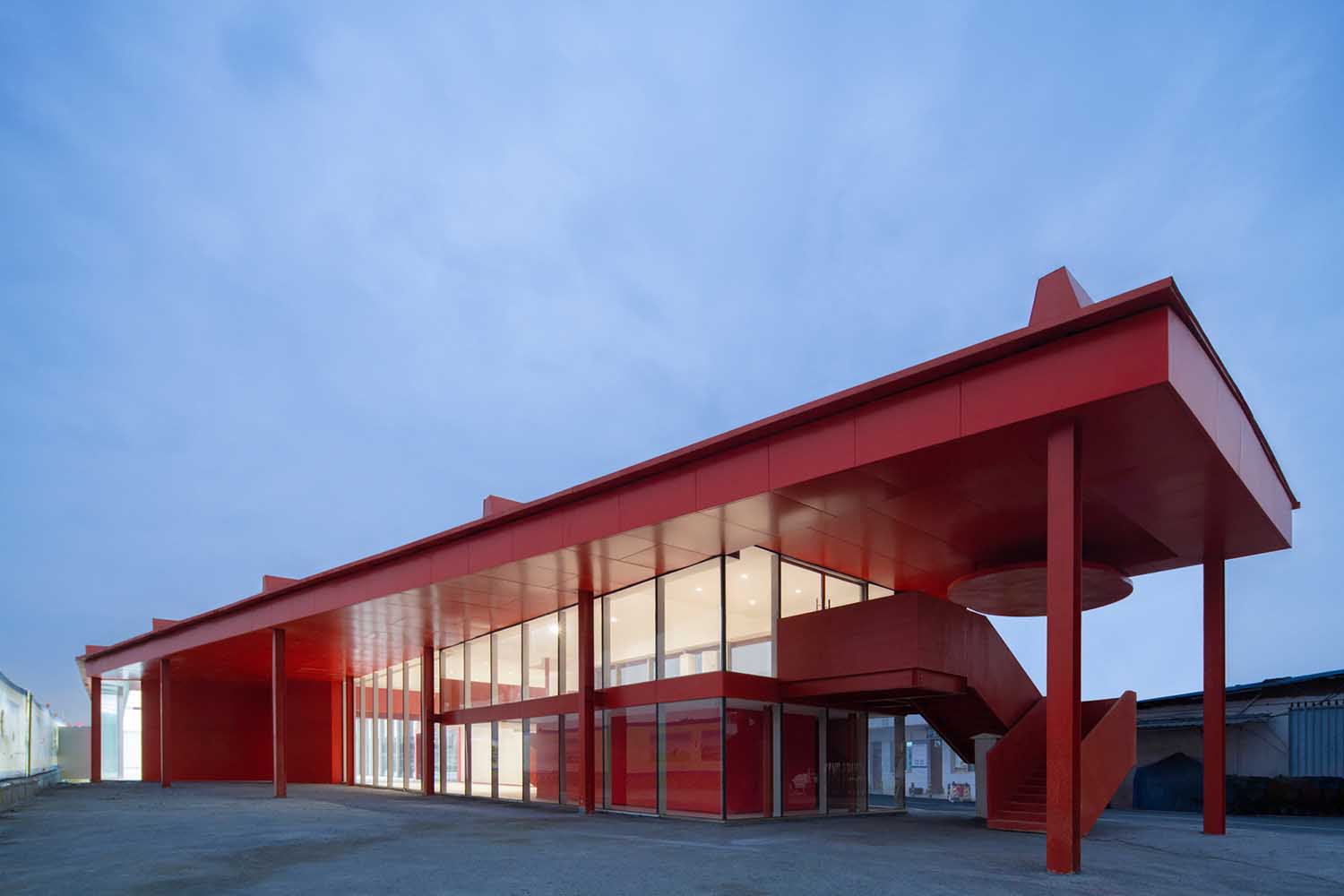 The first two showrooms upgraded as part of this program are now operational, and the remaining renovations are scheduled to be finished by 2023.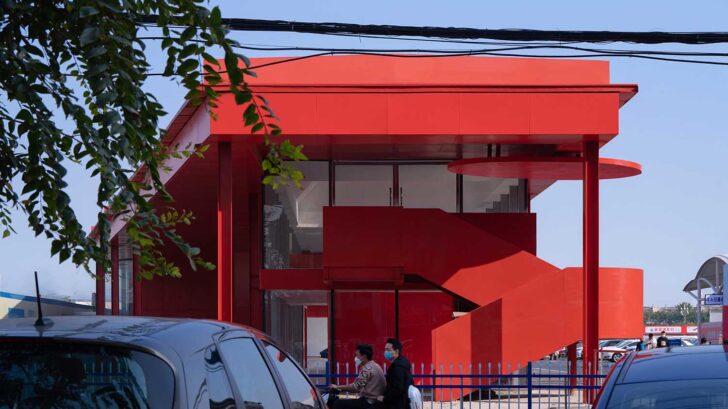 Project information
Project Name: Hongmeng Car Showroom Chengdu
Type: Retail, Exhibition
Client: Chengdu Himore Used Car Trading Market Management CO.LTD
Status: To be built in 2022
Location: Chengdu, China
Construction Area: Showroom 1, 1106 sqm; Showroom 2, 610 sqm
Architecture, Façade Design: CLOU architects
Design Team: Jan Clostermann, Lin Li, Qiao Ding, Dongfang Xie, Xiaoyang Ye, Yunzi Wang, Haiwei
Xie, Julien Douillet,Linyu Li, Yujie Jin
LDI: Sichuan Architimes Design Co., LTD
MEP: Sichuan Architimes Design Co., LTD
Structure: Sichuan Architimes Design Co., LTD
Facade Consultant: B+C Genesis Architects Chengdu Co., LTD
Construction Drawings: Sichuan Architimes Design Co., LTD
Photography: Arch-Exist