Li Dongjin & Sun Zhigang recently completed this Hot Spring Spa in North China. Take a look at the complete story after the jump.
From the architects: Each culture has its way of expression. In Shenyang, your holiday is incomplete without spending a day in the SPA.
Growing consumption reshaped bathing and leisure industry. Consumers now pursue newness and beauty, as opposed to a traditional bathing experience.
Qiantang's positioning matches the surrounding boutiques, upscale restaurants, and elite educational institutions. It abolishes "salesy" feeling and "sense of distance" typical for traditional SPAs.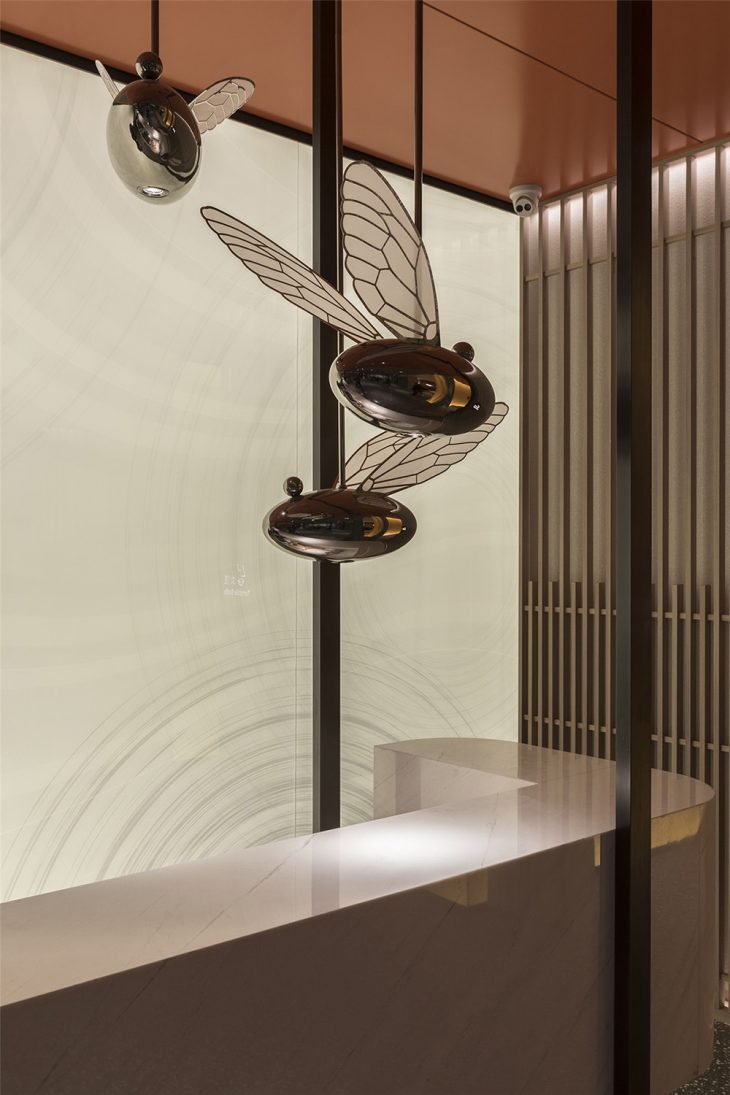 When entering the reception hall for the first time, the interior feels pleasing to the eyes and awakens the five senses.
The real quality interior is defined by its structure and plan rather than its appearance. A prologue hall like an art gallery is a transition and an emotional buffer.
Women's bath
Pure and transparent, the water reflects surrounding lights creating a very special atmosphere. Bright red tiles set the rhythm and add a bright accent just like makeup.
The designer opted for a matte-textured, slightly darker shade of red. The design reflects fashion and makeup trends.
Men's Bath
Dark green tile and blue water create a calm and tranquil place. The world's disturbances turn into water mist at the fingertips.
The materials in the bathing area are treated more delicately, the water waves are pouring over the fine-textured terrazzo, and the mosaic getting covered with a layer of water drops. The space is pure and straightforward, and people can feel the surging of water and relax under the shining light.
Recreation area
The lounge area has its special features. Exposed flowers add a fine touch to the mix of industrial and contemporary style.
Carpets, walls and fabrics are finished in greige to give the place a more luxurious feel. Luminous glass bricks, fine wooden grilles, and polished stones complete the interior.
Dining area
In the dining area, the sense of hierarchy contrasts with the curved mirror surface. Like all fast-fashion restaurants and coffee shops on the corners of the street, it awakens the desire to sit around and waste some time.
The onion-coloured walls compliment the chestnut-coloured ceiling, creating a pleasing composition.
Functional area
The bathroom lounge space design is similar to the hotel, and the expression and exploration of modern aesthetics are more advanced. Rough terrazzo and delicate metal; there is also a colour rhythm: fashionable orange, vintage gold and bronze.
"The value of our design language lies in the structure, proportion, and joy feelings they bring to people.", – says Allen.
The design team tries to avoid being trapped by form, break free from conventional concepts, embracing change.
Project Name: Qiantang Hot Spring SPA
Location: 38-1, Hekang Street, Heping, Shenyang
Total sq m: 2500
Design firm: Dazhan Design's brand – Dazhan Jinjing
Design Director: Li Dongjin(Allen Lee), Sun Zhigang
Design Management: Gao Feifei
Engineering Director: Ding Shichun
Design team: Wang Yanqiu, Zhang Shaofeng, Li Yuehong, Lin Yanxi, Liu Haiying, Li Chunyan, Zhao Junyi
Photo: TOPIA VISION
Branding: IUEB
Text: F&M