Fokkema & Partners practice have designed a new office space for natural gas exploration, production, transportation and sale company, Energie Beheer Netherland located in Utrecht.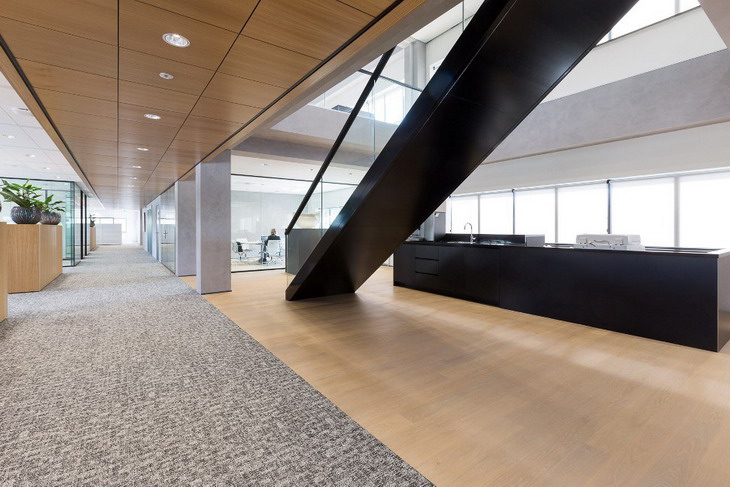 From the Architects:
The new office of EBN (Energie Beheer Nederland) integrates open space working, private offices and meeting rooms in a transparent, balanced and high end environment with a bold look and feel. Cutting away voids between the building cores during casco renovation works, enabled the designers at Fokkema & Partners to organize the office space around a new centre of the building, transforming the narrow floor plans into a vivid and compact office. The central zone that came into being around the voids holds the open stairs, meeting rooms, copy- and pantry points. It is the place for employees from different teams to meet for cross-disciplinary consultation and has become the heart of the office. This way one of the main design challenges was met: to maintain the contact between employees that they had become accustomed to in the open plan office by Fokkema & Partners Architecten they previously occupied.
Oak wood interior elements further structure the new office of EBN. The floors at the new heart of the office are materialized in oak wood, whereas the zone directly around it, has an oak wood ceiling. These wooden ceilings clearly separate the communal area from the more private area where the work stations are set in a high-end and tranquil atmosphere. Another structuring element, materialized in oak wood, is the sequence of cupboards, creating a sense of place for the open workstations, transparent offices and smaller meeting- and concentration rooms.
The clarity and spaciousness that is achieved in the interior design contributes to the visibility of the different pieces of art that are installed. A single piece not only gives color to for example the meeting room, but to the entire surrounding office space.
Project: Energie Beheer Netherlands Offices
Designed by Fokkema & Partners
Location: Utrecht, Netherlands
Website: www.fokkema-partners.nl