Young designer from Warsaw, Maciej Kurkowski has designed the interior solution for the whole chain of bakeries by Przystanek Piekarnia. Maciej's design beautifully evokes the sentiment of a family company established few generations ago in 1959.
From the Architects:
Krzosek Bakery is a family company established few generations ago in 1959. Its values combine respect for the tradition and a need for constant development. Interiors of their shops are an embodiment of this approach.
The commission was to create a coherent interior designs for a whole chain of their shops. Individual look of each interior is achieved by use of a stained birch plywood 450x70x20mm module, that can be used to create almost infinite parametric design variations, while the rest of the interior components remain the same. Depending on the interior the modules can form a built-in display rack or a sculptural suspended ceiling that folds over the wall morphing into display shelves.
The first realization of the project is in Piaseczno. Key feature of the shop is a custom display shelving unit behind the counter made from 626 plywood modules stained in four warm hues. This allows to keep the rest of the elements used in the interior monochromatic, achieving a balanced look with lightly colored manually applied coarse plaster, epoxy resin flooring and electrical cables laid on walls in black encasement.
Oak counters sit on white tiled plinths. Matte tiles with beveled edges, resembling those used for tile stoves delicately diffuse the light. In each plinth one tile is replaced with a plywood module with new logo of the company engraved in it.

Subtle lightning was created using Thomas Edisons's design inspired light bulbs with an intricate luminescent rod encased in wire fixtures allowing the glow to delicately seep through the gaps which creates elegant overall effect.
Other two main features used in all interiors are a blackboard wall for announcing special offers and stainless steel furnace for baking fresh buns and delicious cookies on site.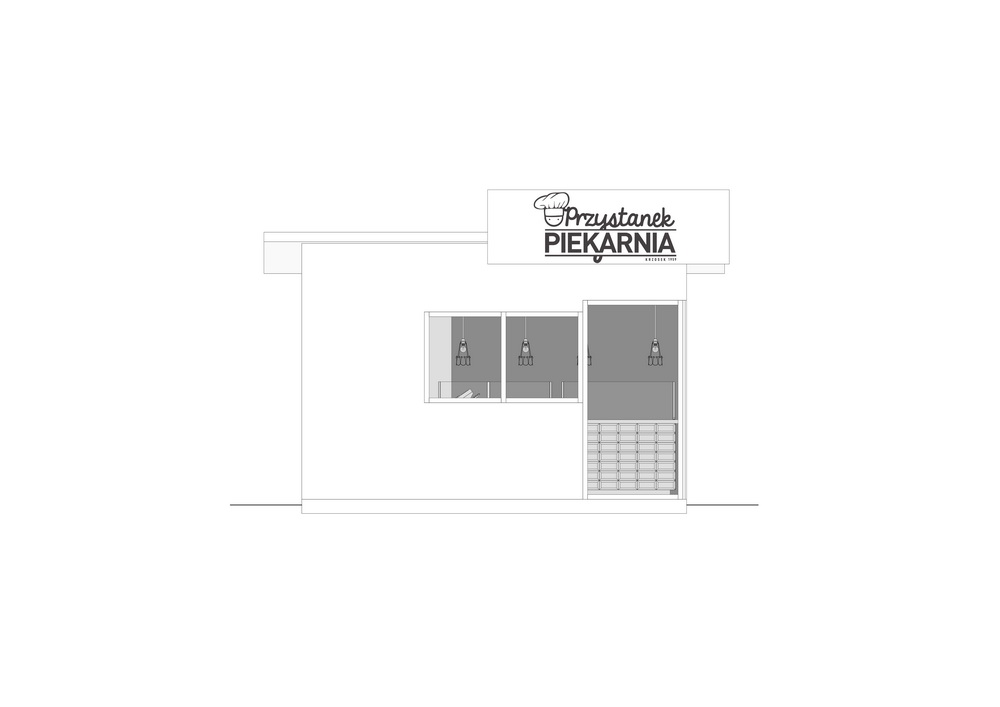 Project: Przystanek Piekarnia.
Designed by Maciej Kurkowski
Client: Piekarnia Krzosek
Total Area: 25 m2
Usable Area: 19 m2
Volume: 64 m3
Photography: Paulina Sasinowska (smileUPyourself), Maciej Kurkowski
Location: Piaseczno, Poland