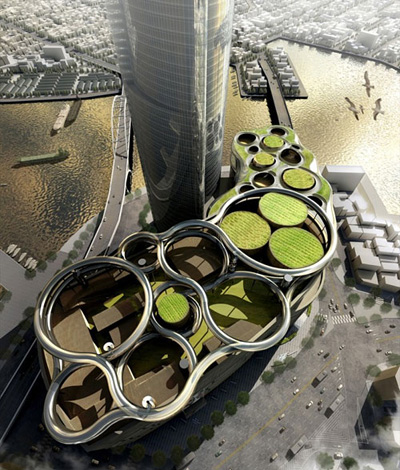 Project: Busan Lotte World Tower
Designed by Yamasaki Ku Hong Associates Design Lab
Team: Young Mo Kim, Jong Seok Kim, Ki Wan Ahn, Yeo Jin Youn, Dong Soo Jang, Jung Hwan Ko, Yae Jin Kim, Jang Do Ki
Location: Yongho-dong, Nam-gu, Busan, Korea
Building area: 19,835 sqm
Total floor area: 29,752 sqm
Website: www.ykhlab.com
Yamasaki Ku Hong Associates Design Lab creates an update for the massive Busan Lotte World Tower originally designed by SOM. For more images and architects description continue after the jump: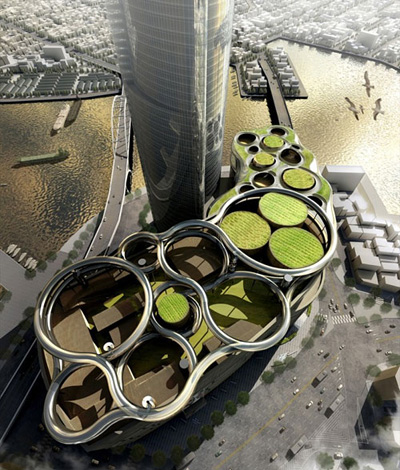 The Busan Lotte World Tower, originally designed by SOM and currently under construction, is already set to get a major overhaul. Developers of the multi-purpose 110 story tower and retail center have determined that the original rooftop garden is inadequate for the project, so they've hired Yamasaki Ku Hong Associates Design Lab (YKH) to design an update as a way to amplify the visitor experience.
YKH have created a series of circular lawns and rooftop decks connected by raised circular pathways. The new space, called 'Way-Pod,' will increase the retail area and add multiple ways for visitors to enjoy the rooftop space.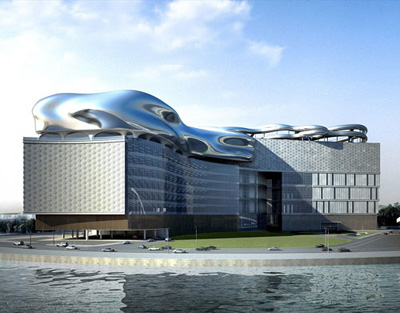 Recently opened, SOM designed, Lotte Department Store Gwangbok branch in Busan, Korea requested Yamasaki Ku Hong Associates Design Lab (YKH) to modify the existing 'roof garden' to allow and amplify users to enjoy the spectacular view of Busan Port. Additionally, the client requested us to find a way to increase 'brand identity' and 'sales volume'.
Existing conditions of roof garden with two separate observatories were not efficiently designed and more importantly were not connected; there were a possibility to increase two floors of additional retail area. YKH have come up with a new idea called, 'Way-Pod'; Way Pod is derived from I-Pod, creating a hardware that could evolve with time. Way-Pod is comprised of 'Way' – free of charge, elevated view corridor – and 'Pod' – with charge, entertainment hardware for fun, culture and event.
Source DesignersParty. *