[AC-CA] hosted competition for the design of the Architecture School Tower in Dubai is now wrapped up, we have already written about this challenging project. The selected winning design comes from talented architects based in USA, Evan Shieh and Ali Chen.
Discover more of the 1st prize solution below:
From the Architects:
BLUE TAPE is a vertical re-imagining of the typical architecture school typology. Located adjacent to the American University of Dubai and publicly integrated with the Dubai metro system, this satellite campus houses an international architecture program offering students the opportunity to pursue a modern architectural education within an iconic tower on the Dubai skyline.
At the core of BLUE TAPE is the concept of the Pin-Up Space: a place where students share their ideas, collaborate with their peers, and participate in academic critique of their designs with instructors and colleagues. BLUE TAPE re-identifies the Pin-Up space as the integral and vital tool of the architectural education, and recognizes that in many examples of current schools it is often pushed to the margins of physical space as an afterthought, relegated to unused surface walls.
Placed within the tower typology, the typically horizontal Pin-Up space becomes vertical, forming a visual, physical, and conceptual connector for the tower. As one moves upward, the Pin-Up space forms the conceptual 'spine' of larger public programs: classrooms, workshops, an auditorium, a library, event and gallery spaces, and finally culminates in an outdoor social roof terrace. These public programs become conceptual extensions of the Pin-Up spine, expressed on the facade of the tower as formal 'voids', serving as a symbolic and public expression of a continuous space of 'academia'.
The studios then take the language of a formal 'solid' in contrast to the Pin-Up 'void'. The studios floors are ramped in a continuous spiral around the Pin-Up spine with an open plan that allows maximum flexibility for the varying needs and sizes of future studio classes. The studios, as a support space, generate the ideas that feed the Pin-Up spine that then conceptually feed the larger program nodes.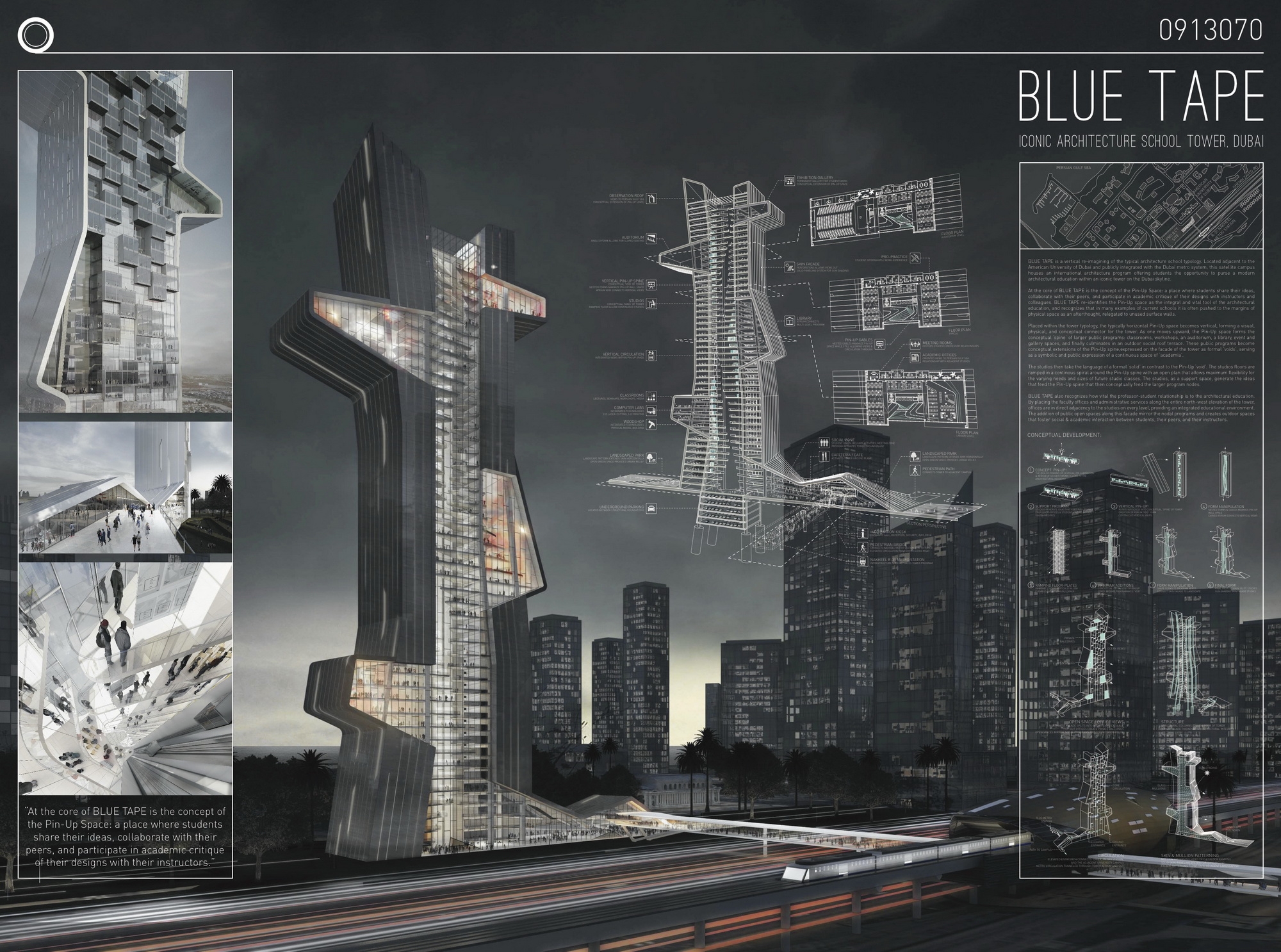 BLUE TAPE also recognizes how vital the professor-student relationship is to the architectural education. By placing the faculty offices and administrative services along the entire north-west elevation of the tower, offices are in direct adjacency to the studios on every level, providing an integrated educational environment. The addition of public open spaces along this facade mirror the nodal programs and creates outdoor spaces that foster social & academic interaction between students, their peers, and their instructors.
Project: Dubai Architecture School Tower Competition – BLUE TAPE
Competition Organized by [AC-CA]
Designed by Evan Shieh, Ali Chen
Country: USA
Location: Dubai, United Arab Emirates
Website: www.ac-ca.org