Project: National Concert Hall Dublin
Location: Dublin, Ireland
Designed by 3XN
Website: www.3xn.dk
3XN is one of two finalists (2nd is also a Danish practice – Henning Larsen Architects) in the prestigious competition to design Dublin's new National Concert Hall, unfortunately this impressive work might never be constructed. Due to the economic hard times taking over Ireland, the client will not appoint a final winner.
View more images and architects description after the jump: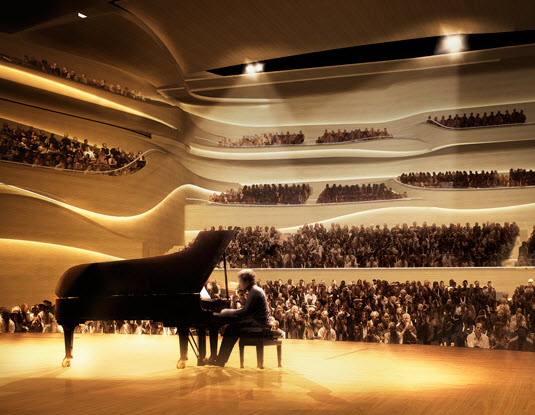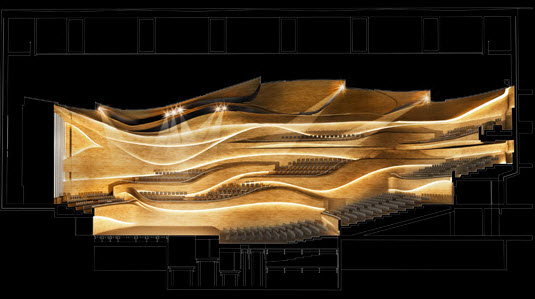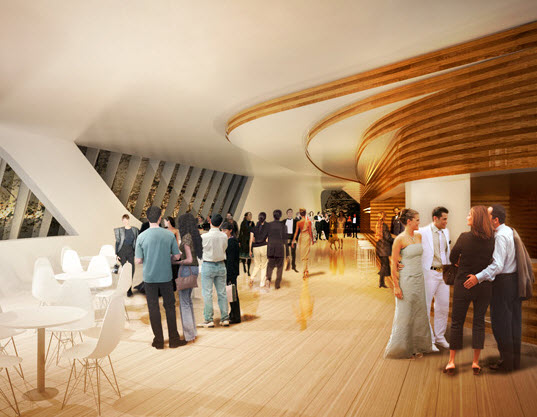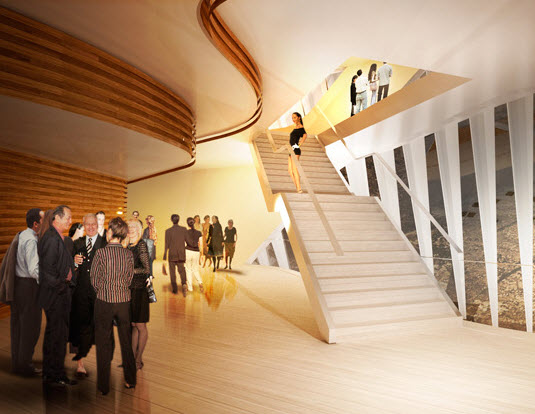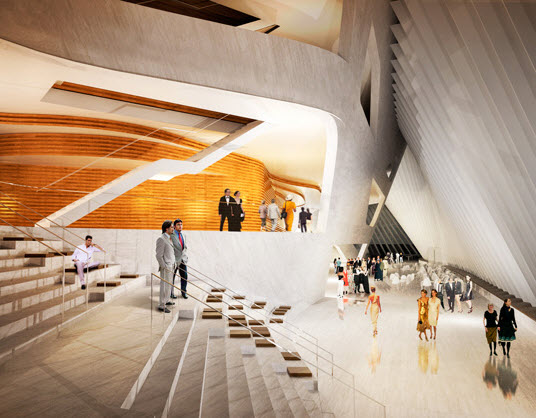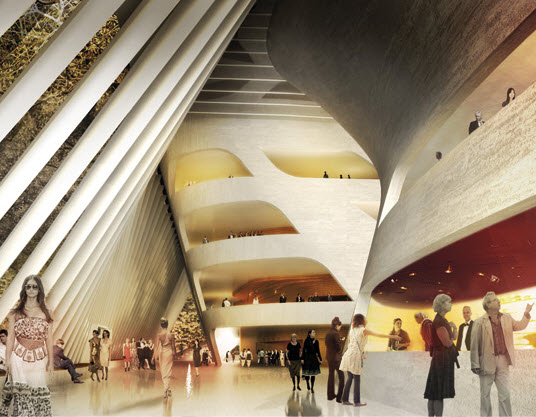 3XNs proposal for the Dublin National Concert Hall is a sculptural showcase which creates a magnificent new home for music, while also providing a framework for the historical context upon which the new concert hall sits. The new building provides a zone where the urban and park settings come together expressing their own symphony in addition to the music coming from within.
Dublin National Concert Hall is composed of three sculptural volumes, each of which contains its own unique Concert Hall. The three Halls are linked at the Grand Entrance through the historic Butler building and via a plinth; with the organic foyer promoting flow and social interaction between the three Halls. As amongst buildings in a city, the foyer flows between the Halls like small lively streets that contract and expand to meet the demands of the new structure. From the grand main entrance at Earlsfort Terrace through the floating foyers and down into the historic Iveagh Gardens, the city's urban environment quite distinctly meets and transitions into the park. From the garden side, a transparent façade cascades down from the three Concert Hall volumes drawing the gardens forth into the foyer and extending into a new public plaza towards Hatch Street.
Acoustically, Dublin Concert Hall was planned to be amongst the top Concert Halls in the world. Working with the leaders in acoustics (Larry Kierkegaard from Chicago), stage design (Charcoal Blue from London) and lighting (Steven Scott from Denmark), 3XN has aimed to surpass the expectations. The programming is such that the three Halls complement each other in size, function and acoustic objectives. Hall 1 is designed to be reminiscent of the fine lines and interior of a fine classical wooden instrument; providing a warm intimacy between musicians and patrons. Hall 2 should be restored to its original glory with its classic layout and respect for tradition. Hall 3 is designed to be the most flexible and multi-functional of the three Halls.