French photographer François Prost who exhibit his work next month in Superette Gallery in Paris. The «Photo Stories» exhibition will present 4 series produced between 2013 and 2017: After Party, Faubourg, Champs Élysées & Paris Syndrome. Take a look at the complete story after the jump.
The After Party series presents facades of French nightclubs, photographed in daylight. These nightclubs, still running, are shown under a different face: neon and other sulphurous attributes peculiar to the nocturnal atmosphere that give way to a more standard and less spangled reality.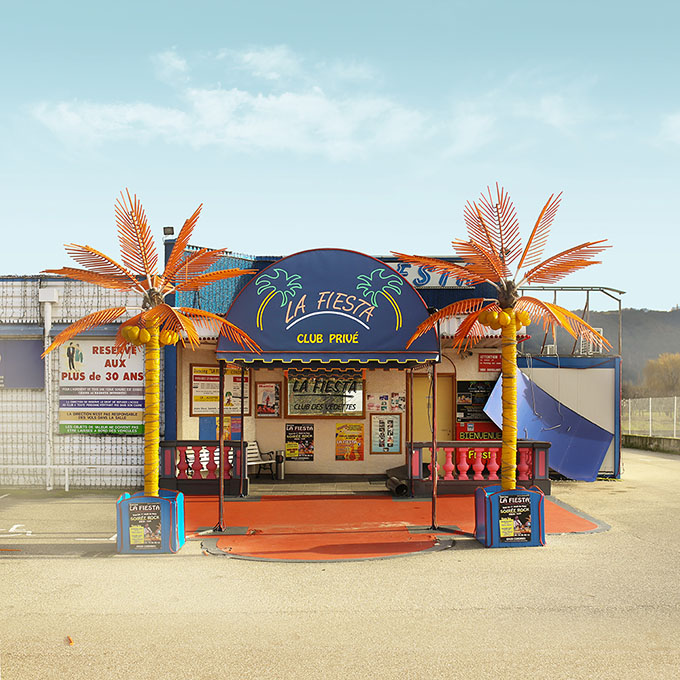 The Faubourg series presents facades of Ile de France buildings from so-called sensitive areas. These buildings, erected in the 1960s, at the time of the large complexes were built to increase the housing stock and to give the middle / upper class all the modern comforts of the time.
The Champs Elysées is one of the most visited tourist attractions in the world and is a strong sym- bol of Parisian identity. However, when we take a closer look, this avenue seems to better embody a global culture rather than a local culture.
Under form of a comparative study between Paris and Tianducheng, the series Paris Syndrome explores the similarities both funny and disturbing between the model city and its Chinese counterpart. Today, it looks like the biggest and the most impressive replica of Paris. It consists of a 100 meter high Eiffel tower, a 31 squared kilometer Haussmann district and a park largely inspired by the gardens of Versailles.
Find more information about François Prost: francoisprost.com