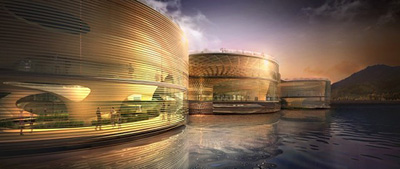 Project: Wavescape Pavilion
Designed by AQSO Arquitectos & Ydesign
Building area: 6128 sqm
Client: Organizing Committee of the Expo 2012 Yeosu
Location: Yeosu, South Korea
Website: www.aqso.net & www.ydesign.com
Wavescape Pavilion is a joined project of AQSO Arquitectos & Ydesign, connection to the nearby water gives a unique sense of motion to the facades. For more continue after the jump:
From the Architects:
Thematic building for the Yeosu Expo. Two connected water molecules, representing the two big exhibition spaces, are wrapped by a versatile skin that gives a varying transparent quality to the building.
This skin translates the energy of the ocean to move itself vertically up and down, creating a vibrant image that it is always in motion with the waves and tides.
Source Evolo. *