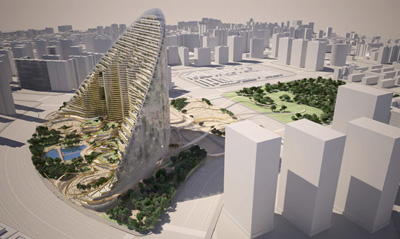 Project: Aura SOHO
Designed by Make Architects
Location: Wanjing, China
Scope: 500,000sqm
Website: www.makearchitects.com
An impressive design for Aura SOHO created by Make Architects who were shortlisted to create it for a location in Chinese city of Wanjing. For more images and architects description continue after the jump:
From the Architects:
Make were shortlisted for a prestigious international competition with this dramatic design for a new 500,000m² office and retail development. Located on a gateway site near Beijing international airport, the building takes the form of a monumental arch which creates a powerful presence on the skyline and celebrates arrival into the city.
The development is surrounded by new public spaces which are conceived as a fluid landscape, linked and defined by ribbon-like canopies that flow through the pedestrian routes. Organically-shaped retail pavilions overlook a range of gardens and sunken courtyards and a large civic plaza provides the development, and the wider area, with a focal point.
The impressive arch form emerges from this landscape. Arranged to maximise south-facing frontage and views across Beijing, the plan has the potential to be sub-divided into many configurations of small-sized offices to suit changing tenant and market demands. All office spaces are animated with sweeping terraces and sky gardens which form clear openings through the building and provide a green landscape at every level to be enjoyed the occupants.
A series of aluminium ribbons form the insulated spandrel panels for each floor as well as the balustrades to the terraces. The warm yellow anodised finish slowly graduates to natural silver at the building's edges to reflect the colours of the sky and the surrounding landscape; the silver is also reflected in the white ceramic frit on the southern facade, creating definition and contrast with the yellow hues.