Space Copenhagen recently completed Blueness, a new restaurant in the heart of Antwerp's fashion district. Their second restaurant in conjunction with celebrated chef Sergio Herman, celebrates sensuality and eclecticism. Space Copenhagen has converted the ground floor of a 17th Century Renaissance structure, blending classical interior architecture with a modern Scandinavian design approach. The restaurant also has specially commissioned site-specific installations by artists such as Valentin Loellmann, Destroyers Builders, and Mae Englegeer. Discover more after the jump.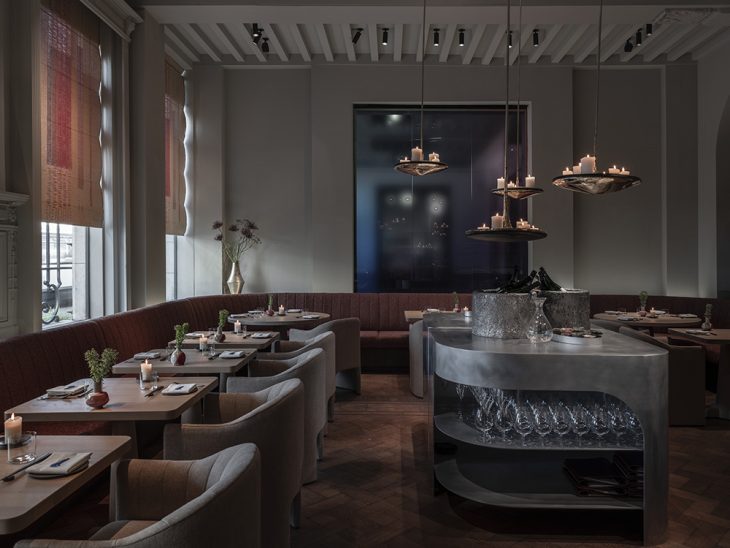 From the architects: Danish design studio Space Copenhagen has just completed the design of Blueness, a new upscale restaurant in Antwerp's celebrated fashion district. Blueness is the second restaurant Space Copenhagen has created in collaboration with acclaimed chef and restaurateur Sergio Herman. Located in the heart of Antwerp and occupying the ground floor of a 17th Century renaissance building, the space has been transformed by Space Copenhagen who sought to express the hybrid duality between the buildings past grandeur and its present function. The result is a space that infuses classical interior architecture with a modern Scandinavian design aesthetic.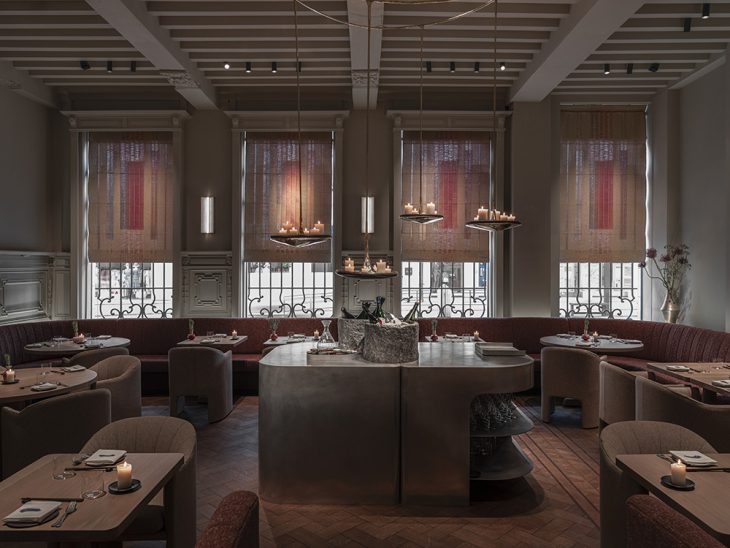 The building's classical spatial proportions have been placed centre stage of the design with fragments of its original detailing, which have survived for centuries, still evident. Tall ceilings arch above columns with carved and decorative elements in sandstone and marble, while elaborate metalwork framing adorns the various openings and windows within the space. The design of the restaurant has been envisioned by Signe Bindslev Henriksen and Peter Bundgaard Rützou as a wonderous journey through time, where the restaurant bears witness to the different purposes and activities of the building throughout history. The subdued melancholy of Space Copenhagen's design creates the perfect stage for Blueness Antwerp, bringing guests on a tasteful and sensuous journey within an eclectic environment.
Blueness's cuisine is both appetising and playful, fuelled by the contrast between surprise and expectation. Sergio Herman has created a fine-casual concept where modern French cuisine and Japanese influences combine and enhance each other. Space Copenhagen's design explores duality so guests can choose to either enjoy the buzz and dynamism of watching the open kitchen from the custom bar or take in the tranquility of an intimate candlelit dinner in the main dining room.
In the dining room, comfortable and effortless furniture in subtle colour tones of natural wood, stone, brass and linen blend with dreamy and ambient lighting provided by a sculptural Candlelight Chandelier. This bespoke cast brass piece by artist Valentin Loellmann has four arms that stretch down from the ceiling with platforms for candles that provide gentle, diffused light. Soft benches upholstered in warm rose fabric by Sahco and Kvadrat surround bespoke light oak tables, bringing a touch of Scandinavian comfort and simplicity to the space. Other tables are flanked by Loafer Dining Chairs designed by Space Copenhagen for &Tradition, upholstered in sand-coloured canvas.
A custom bar commissioned by Space Copenhagen from Destroyers Builders is hand made in a beautiful deep red walnut wood, rounded edges and soft curves of which have been carefully treated to create a smooth tactile surface. For the work surfaces, the dark red walnut merges with brushed steel for easy cleaning and maintenance. The monumental bar is fronted by dark oak high Spine barstools designed by Space Copenhagen for Danish furniture brand Frederica Furniture. As well as the creating the bar, Destroyers Builders has also crafted a futuristic waiter's station in cast aluminium.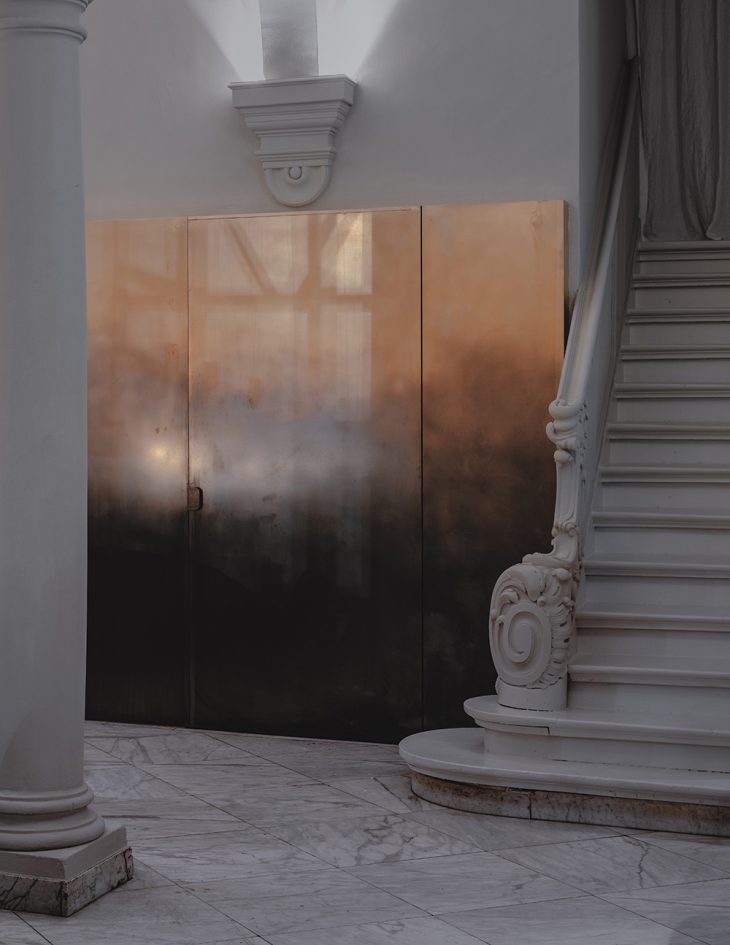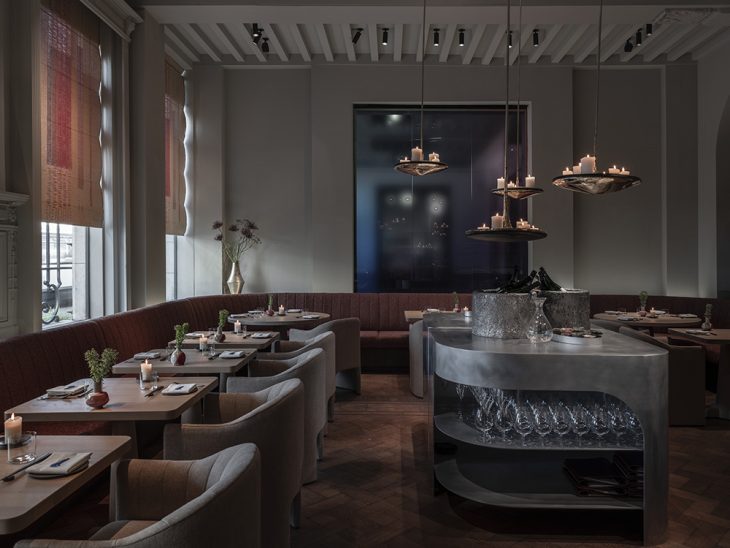 A central part of the design of Blueness is the otherworldly art and design works that adorn the walls throughout the restaurant and bar. Space Copenhagen, who often use art to enrich the design of restaurants, worked closely with a selection of artists to create bespoke pieces that feature throughout Blueness. These spectacular works include four custom pieces by Latvian designer Germans Ermičs, the largest of which transforms the main staircase into an immersive art experience with copper toned cladding, moving from dark to light tones as guests descend. In the basement, Ermičs has also created a densely saturated colourful light installation positioned behind wrought metal bars dating back to the 18th Century, which creates an eerily magnetic and abstract space. Upstairs, Dutch artist Mae Englegeer has provided bespoke tatami drapes for the window, their muted tones bringing serenity to the room.
With Blueness Antwerp, Space Copenhagen has created a design that, while dreamy and a little melancholic, also has unexpected elements of playful eclecticism. For Bindslev Henrikson and Bundgaard Rützou, the process has been an inspiring journey exploring many possibilities and feeding their curiosity. They have also relished the opportunity to work with an exciting range of talented and creative collaborators, as well as being supported by the generous and visionary mindsets of the partnering Dhedeene family behind the Verso fashion brand.
Commenting on the design, Signe Bindslev Henriksen says:
"More than anything this project has been shaped by a series of very intuitive processes, from our very first thoughts about the design of the restaurant, that carried through to the end result. The design process has been fueled by the fragmented history of the 17th century renaissance building and the ongoing dialogue between the team and the commissioned artists who are central to the final design."
Peter Bundgaard Rützou adds:
"The design of Blueness celebrates a sensuous and eclectic atmosphere that invites its guest on an appetizing and playful journey fueled by surprise and expectation. Japanese influences blend eclectically with a classic French approach to the cuisine, and the classic architecture is complemented by insertions of a modern and restrained Nordic character with unexpected esoteric futuristic elements to define its design language. Blueness Antwerp offers the unexpected that carries you into a dreamy fulfillment of sense and space."
Technical details:
Covers Dining Room, 34
Covers Bar, 14
Areas in sqm:
Ground Floor (Ex. Kitchen and BOH , 125 m2
Lower Level (Ex Kitchen and BOH) 65 m2
Address:
Lange Gasthuisstraat 11
2000 Antwerp
Find more projects by Space Copenhagen – spacecph.dk