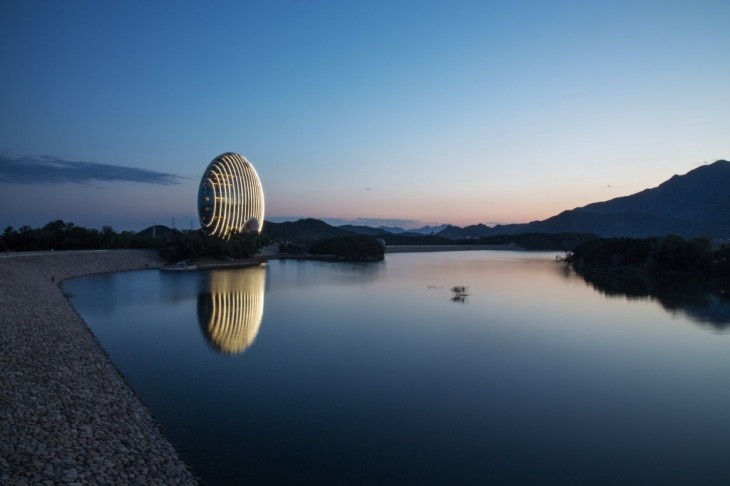 The Sunrise Kempinski Hotel project came to the spotlight for the first time with its impressive rendering design proposal. The sphere shaped designed by the renowned architect Zhang Haoi Ao from Shanghai Huadu Architect Design Company is created to represent a circle, a symbol of a beginning in the traditional Chinese culture. The entrance to the hotel is shaped like a fish's mouth, which is a symbol of prosperity in China.
The building takes on 21 storeys, and its curved shape allows the space to have more than 25% extra of the natural light. The Kempinski hotel houses 306 guest rooms and suites, varying in size from 40 to 338 square meters. Hotel is located on the shore of the Yanqi Lake on Yanshan Mountains. The rooms offer either a view of the impressive lake or the nearby mountain.
In charge of the interior design and furnishing was interior design office DiLeonardo, whose portfolio holds projects for Ritz Carlton Sharq Village & Spa in Doha and The St Regis Sanya Yalong Bay Resort on Hainan Island in china.
RELATED: FIND MORE HOTELS ON ARCHISCENE
Yanqi Lake Kepminski hotel also houses nine restaurant and bars, with one of them located on the top floor offering magnificent view of the lake and its surrounding.
Discover more of the design after the jump: