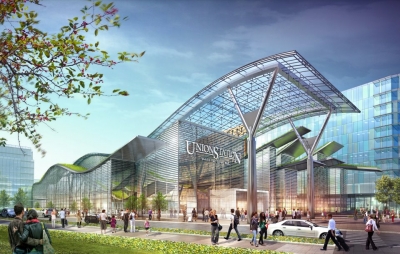 Project: Transformation Washington's Union Station into Iconic Transportation Hub
Designed by Parsons Brinckerhoff and HOK
Location: Washington, USA
Website: www.hok.com & www.pbworld.com
Parsons Brinckerhoff and HOK collaborate on an impressive design transforming the Washington's Union Station into an modern transportation hub.
From the Architects:
Amtrak recently released a master plan, developed with HOK and Parsons Brinckerhoff, to revitalize Washington Union Station. The plan envisions a vibrant intermodal center with increased capacity and renewed commercial activity. It was developed in collaboration with developer Akridge and several regional transportation agencies.
Designed by Daniel Burnham, Union Station opened in 1907 as one of the world's preeminent passenger rail facilities. A national landmark, the station provides the first impression of the city for many visitors and is one of the country's busiest multimodal transportation hubs. It currently is operating beyond capacity, serving 100,000 passenger trips per day on Amtrak and commuter trains, Metrorail and buses.
The Amtrak master plan revitalizes the historic station, triples passenger capacity, doubles the number of trains the station can handle and improves the passenger experience. The plan positions Union Station as an integral part of Amtrak's Northeast Corridor investment plan by upgrading it to accommodate additional level of tracks, platforms and concourses below the existing track level. These changes will support increasing commuter and intercity rail service with room for future expansion of high-performance, high-speed rail.
At the heart of the plan is a new train shed that will welcome passengers to the nation's capital. HOK's design brings natural light into the station and creates better connections to Amtrak, commuter rail, transit and other transportation services. The design integrates new passenger concourses with significant retail and passenger amenities and a series of new street entrances. A planted, vegetated roof retains rainwater and tempers the interior environment.
"We wanted to design a train shed that supports movement and a vegetated roof visible from the street. The undulating green rooftops of the entrance recall the individual tracks below and dispel the impression that the north entrance is a back door," said Bill Hellmuth, AIA, HOK's DC-based president and design leader for the project. "The overall design underscores the inherent sustainability of mass transit."
Based on the master plan's framework for phased construction over 15 to 20 years, the estimated cost for the station reconstruction and terminal capacity expansion ranges from $6.5 to $7.5 billion in 2012 dollars. It is estimated to generate a total of $14.3 billion ($2012) in regional economic benefit through direct construction expenditures and other related economic impact.
"We have a once-in-a-generation opportunity to secure the long-range transportation and economic future of the Washington region and the Northeast mega-region by equipping Union Station for its second century of outstanding service to the traveling public," said Wayne Striker, AIA, a principal in HOK's New York office. "By creating station and commercial development that is integrated with the surrounding neighborhoods and well-connected to the multimodal regional transportation system, Union Station will become an even greater regional destination."
HOK is providing master planning, programming, architecture, cost modeling, stakeholder consensus building and project management services for the station reconstruction and expansion project.
The firm is currently teaming with Parsons Brinckerhoff on the design of phase one of the 66,000-sq.ft. Anaheim Regional Transportation Intermodal Center (ARTIC) in Anaheim, Calif. Other HOK infrastructure projects include Heathrow Airport Terminal 5 Automated People Mover and Rail Station in London and Phoenix Sky Harbor International Airport Automated People Mover in Phoenix, Arizona.