Do you have trouble sleeping? Tossing and turning every night can be more tiring than running a marathon. Then, after you finally manage to close your eyes, you feel like only an hour has passed when the horrible sound of the alarm jolts you from sleep.
We've all had nights like these, some more often than others. One of the ways you can make this just a nightmare is to cozy up your room and make it more conducive to a long, refreshing night of sleep. Here are some tips on how to make your bedroom comfier so you can go to sleep quickly and carefree.
Invest in a luxurious mattress
If you want to get a good night's sleep, it's worth it to invest in your mattress. You may even add a mattress topper if you want to maximize your sleeping experience. If you care about your health over the long run, you should prioritize using eco-friendly products. Since we spend a considerable amount of time in bed, it's important to have a mattress and sheets that are safe for our skin.
If you don't know where to start in your journey to finding a quality mattress, check out the Anatomy of Sleep. Their experts have made it their life's work to test out and review mattresses so you can more easily find the one which suits you best.
Add some natural, cozy materials
Make your bedroom more inviting by incorporating warm materials like wood, linen, rattan, wicker, stone, and wool. What do you think of the idea of having brown wicker furniture, wool cushions, and suede lamp covers?
Put in some wooden wall accents
Wooden wall paneling is a great way to bring coziness into any bedroom, no matter its size. Wallpapers that look like wood cladding are a great alternative to using natural wood when that is not an option. When paneling or wallpaper isn't an option, wood furniture and decorations may help provide that warm and fuzzy feeling to a room, as we mentioned in the previous tip.
Layer rugs
Every morning, you make your first step of the day. Why not that be on a soft and cozy rug? Place a high-pile wool rug close to the bed. It's gorgeous to look at and comfortable to rest your feet on. You may choose anything from a vintage Persian carpet to a contemporary patterned one.
Decorate the wall behind your bed
Different colors and shapes on the wall behind the bed may be used to create a cozy atmosphere. Wallpaper is another creative idea that helps to infuse our surroundings with personality. Simply selecting new wallpaper for the bedroom may give it a whole different feel. Wallpapers can help us dream and sleep better by giving us ideas to think about.
Put in a fake fireplace
To make your bedroom cozy, a faux fireplace from the home improvement store may do the job if you can't be bothered to install the real thing. If you still need convincing, consider the fact that a mantel in the bedroom is the ideal place to put up your most sentimental decor pieces. Plus, nothing makes a house seem more like a home during the winter holidays than a mantel decorated with Christmas stockings.
Make a cozy reading spot
It's hard to beat the coziness of a window seat, whether you spend your time there reading, watching movies, or simply taking in the scenery. However, getting a window seat might be expensive if you don't already have it installed. In its place, you may dedicate a small section of your bedroom as a peaceful reading or meditation area.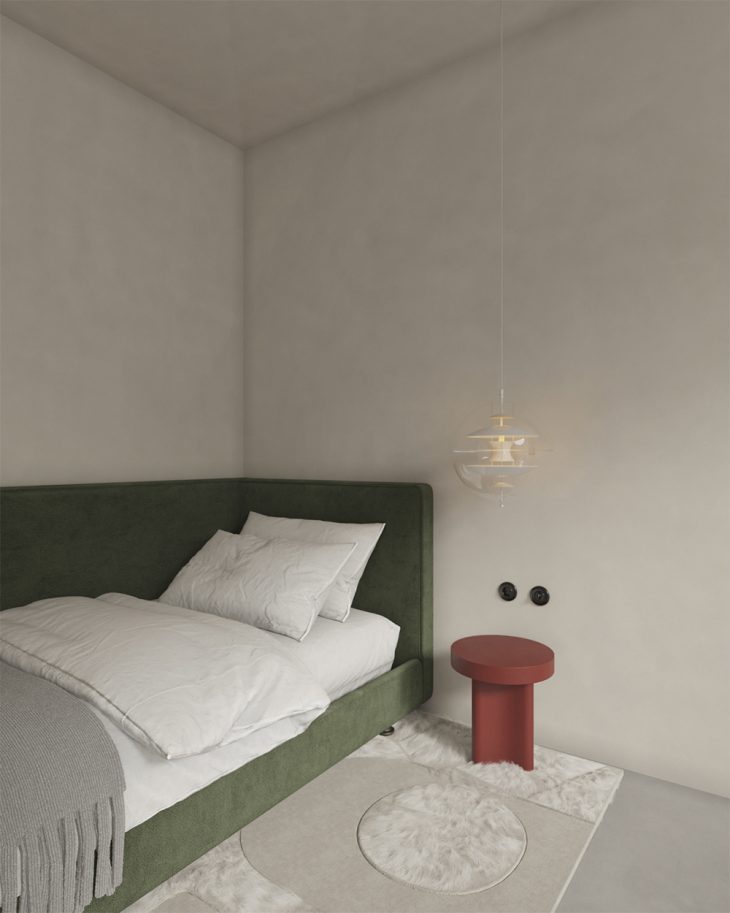 Lighting for the mood
Bedroom lighting from several sources, as opposed to a single fixture, is ideal. Therefore, get multiple lamps and install them around the room. You can also use scented candles. Not only will they illuminate your room in the most comfortable, warm light, but they will also infuse it with gorgeous aromas.
Invest in your bedding
You may also make your bedroom seem more comfortable by choosing textiles with care, paying special attention to the fibers and colors. Linen and cotton are your friends as the temperature rises, while wool is a must in the colder months. Remember to choose a color scheme that works well with the rest of your room.
We hope the tips above have given you some ideas for making your bedroom more comfortable. Once your room is snugger, you'll be more likely to have the most glorious night of sleep you've had in a while.
Images from RYB apartment by Men Bureau – See the full story here