Matteo Cainer Architecture has recently completed its latest project in Piedimonte Etneo, Sicily, Italy – Colle degli Agrumi. The project is located in the lovely province of Catania in the hills of Piedimonte Etneo. a magnificent site, a unique kind of retreat, capable of providing a significant and immersive Sicilian experience with framed views of Mount Etna and the Mediterranean Sea.
The concept arose from a thorough study on the Mediterranean and the desire to resurrect a piece of 'invisible' Sicily. A new sort of journey, one that artistically intertwines Sicilian: history, culture, wellness, art, and beauty, all amid the restored farmhouse ruins surrounded by organic citrus groves of mandarins, oranges, tangerines, lemons, citrons, olive trees, and vineyards.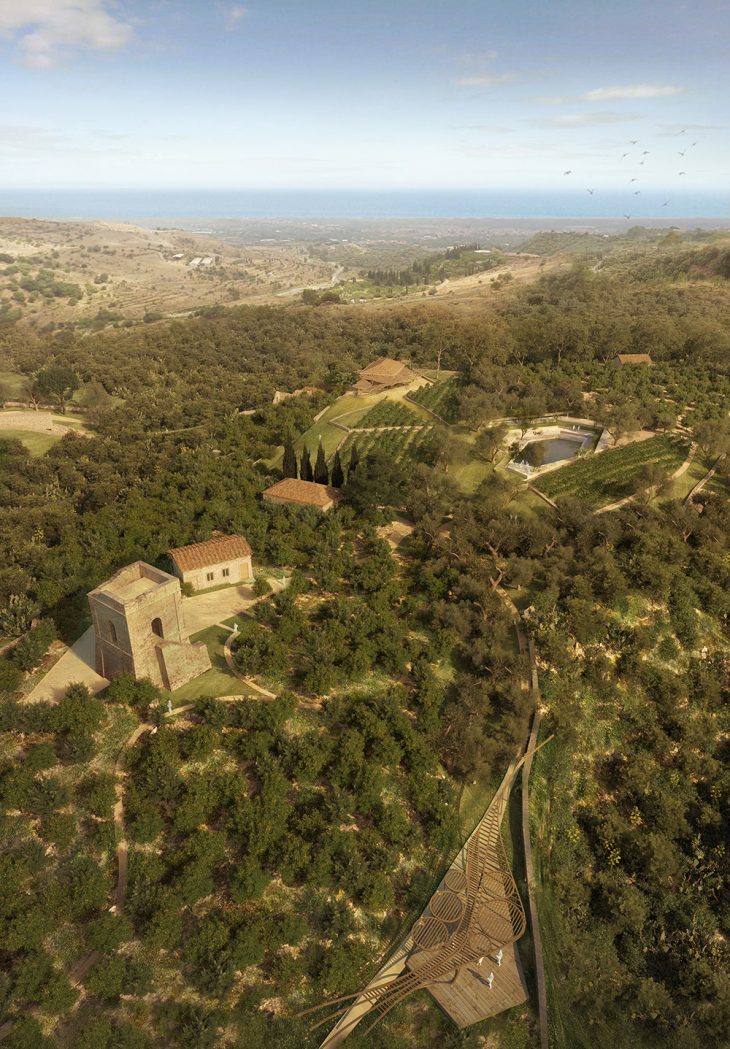 The main objectives of Colle degli Agrumi were to give the citrus groves center stage by constructing an immersive biophilic project and using a design language that recalled the Sicilian farm houses: 'Masserie' and 'Bagli Fortificati', and its typical fortified and introverted layout.
Each existing building has been restored and refurbished to the absolute minimum in order to keep its original form, and a role that best fits within its location and morphology has been assigned to it. Starting with the Palmento (formerly a winery), which is now a laboratory for citrus-based lotions, oils, and other goods, to the neighboring decrepit buildings, which provide a space for rest during the day and a magnificent setting for open air theater dedicated to films set in Sicily in the evening. As one ascends the stairs, one encounters a holistic therapy area before reaching a wine cellar carved out of volcanic rock, complete with a separate deck for tasting and enjoying the wine.
Just above the main building is a lounge/restaurant with a lovely terrace sheltered by a bougainvillea-covered pergola and views of Taormina and the Mediterranean Sea. Storage spaces were converted into little guest rooms with earth tones and views of the nature. Finally, the historic tower, which was previously a citrus fruit deposit, restored its storage function and turned the first floor into a Sicilian music and literary library, complete with a magnificent belvedere terrace overlooking Mount Etna.
A natural pool was added and the surrounding area where one can enjoy the shade beneath the olive trees during the day.
We talked with Matteo Cainer about his inspiration behind the project, the concept, design and the role nature plays in all of it.
What was your main inspiration behind the project?
The main inspirations for the project come from Sicily itself. When I first visited the site, I was lucky because the citrus groves were in full bloom and the perfume of the orange blossoms was inebriating and embraced me as I moved through the landscape. Every time I looked up, I would see either imposing Mount Etna, the expanse of the citrus groves or the Mediterranean Sea, and in the background Taormina. Thinking back, it was a mixture between the warm and welcoming earthy colours, the sun and the Sicilian culture and heritage that I continuously encountered. I was deeply inspired to bring back to life this piece of 'invisible' Sicily, a place where one could experience a new kind of journey, one that poetically intertwines Sicilian history, culture, wellness, art and beauty, all in the restored farmhouse surrounded by the beautiful agricultural landscape covered with citrus trees, olive groves and vineyards.
Could you briefly introduce the concept behind the Colle degli Agrumi project?
The concept behind the project was a 'calling' to rehabilitate and give new life to this abandoned destination, to transform it into a special kind of retreat, one that would feel more homemade and personal, capable of offering a meaningful and immersive Sicilian experience both to visitors and to the local people. The aspiration was to design a project that does not impose itself on the landscape, but rather grows and delicately nestles into it. As a result the cardinal ideas used in designing Colle degli Agrumi were to give centre stage to the citrus groves by creating an immersive biophilic project, designing with nature and for nature, by harnessing the beauty and diversity of the landscape and creating an inclusive experience capable of triggering a sense of belonging and identity.
Through multiple functions and different activities such as grape harvesting, olive picking or simply the recognition of different fruits and aromas throughout the site, together with cultural and wellness moments, the visitor would be able to slowly discover and experience the typical smells, flavours and melodies of the land. Furthermore, with the addition of new functions and the restoration of existing walls and buildings, and by rethinking the beautiful stairway, we are able to reconnect the entire site through a synergy of moments and sensations, leaving space for memories, time and a renewed inner peace.
How does the design respond to the unique qualities of the existing building?
In the project, each of the existing buildings has been restored and refurbished to the bare minimum in order to maintain its original form and has been given a function that best fits within its location and morphology. Starting from the Palmento (once the place to make wine) which now becomes a laboratory for citrus-based creams, oils and other products, to the adjacent dilapidated buildings that offer a space for respite during the day and a magical setting for open air cinema dedicated to films based in Sicily in the evening. Moving up the stairs and along the citrus groves one arrives initially at a holistic therapy area, continuing to a wine cellar carved out of volcanic rock with a dedicated terrace for tasting and enjoying the wine under the dappled light created by medlar trees. Just above is the main building that has been transformed into a lounge/restaurant with a magnificent terrace shaded by a bougainvillea-covered pergola with views to Taormina and the Mediterranean Sea. We then restored various scattered storage spaces transforming them into small guest rooms with earth colours and views onto the landscape. Finally we rebuilt the ancient tower, once a deposit for citrus fruits, thus re-establishing its storage function and transforming the first floor into a Sicilian music and literary library with, at the top, a splendid belvedere terrace overlooking Mount Etna.
What aspects of local culture were used as inspiration while working on the project?
Local culture, tradition, and history were all key elements of the design. The objective was to create a destination capable of offering a more immersive reading of the Sicilian Legacy. This approach can be read throughout the entire project but especially in the curated site-specific program of events anchored in Sicily itself. The new natural pool under the olive trees provides respite from the sun during the day; in the evening with a simple system, it becomes an open air amphitheatre for convivial and cultural events of literature, theatre and music.
For the design language we tried to maintain as much as possible the typology, by referencing the Sicilian farmhouses: 'Masserie' and 'Bagli Fortificati', and their typical fortified and introspective layout. This helped us to design a new site plan that emphasises the historic architectural traces and unique details as well as revealing hidden and isolated natural paths and void spaces within the groves of the vegetation, spaces where one can experience the scents of orange blossoms, read or relax and practice meditation peacefully within nature, or centre one's mind and body for the practice of yoga.
Numerous studies have found that engaging with nature, including spending time among plants, has physiological and emotional health advantages. What recent discoveries have you found particularly fascinating and motivating as an architect?
I have always been fascinated by nature, not only by its resilient capacity as a masterful creator of evolving complexities but as a regenerative source of life and inspiration. This has spawned various colleagues to translate nature's strategies into design be it bio-mimicry, bio-morphism or bio-utilization; however my dance with nature is a different one, much more as a partner, an element of the design, more along the lines of the 'biophilia hypothesis' that theorizes that humans have evolved with nature to have an affinity for nature. Building on this concept, we have learned more and more that spending time in nature has both cognitive benefits, and can help with mental health and emotional well-being. The two major effects can be narrowed down to: Attention Restoration and Stress Reduction. Attention Restoration Theory (ART) postulates that mental fatigue associated with modern life can be overcome through nature, and the capacity for direct attention can be restored. The Stress Reduction Theory (SRT) on the other hand describes how spending time in nature can influence feelings or emotions by activating the parasympathetic nervous system to reduce stress and autonomic arousal through people's innate connection to the natural world. In the recent years of the pandemic, research has also shown that spending more time in nature, particularly surrounded by trees, leads to a significantly increased immune function. This is because plants emit phytoncides, airborne chemicals they use to protect themselves, which also benefit humans. Last but not least, natural spaces facilitate social contact, providing an avenue for increased interaction and connection with others and a greater sense of civility and community.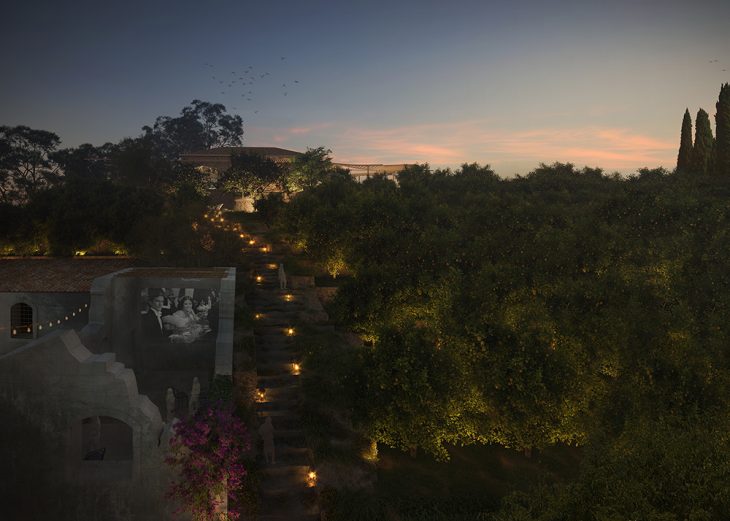 What are some of the ways you connect with nature in your daily life? How do you apply your life experiences to your work?
Unfortunately living in big cities makes it a bit harder to connect with nature, but I actively look for projects that strive to be in dialogue with nature. This in turn gives me the constant opportunity, while on site, to be immersed in nature and to enjoy it. While in the city though, besides growing houseplants, I run in the park in the morning and in general walk everywhere to reach meetings or appointments, often crossing parks or gardens which gives me the opportunity to look, feel and breathe nature, even if briefly.
What is important is to design with a new awareness, to design in tune with nature. This means designing a project that is 'alive', one that 'breathes', using the natural elements as a design block; like the use of the sun and its shadows and the typical 'Bora' wind of Trieste in our project 'Musical Sant'Antonio', or the use of the sea and its tides in our 'Birnbeck Island' project in Weston-super-Mare or the citrus groves, Mount Etna and the Mediterranean in Colle degli Agrumi. I believe that designing projects that are effectively capable of changing and adapting to nature is essential like our 'Neutinamu Youth Centre' in South Korea, which is a flexible eco-friendly 'mass timber' architecture that through its 'floating gardens,' provides young teenagers with open spaces in which to learn and enjoy clean breathable fresh air, rich natural elements and sunshine filtering through foliage, while encouraging new lines of thinking for a more ecological and sustainable future.
Name: Colle degli Agrumi – Citrus Hill
Location: Piedimonte Etneo, Sicily, Italy
Client: Private
Program: Retreat
Status: Planning/Tender
Size: Site 3.3 hectares, project: 2800 m2
MCA Principal: Matteo Cainer
MCA Team: Chiara Antonelli, Yeonsu Lee
Renderings: MCA/Liraat
Media: #MCA_Colledegliagrumi #MCA_Citrushill