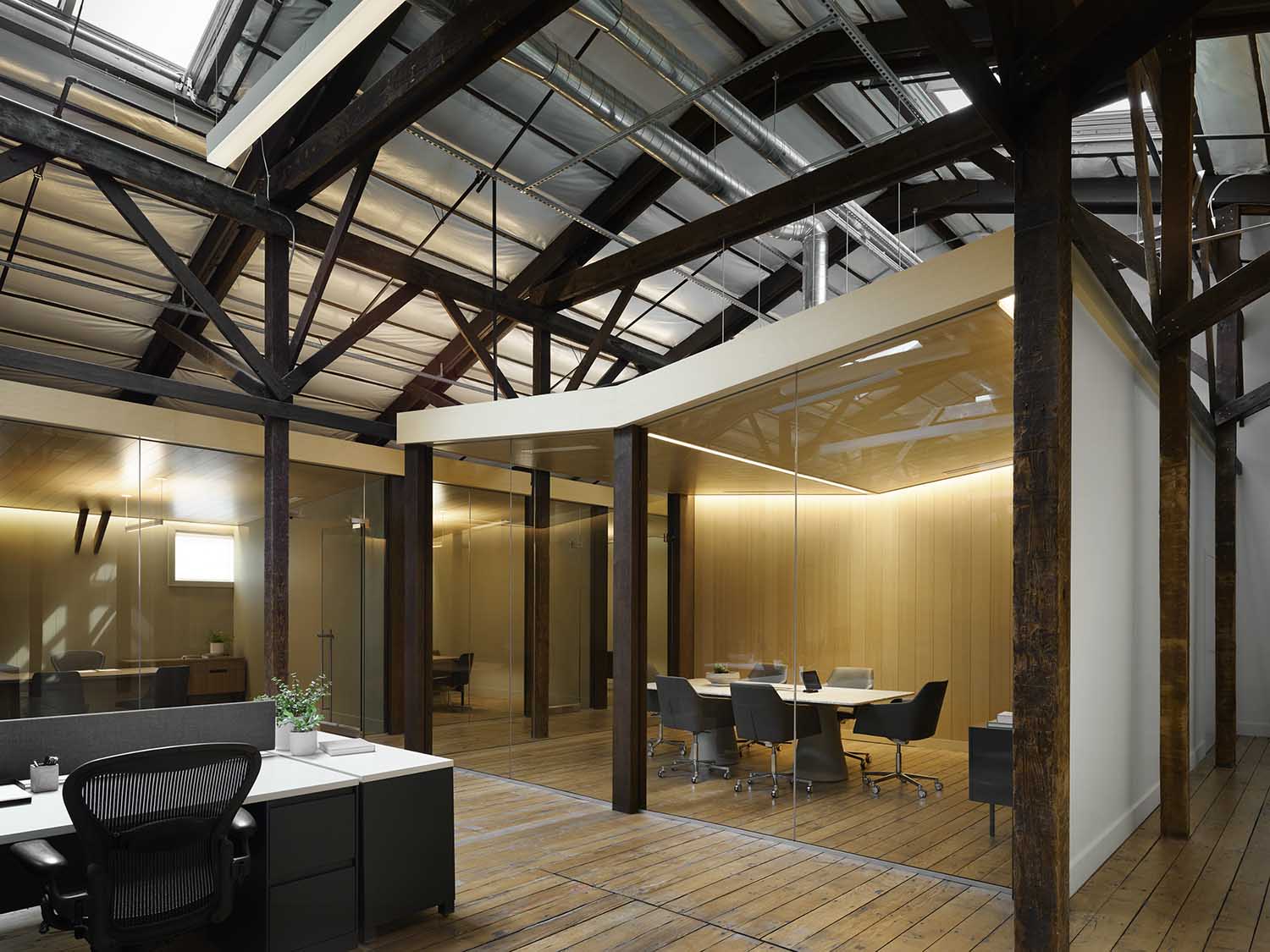 Inclusive Capital Partners, a prominent environmentally focused investment firm, has recently unveiled its thoughtfully designed new office space in a historic warehouse building at the North end of the Presidio. The project, executed by a talented team led by jones | haydu with Evans Design Studio, is a remarkable blend of modern functionality and the preservation of historical character.
Located in a 1919 warehouse building, the Inclusive Capital Partners office is a testament to the firm's commitment to sustainability and environmental awareness. The project's primary goal was to create a workspace that mirrors the firm's ethos while paying homage to the building's rich history.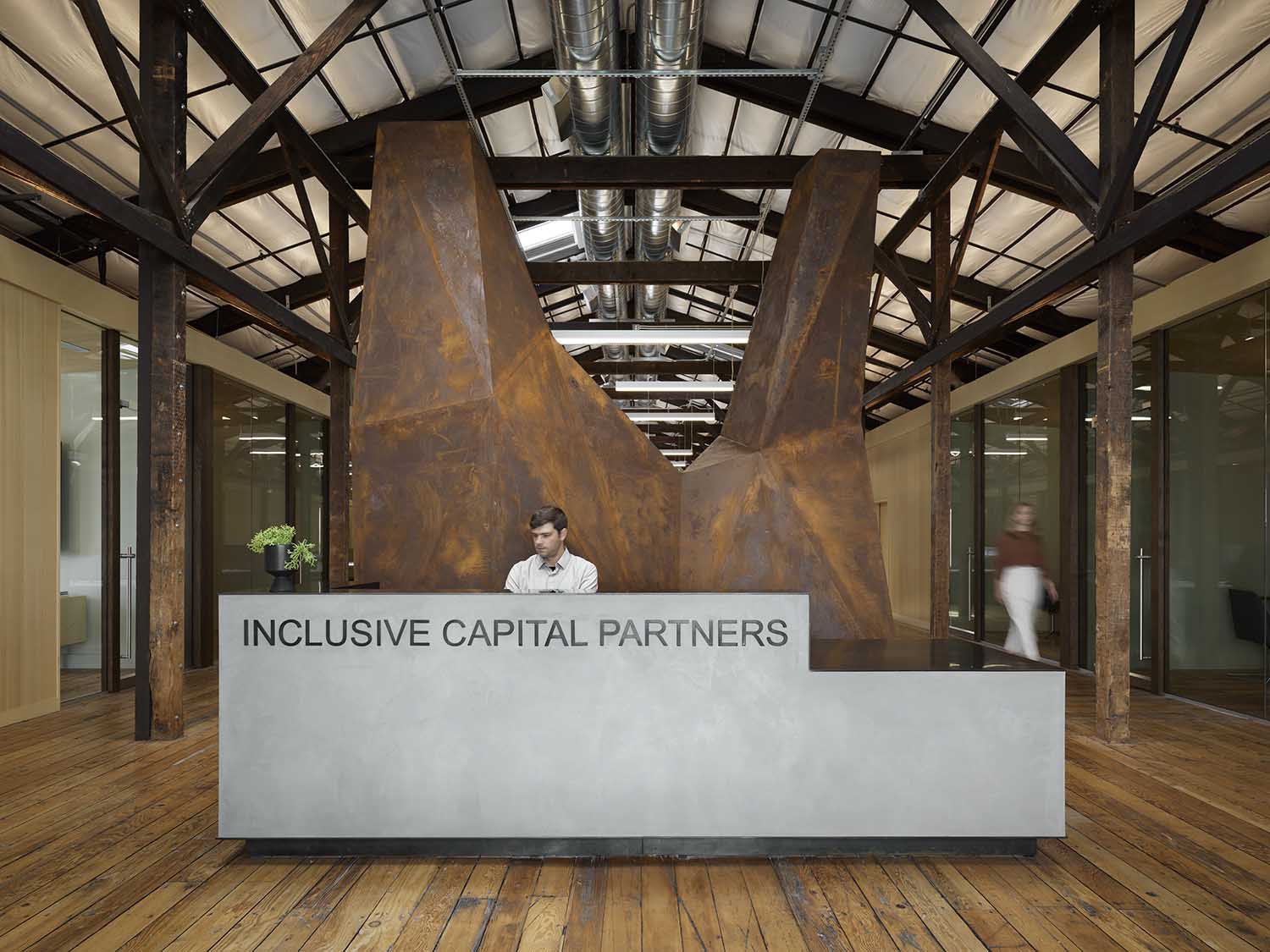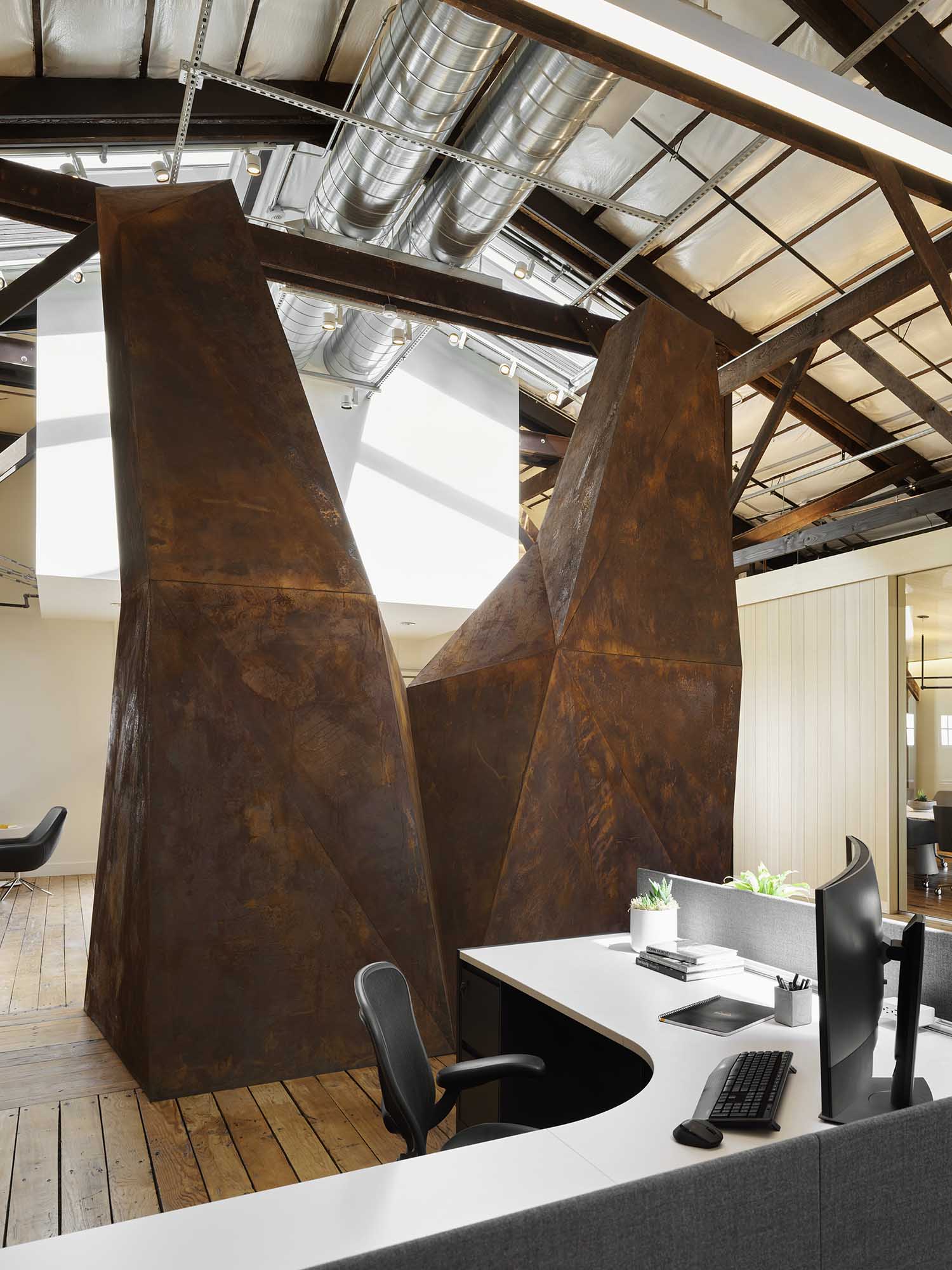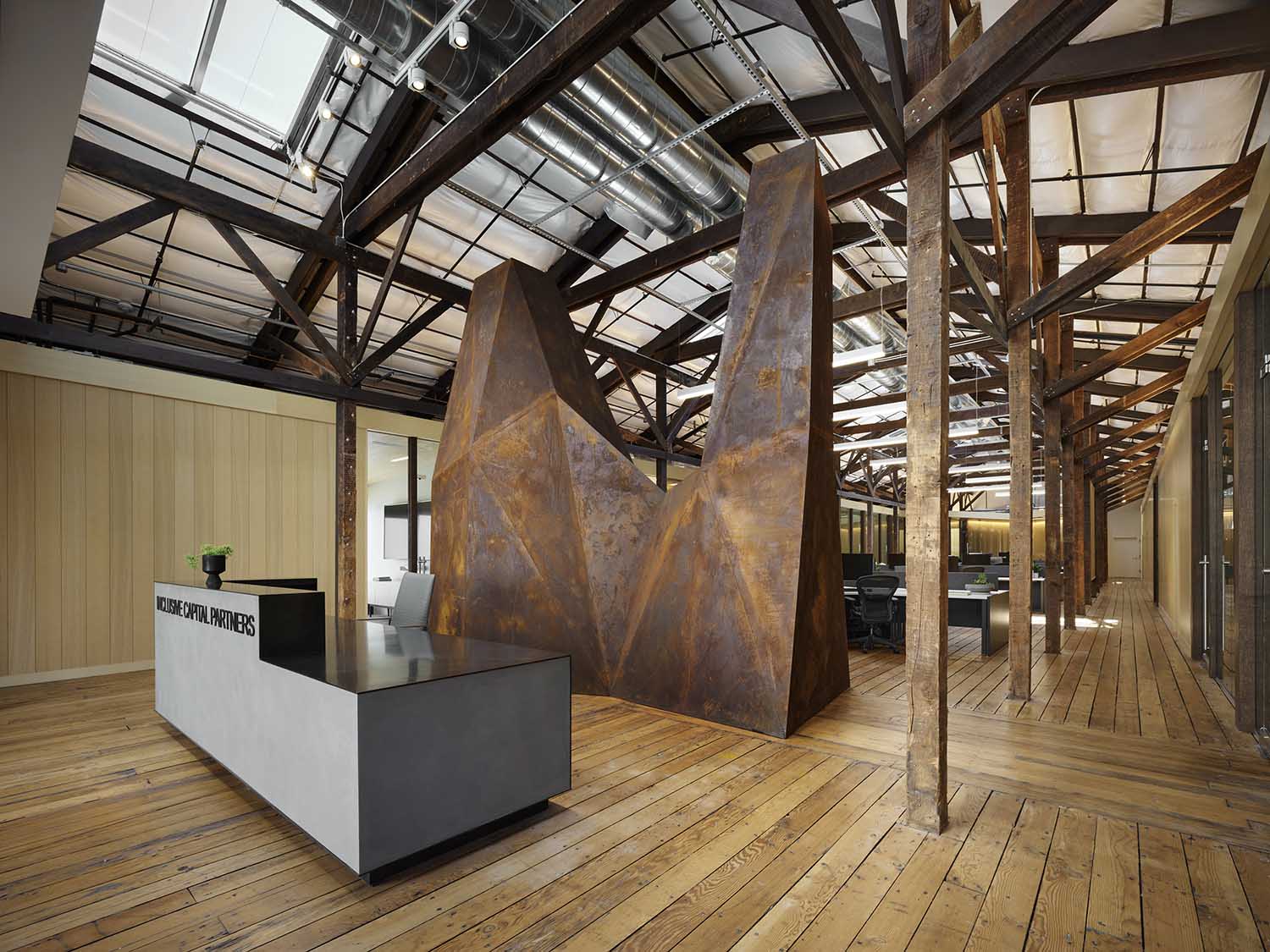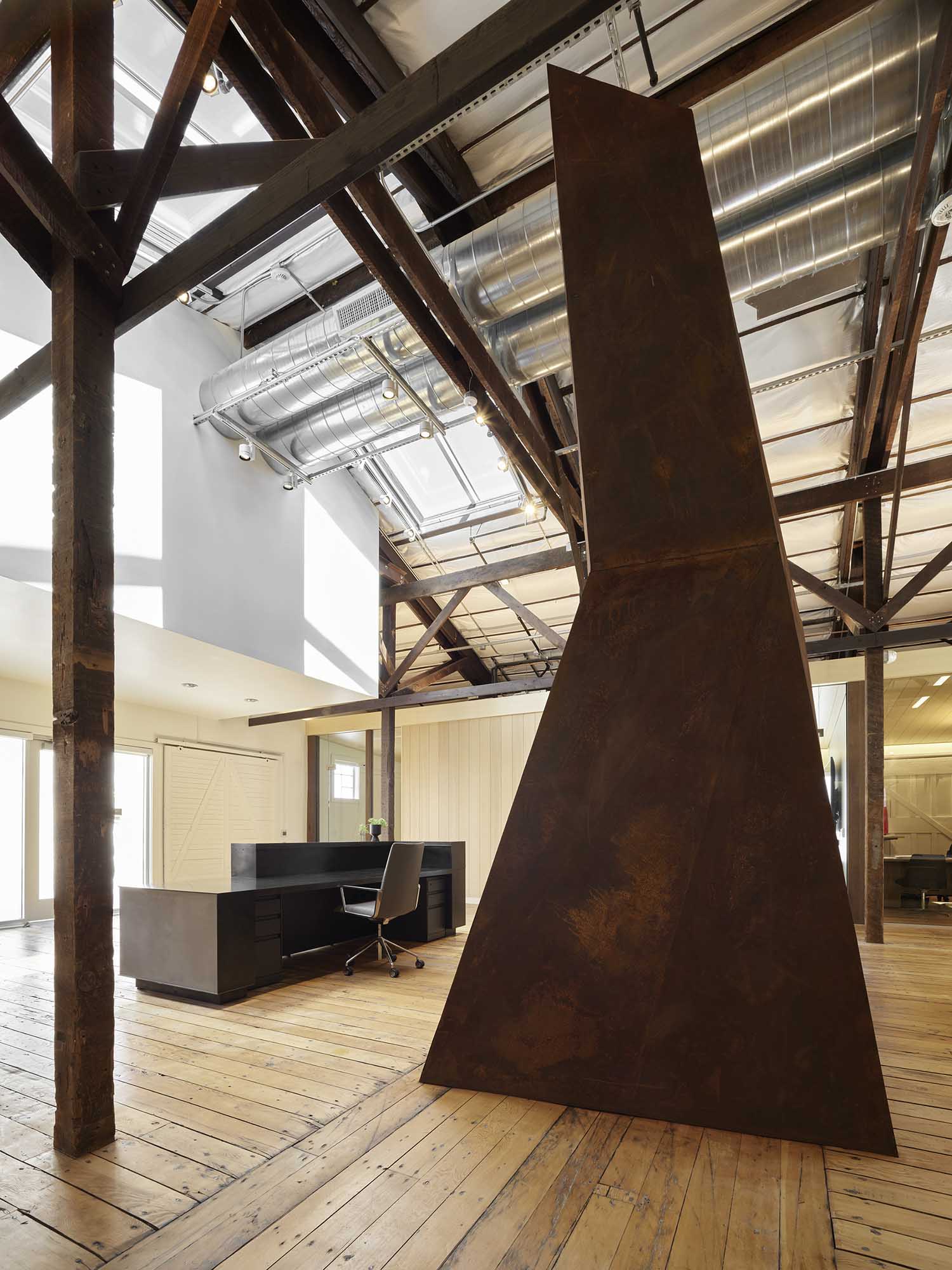 The office's interiors boast a striking juxtaposition between the old and the new. Exposed bow-truss timber structures and columns, coupled with ample natural light streaming through eight large skylights, create a harmonious marriage between historical authenticity and contemporary aesthetics.
Private offices, strategically positioned along the perimeter of the central spine, feature floor-to-ceiling glass fronts and wood detailing, carefully designed to complement the existing columns of the space. The design team leveraged the building's tree-like structures and the strategically placed skylights to craft an open office area that resembles a clearing in a forest. As you enter, a 15-foot-tall, faceted, and weathered steel sculpture, reminiscent of a split redwood tree, serves as a captivating focal point. This sculpture, which extends to a skylight, offers visual privacy for the open office beyond while symbolizing unity and paying tribute to Inclusive Capital Partners' identity.
One of the most remarkable aspects of this project is the respect it shows for the building's history. The architects aimed to disturb the existing structure and finishes as little as possible. They opted for oak floors with only a few area rugs, avoiding carpeting entirely. New volumes for private offices and conference spaces are designed to be self-supported enclosures, deliberately ending short of the ceiling/roof. This approach enhances the contrast between the existing rustic wood and the new, highly tailored surfaces and interventions.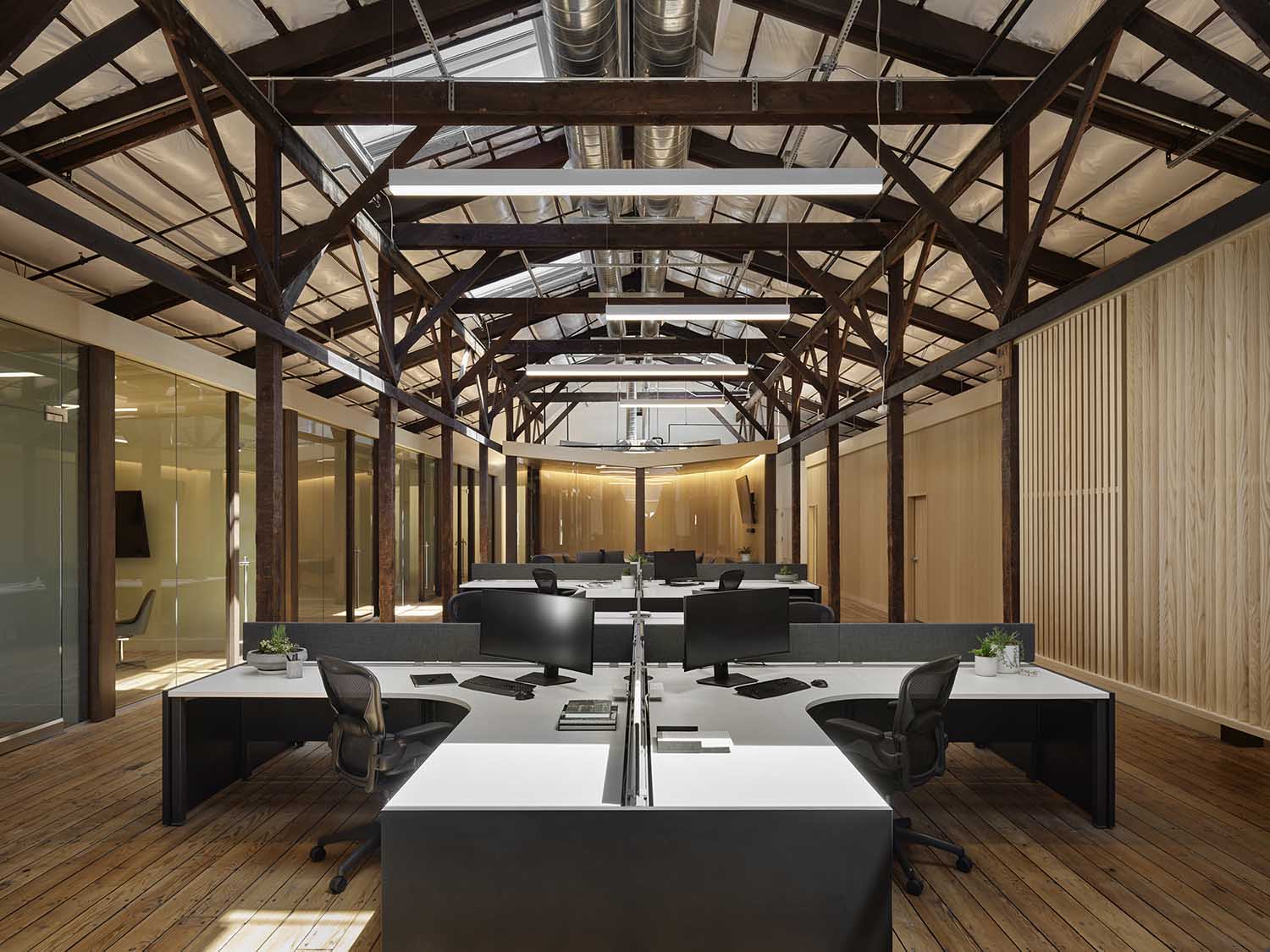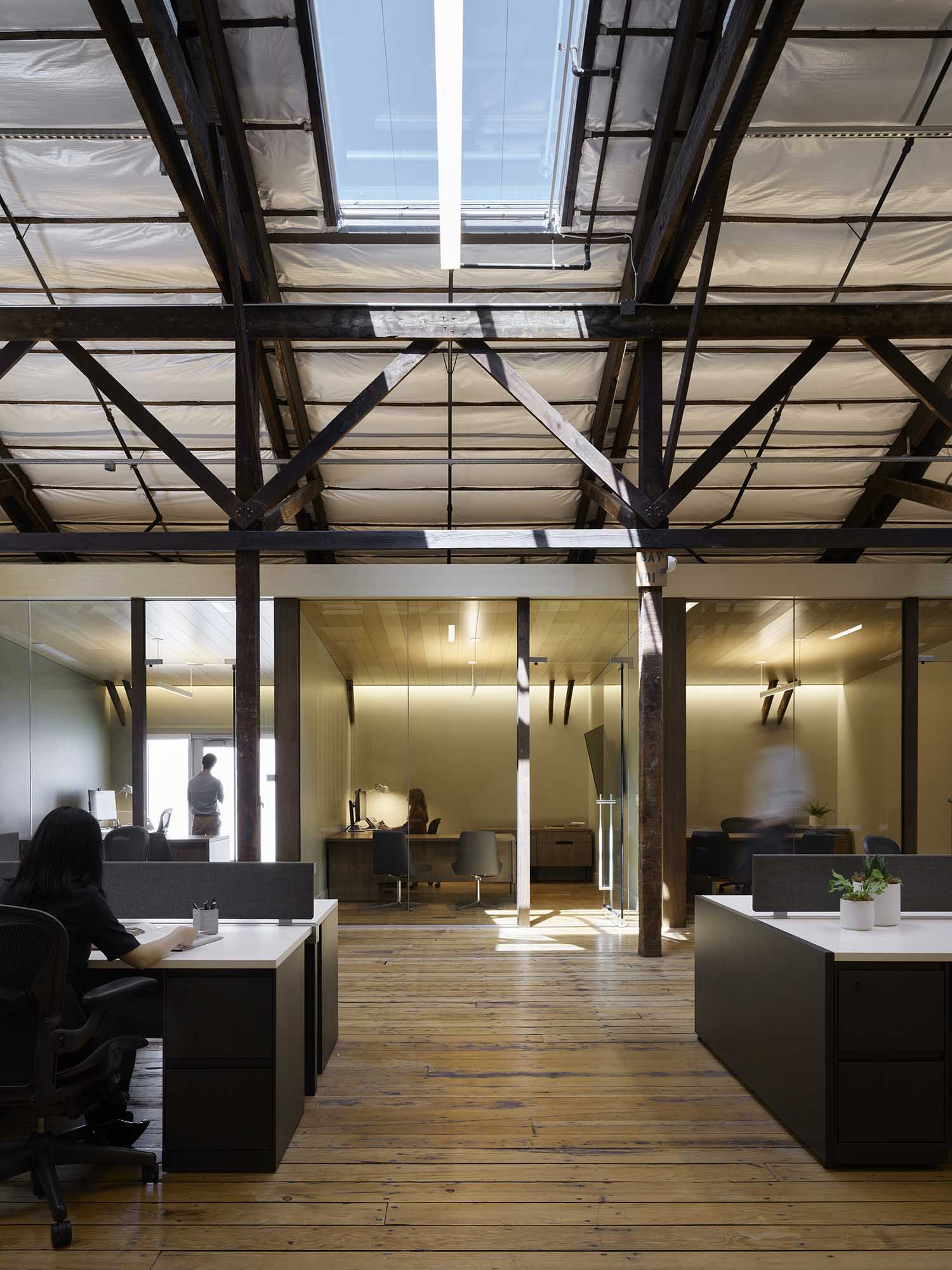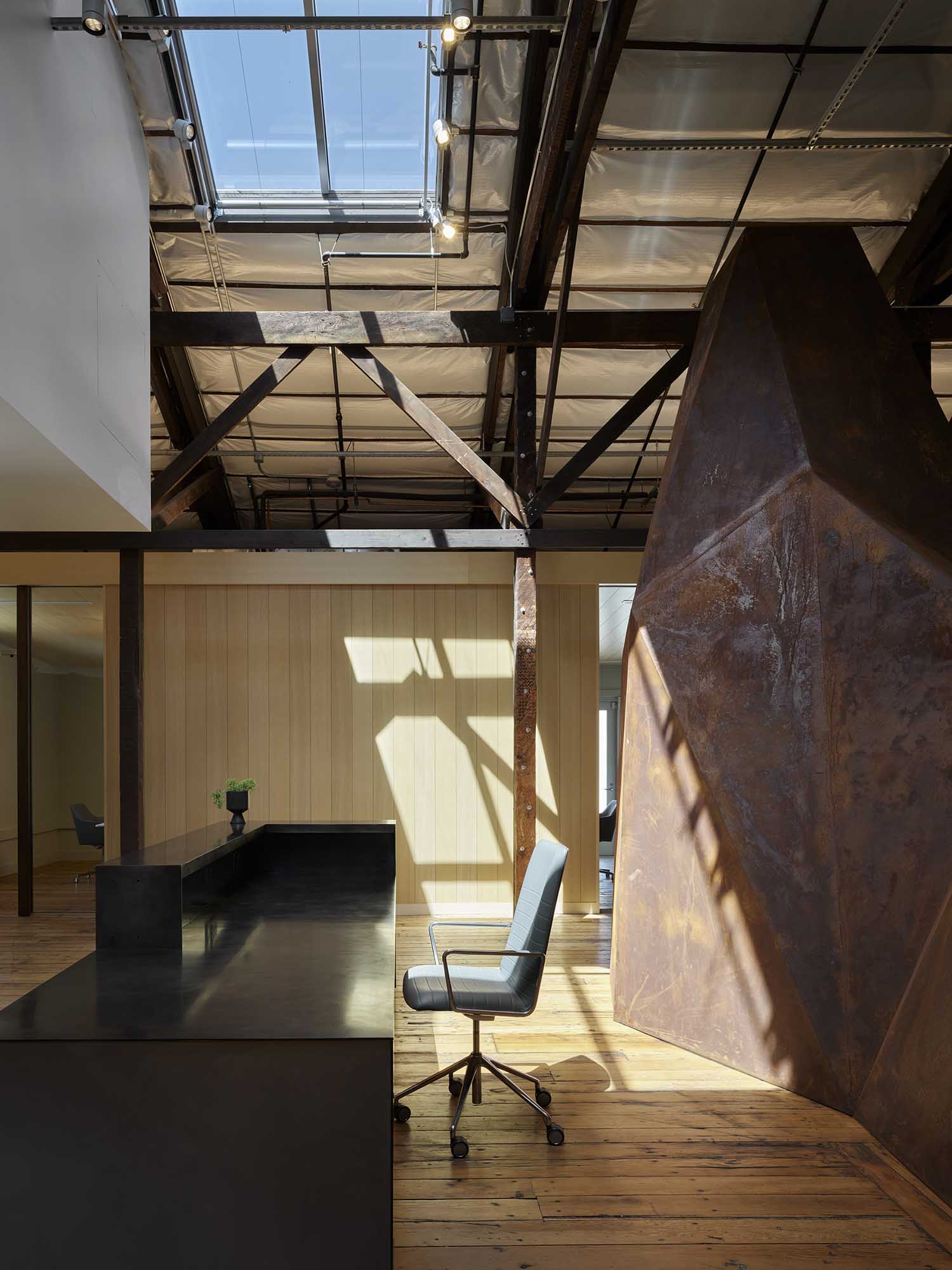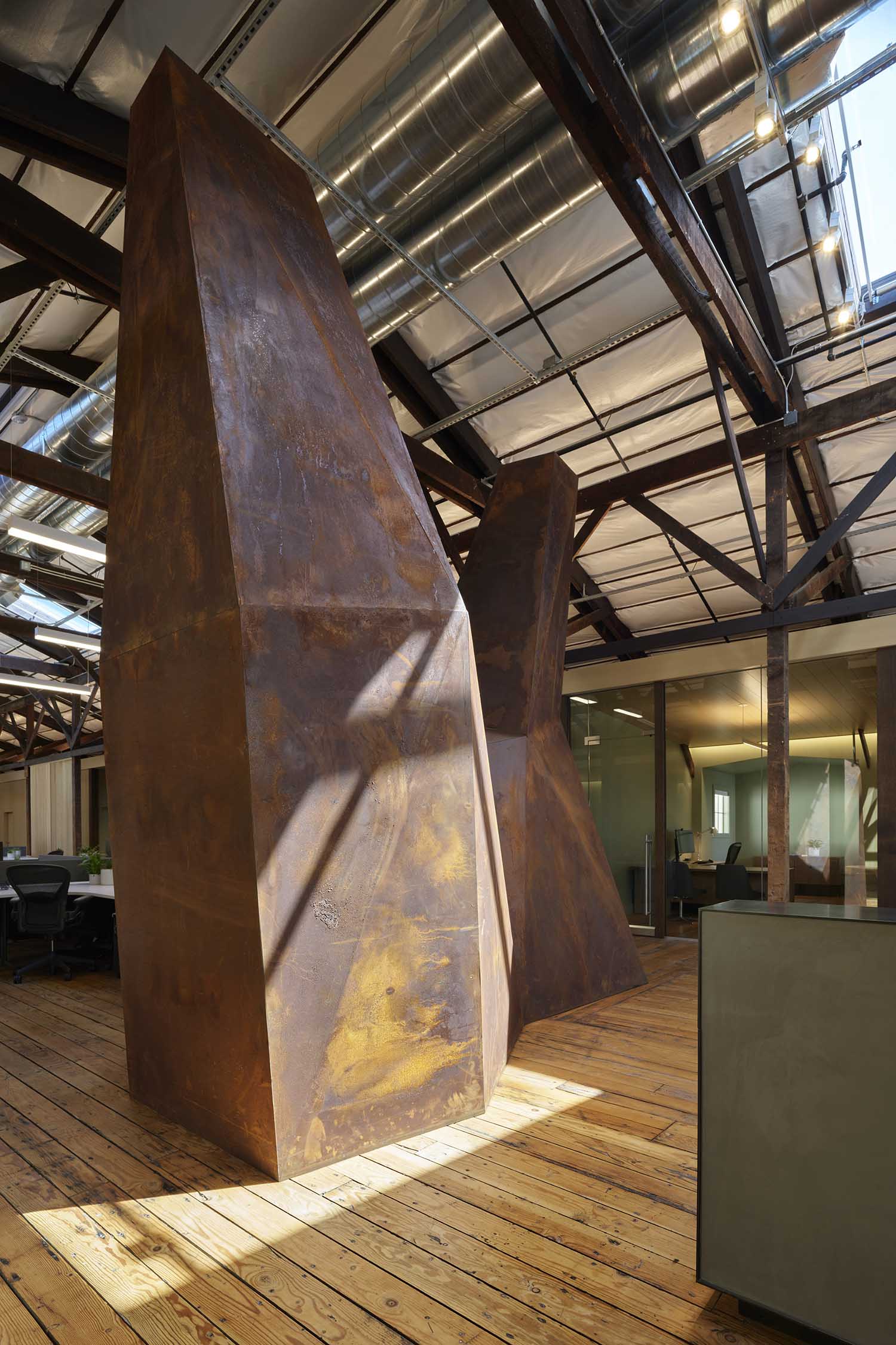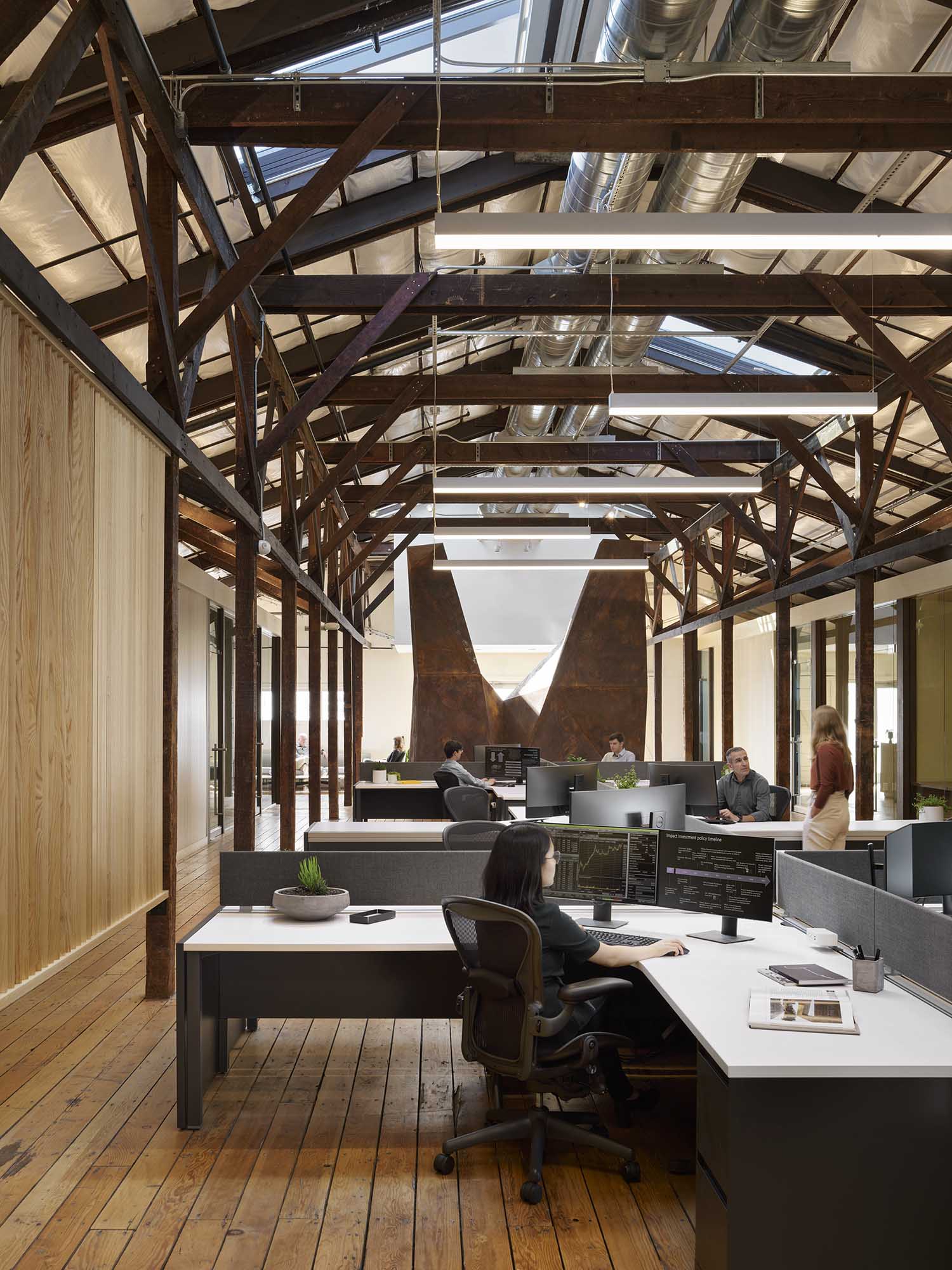 From a programmatic standpoint, the 12,167-square-foot office space includes two conference rooms, twelve private offices, an open office area with workstations, a board room, a meditation/wellness room, a kitchen/break room, and an office support room. This well-thought-out layout caters to the needs of Inclusive Capital Partners' staff while preserving the building's historical integrity.
Key materials and products used in the project include Decoustics Rondolo Wood Planks in American Ash for acoustic wood paneling, Flos Infra-Structure designed by Vincent Van Duyse for the conference room lighting, and a magnificent weathered steel sculpture designed by jones | haydu and fabricated by Chambers Art & Design. Conference tables and chairs are sourced from Andreu World (Spain), while lounge furniture comes from DWR and Rove Concepts. Workstations and office furniture are furnished by Steelcase, and custom credenzas and shelving units are provided by Woodtech in Oakland.
Project Team
Architecture and Interior Design: jones | haydu – www.joneshaydu.com with Evans Design Studio – www.evans-design-studio.com
Contractor: Wright Contracting
Structural Engineer: ZFA Structural Engineers
Mechanical Engineer: Simpson Sheet Metal (Design/Build)
Plumbing: Westside Mechanical, Inc.
Electrical: Northern Electric Inc.
Lighting: JSN + ALD
Sustainability Consultant: Monterey Energy Group
Design Team Members
Hulett Jones, Design Principal
Amber Evans (EDS), Design Principal
Paul Haydu, Principal
Kate Sistek-Biggers, Designer
Photography
Matthew Millman
Materials/Products
Acoustic wood paneling: Decoustics Rondolo Wood Planks, American Ash, Quarter Cut
Conference room light: Flos Infra-Structure, designed by Vincent Van Duyse
Weathered steel sculpture: designed by jones | haydu; fabricated by Chambers Art & Design (made with 14 ga. Corten A588, 36 pieces with 31 facets)
Conference tables and chairs: Andreu World (Spain)
Lounge Furniture: DWR and Rove Concepts
Workstations and offices furniture: Steelcase
Custom credenzas and shelving unit: Woodtech (Oakland)