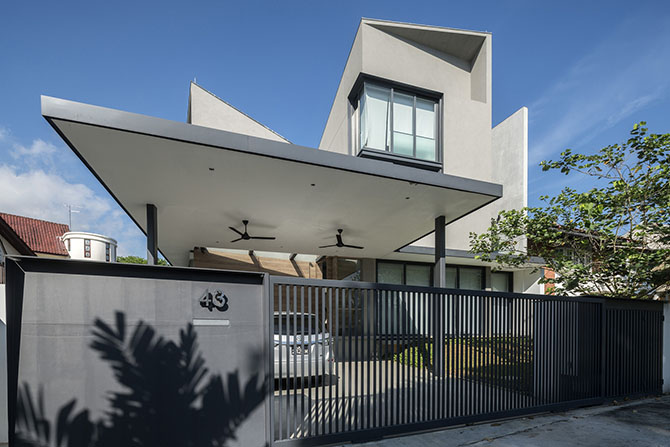 Freight Architects designed this stunning 550 m2 private residence located in Singapore, in 2016. Take a look at the complete story after the jump.
From the architects: Pyrite House is a private residential project, mixing innovative design with structural flexibility to create an inspired living space. The brief was to create a space where 3 families could stay together, enjoying the best of communal living while having their own private spaces. We looked into metaphors of inter-connectedness, and started developing 3 separate volumes enclosing a central, sheltered courtyard that would serve as the heart of the house.
That's when we came across pyrite crystals, characterised by their intersecting facades. We adopted intersecting / inter-connecting volumes as our formal language in creating the house. 3 solid prisms are wedged into a central glass block. These 3 prisms are slanted and staggered, with the gaps between the prisms forming corridors and atrium spaces. The living, dining and kitchen areas can be closed off to form individual, air-conditioned spaces. Once connected, these spaces link with the atrium to form an expansive, communal space.
Playing with the prismatic forms, the tips of the prisms are folded in to create more depth and cast shadows providing shade. We were also interested in how the slits between the prisms allow light to penetrate through, creating interesting shapes and patterns in the shadows. The corner windows are also specifically positioned in order to catch wind drafts from the south and provide panoramic views. Voids created at the party wall allow for cross ventilation once all the windows are opened. Blurring of interior and exterior spaces also inform the design of this project. With light flooding the central atrium area, the sheltered spaces in between prisms can be experienced as a pseudo-outdoor space.
Photography by Darren Soh
Find more projects by Freight Architects: www.freight.sg