Entre Quatre Murs has unveiled its latest project in the heart of Montreal's picturesque Nuns' Island. The Wilson Townhouse project, a complete renovation of a charming townhouse, brings serenity and simplicity to modern urban living.
Originally designed by architect Dan Hanganu in 1982, the Wilson Townhouse had retained its exterior charm over the years, showcasing classic elements of the neighborhood's period architecture. Its red brick facade, black windows, and touches of retro style drew the attention of new owners who were captivated by its allure. Moreover, the property featured a spacious backyard, a green oasis in the heart of the bustling city, which offered a connection to the changing seasons.
However, the interior of the house was a different story. Never having undergone any significant renovations, it was in dire need of a transformation to meet the needs of modern living. Entre Quatre Murs embarked on a colossal project with a focus on softness, simplicity, brightness, and uniformity.
The ground floor was transformed into an open-concept space with custom-made cabinetry integrated into party walls to provide tailored storage solutions and visual continuity between each area. Overcoming the challenges posed by the townhouse's unusual structure, the redesign made room for a spacious kitchen and a central island, the heart of the home.
The staircase at the core of the house was given a complete makeover, featuring curved lines with wood and white metal elements, and a skylight that bathes the entire house in natural light.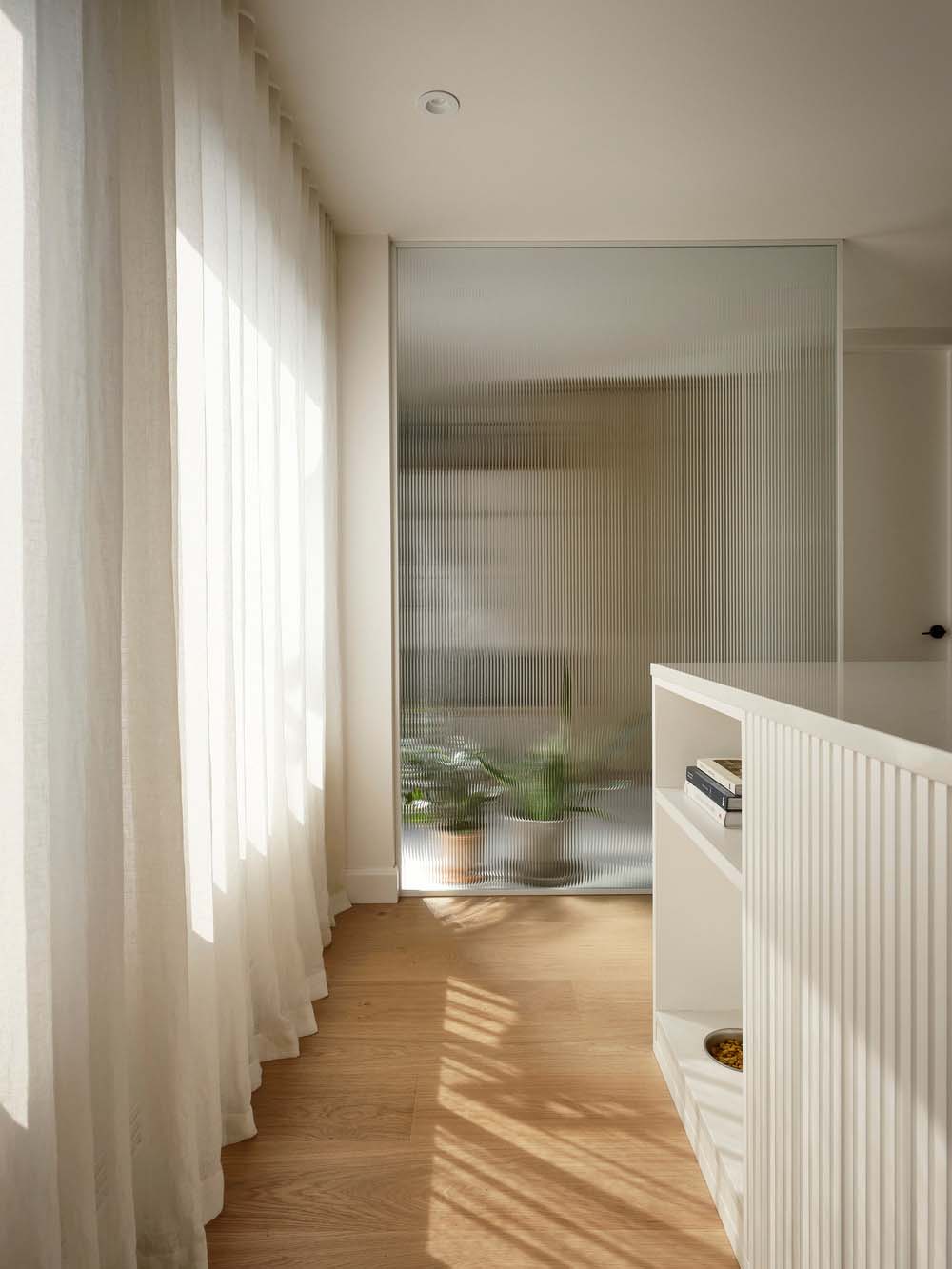 Materiality played a pivotal role in shaping the house's identity. Paying homage to its heritage, the design introduced serenity and tranquility, creating a seamless connection between the old and the new.
The upstairs area underwent a similar transformation, with bespoke integrated storage optimizing space and daily use. Small, hidden storage spaces helped maintain an uncluttered atmosphere. The bedroom, overlooking a courtyard with a mature oak tree, was connected to a walk-in closet by a large linen curtain, adding softness and continuity to both spaces.
Even the basement was designed in alignment with the project's vision, offering a versatile space that can transition from a movie hub to a workout area or a place for hosting friends and family.
With a commitment to creating a master suite worthy of a grand hotel, the bathroom was redesigned to accommodate guests or future family members. Large windows on the first floor overlook the courtyard, providing a serene view of nature. An emphasis on light and bright color palettes ensured aesthetic continuity throughout the project.
The Wilson Townhouse project, with its meticulous attention to detail, has transformed a dated space into a serene and sophisticated modern home. This harmonious blend of simplicity, functionality, and luminosity pays tribute to the townhouse's historical charm while meeting the demands of contemporary living.
Project information
Official Project Name: Wilson residence
Location: Verdun, QC, Canada
Studio: Entre Quatre Murs – www.entrequatremurs.com
Designer/Project manager: Debby Pagé
Contractor: Downs McGovern
Cabinetmaker: Création Avantage
Suppliers: Slik Design, Alumalco, Venosa, Fisher & Paykel, Unik Parquet, Brizo, The Rubinet Faucet, Laufen, Luminaire Authentik, Muuto, Ethni Craft, Mudconcrete, Stonetile, Ramacieri Soligo.
Area: 1710 sq ft
Year: 2023
Photo credit: Maxime Brouillet