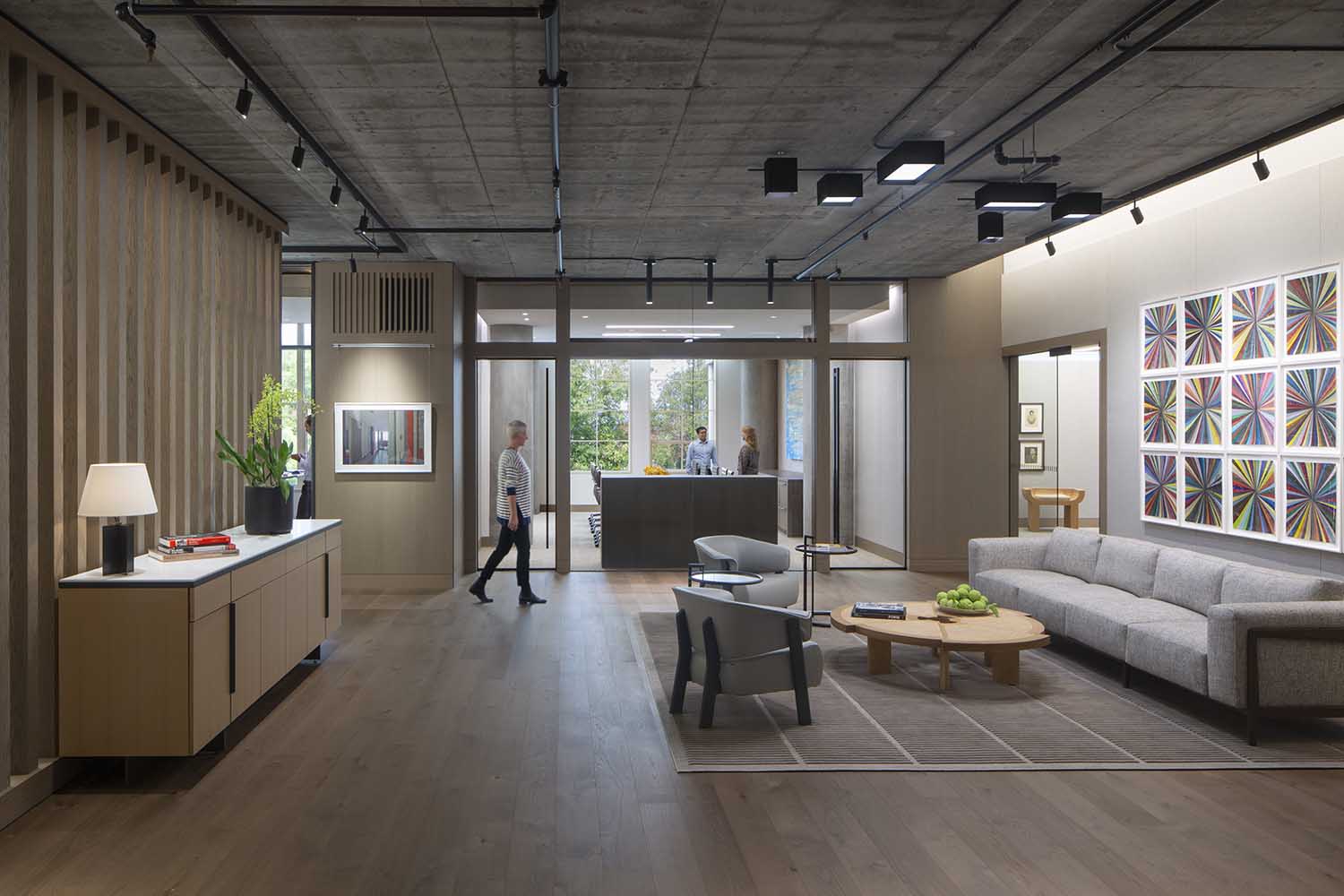 TEF Design has recently completed work on a new interiors office project, Financial Investment Company Headquarters, located in San Francisco, California. Leveraging off the shelf products to create bespoke results, and detailed with an (obsession) for light, materiality and craft, this tenant improvement transforms an existing 8,000-square-feet of built office space and adjacent 5,000-square-feet of vacant space into a single workplace, organized around distinct functional zones to meet the diverse needs of a private equity firm focused on hotel and restaurant investments.
The design, with an ardent focus on light, materiality, and craft, demonstrates a masterful conversion of an existing 8,000-square-foot office space and an adjacent 5,000-square-foot vacant area, embodying the epitome of contemporary corporate aesthetics.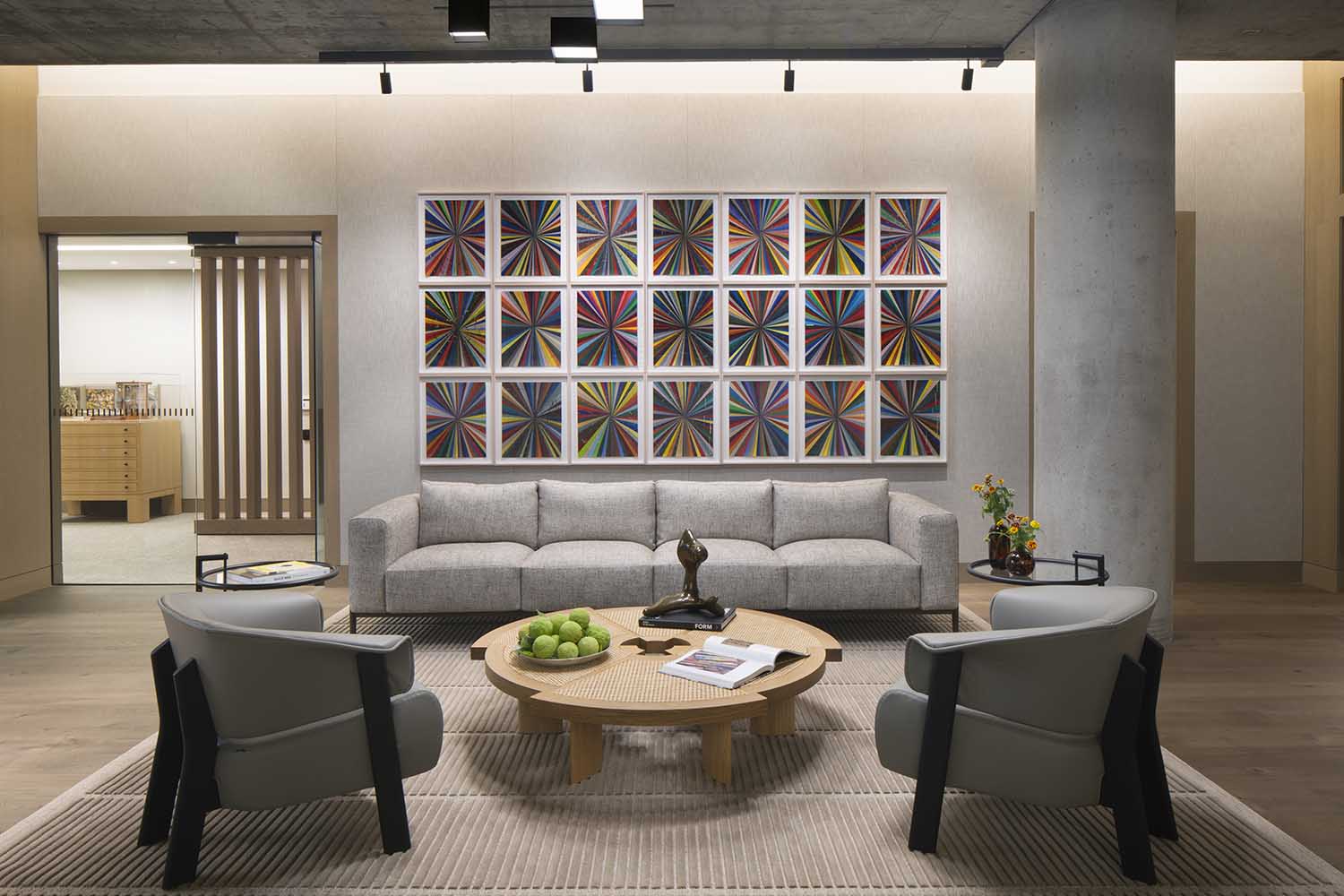 Dedicated to hotel and restaurant investments, the office integrates distinct functional zones to cater to the diverse needs of a private equity firm. Central to this transformation is the relocation of the main entrance, offering striking views of San Francisco Bay. This space now functions as a communal hub, comprising reception, an art gallery wall, conference rooms, and casual seating zones, ensuring a welcoming environment for both guests and clients.
Linking the shared workspace and the private founder's suite, this central area boasts handcrafted vertical wood slat walls, which masterfully offer both privacy and an element of transparency. The workspace houses a series of glass-fronted private offices, complemented by an open workspace, and is anchored by a low-walled beverage station – designed as an informal space for staff interaction. A multifunctional collaboration area further adds to the flexibility of the design, leveraging the building's natural daylight.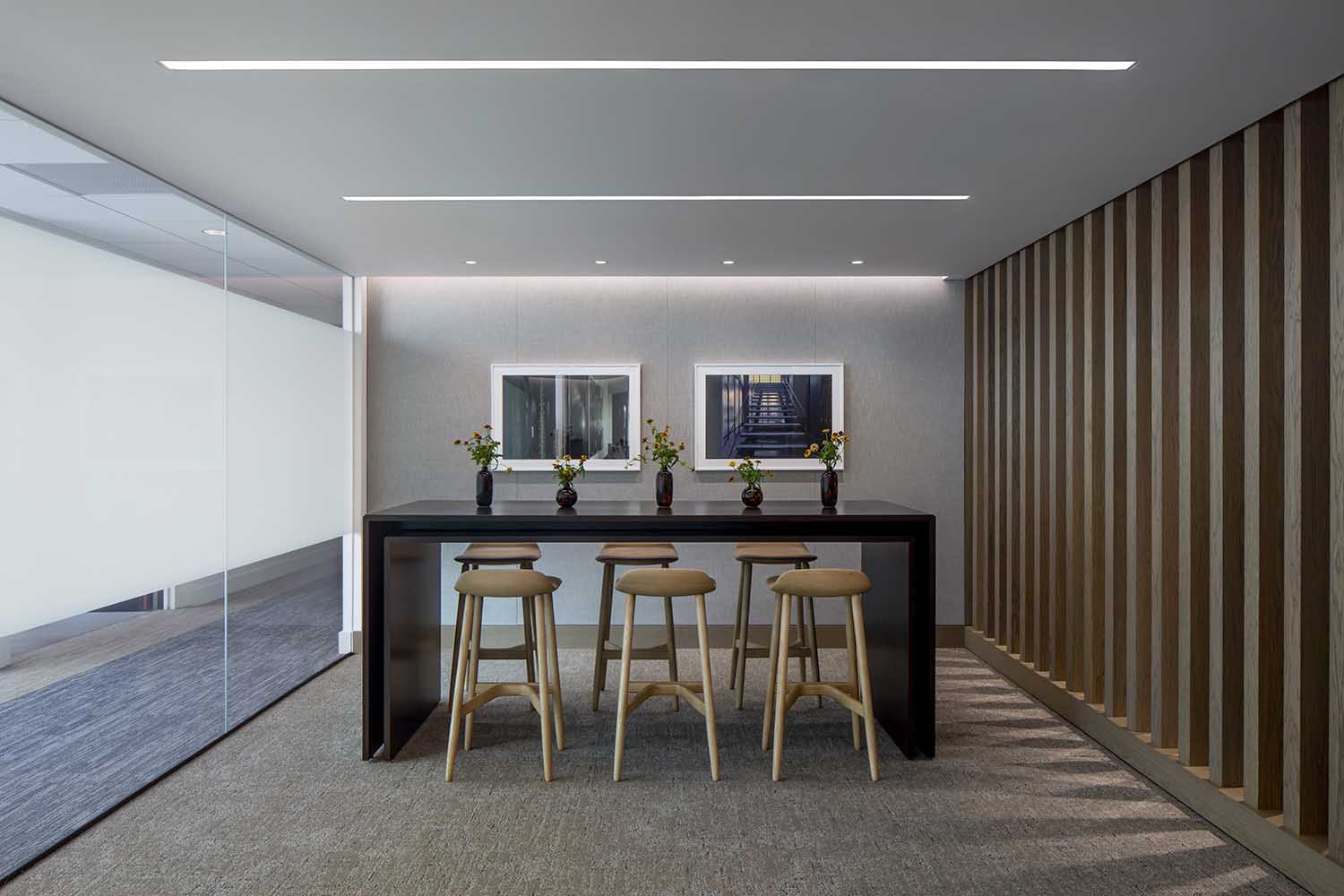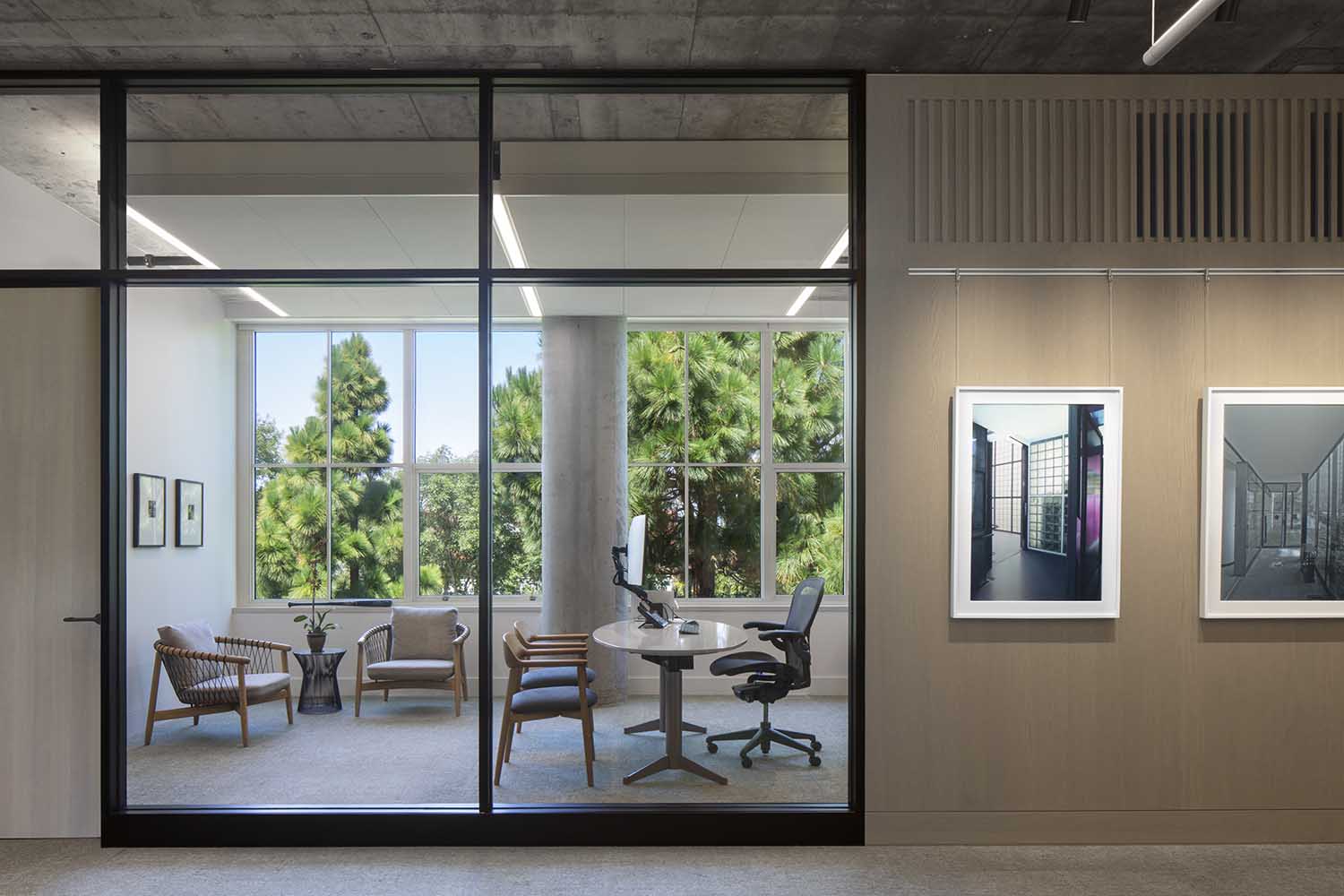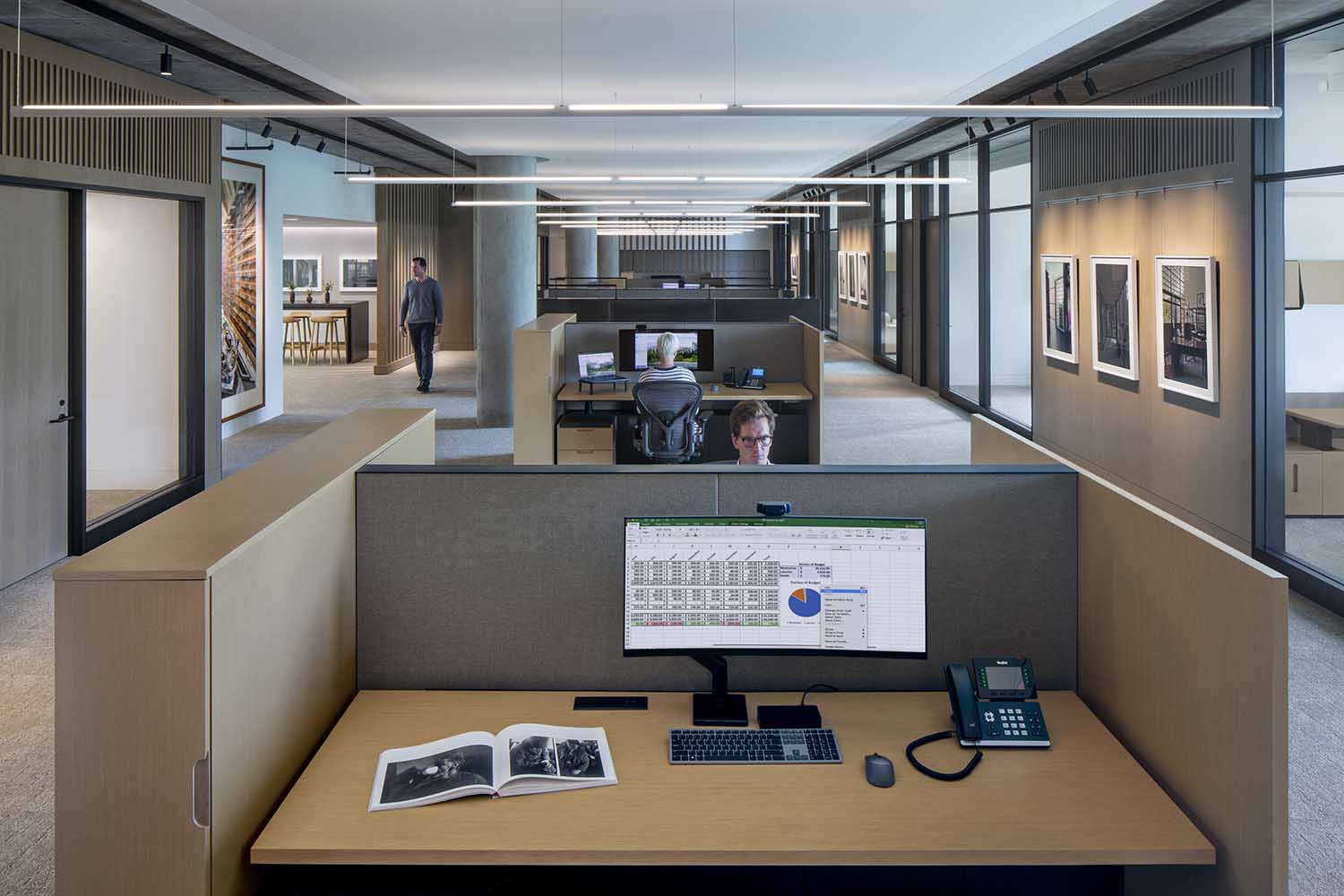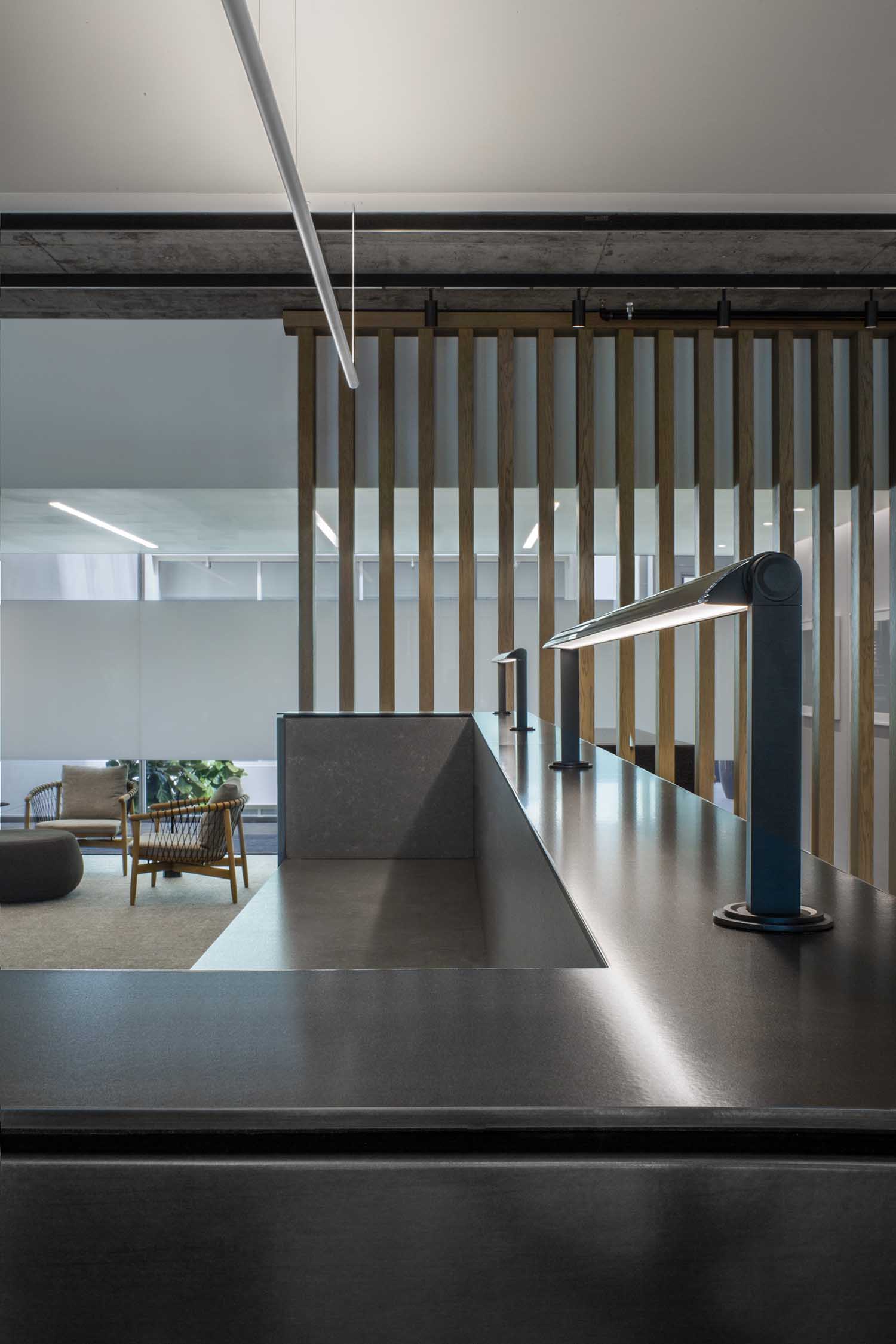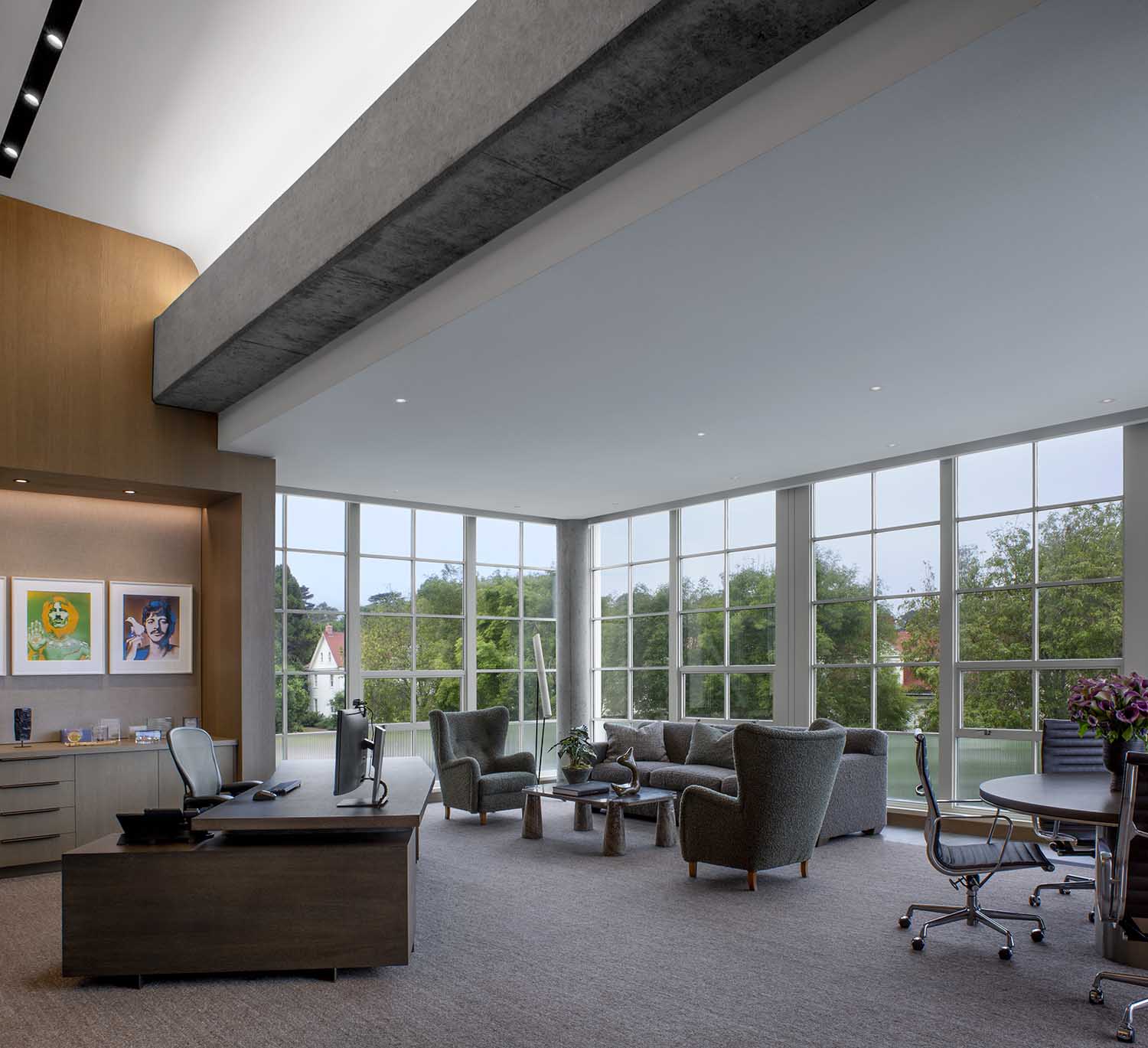 In contrast, the office also offers a secluded zone tailored for executive functions. Emphasizing security and discretion, it features an executive suite with a dedicated entrance, restroom, and a catering kitchen that provides picturesque views of the iconic Golden Gate Bridge.
Navigating challenges including the integration of new mechanical systems and the demand for unparalleled acoustics, TEF Design collaborated with acoustical experts to craft an innovative air transfer system, concealed behind intricate millwork louvers, ensuring minimal sound transfer. Customized acoustical ceiling tiles and fabric-wrapped walls were introduced to enhance sound quality, ensuring an efficient and serene working environment.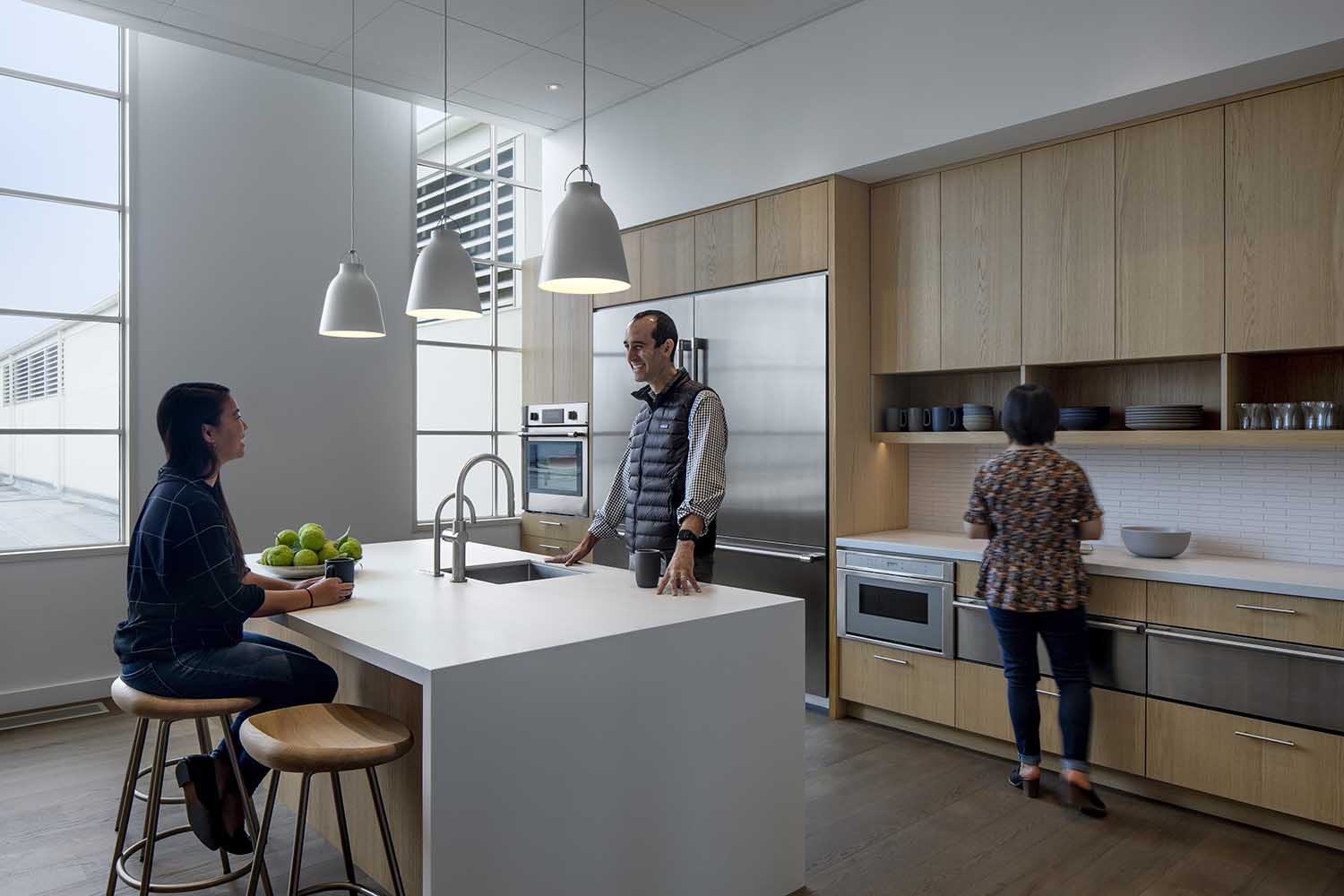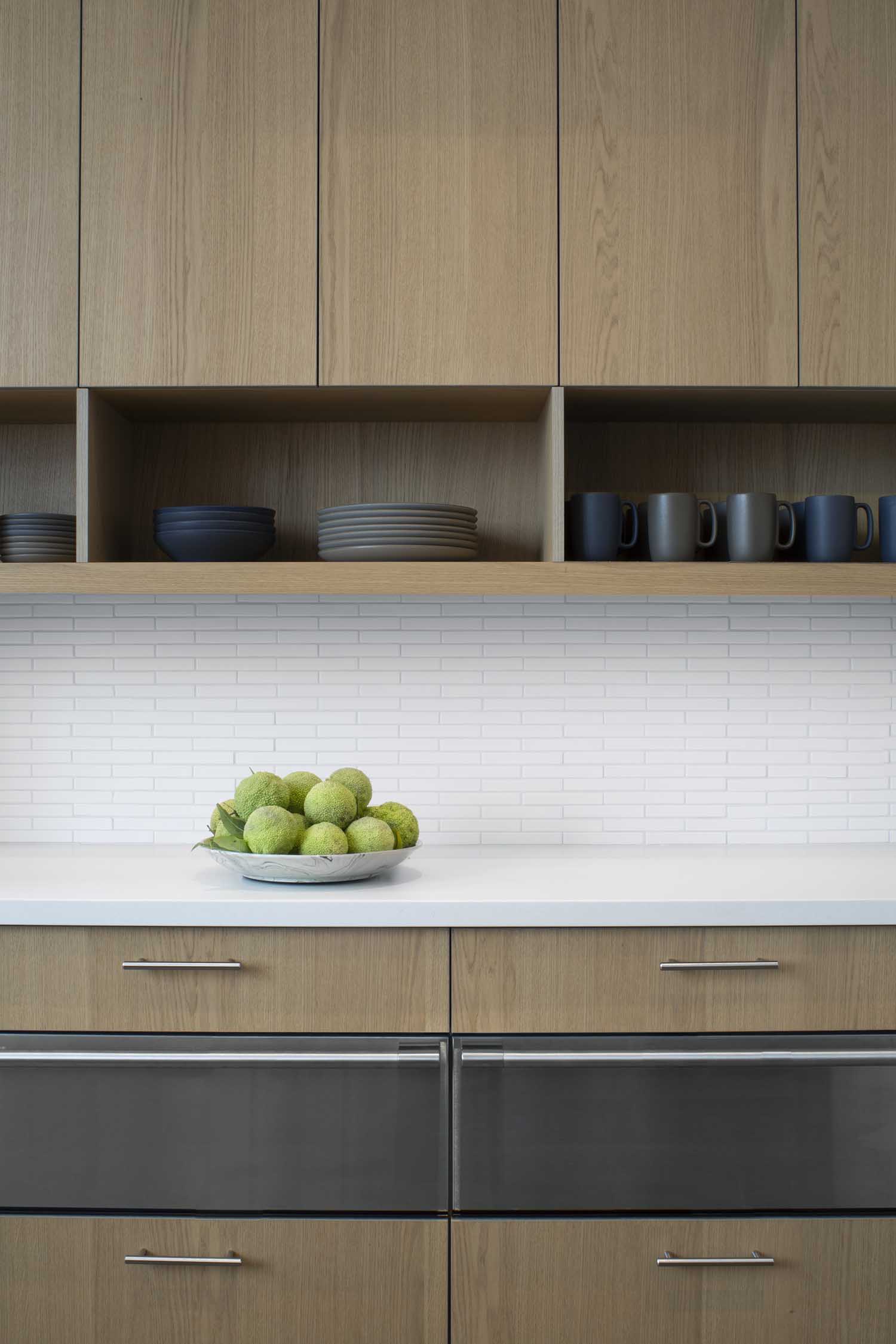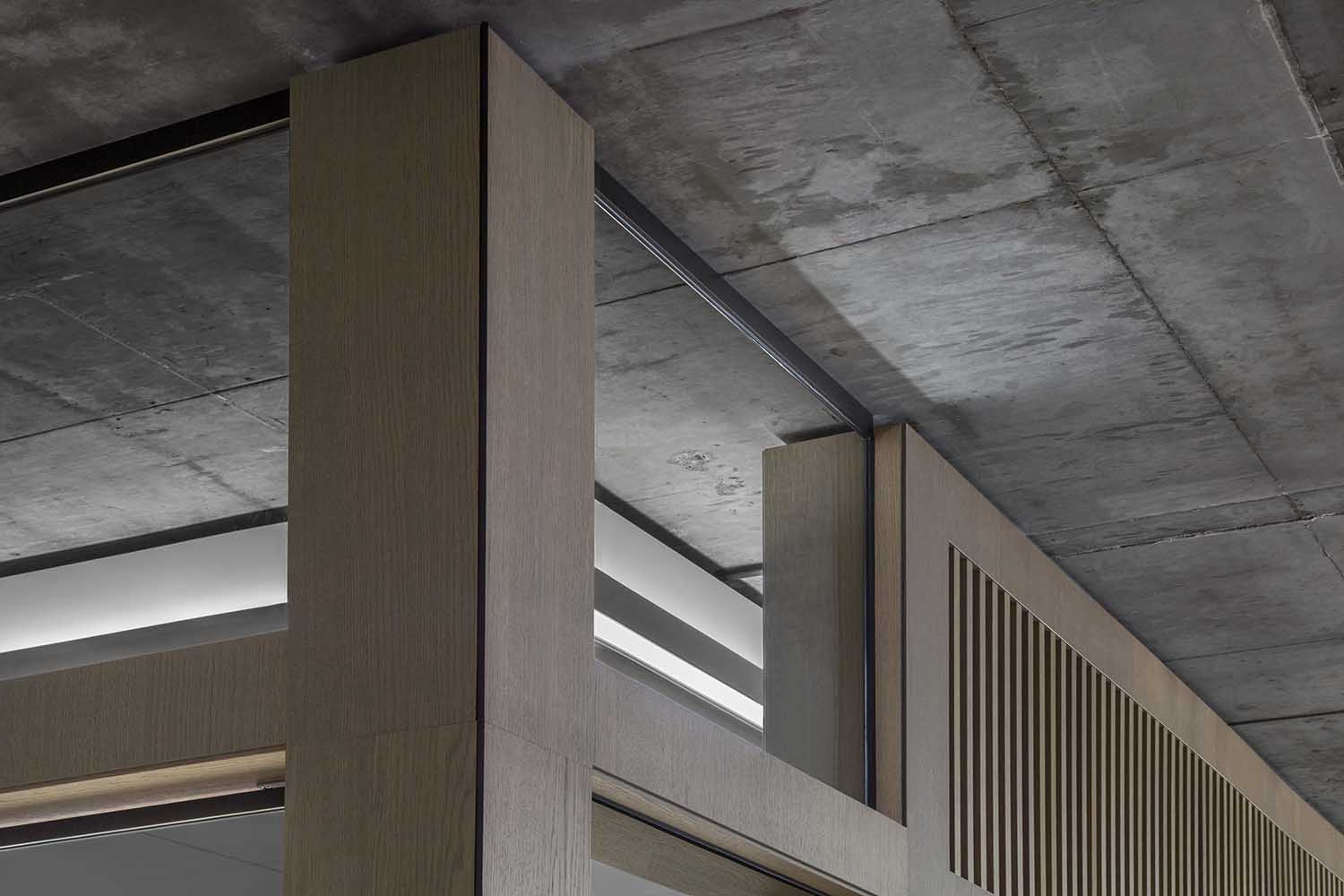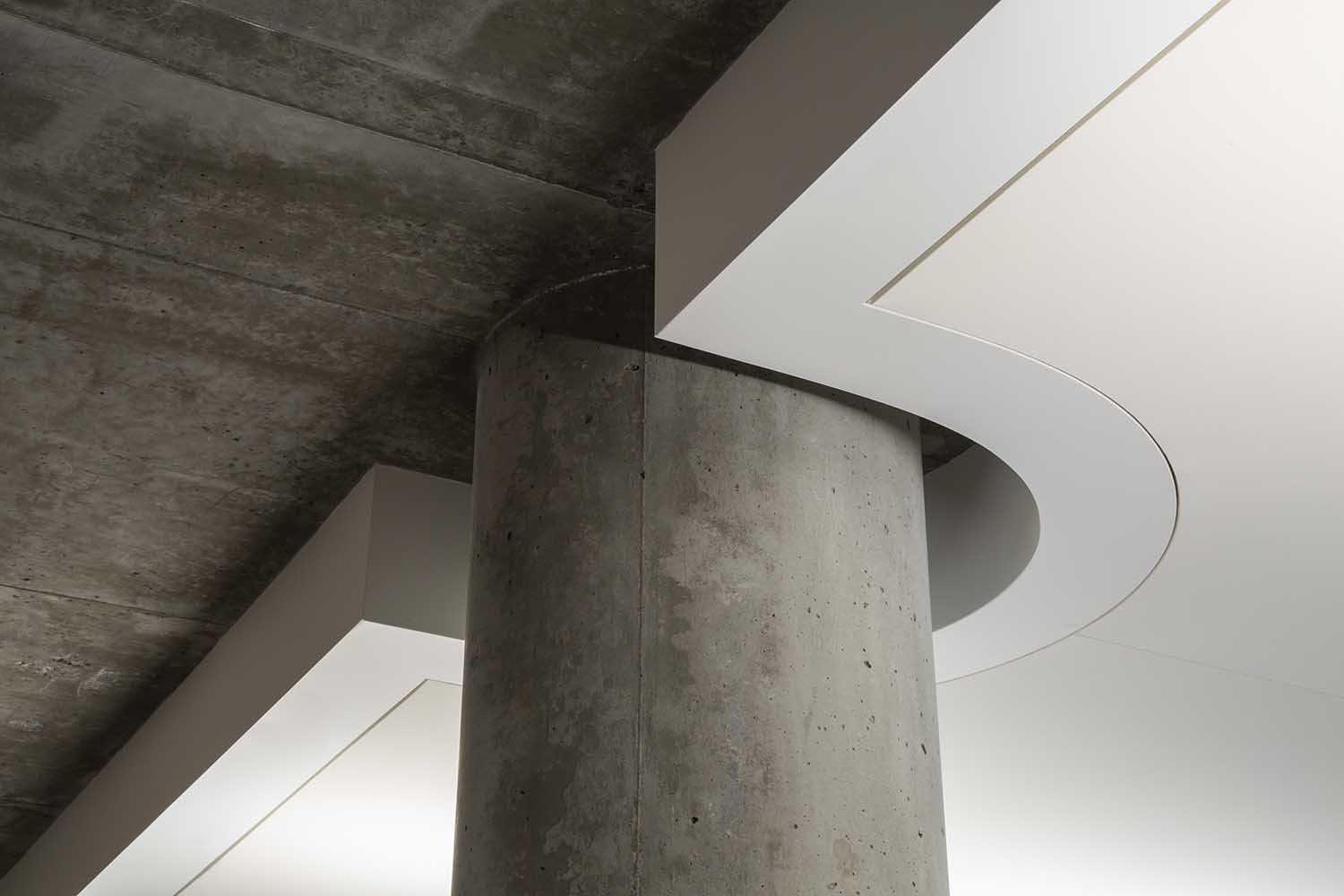 Further elevating the design, customized wood screening elements, exquisitely finished in light oak, delineate the public and private sectors of the office. These design elements are mirrored throughout the office in fixtures and graphics, presenting a cohesive and sophisticated aesthetic.
An added touch of elegance comes from the inclusion of an extensive art collection, displayed in a museum-like manner throughout the space, thanks to light coffers and a bespoke display system.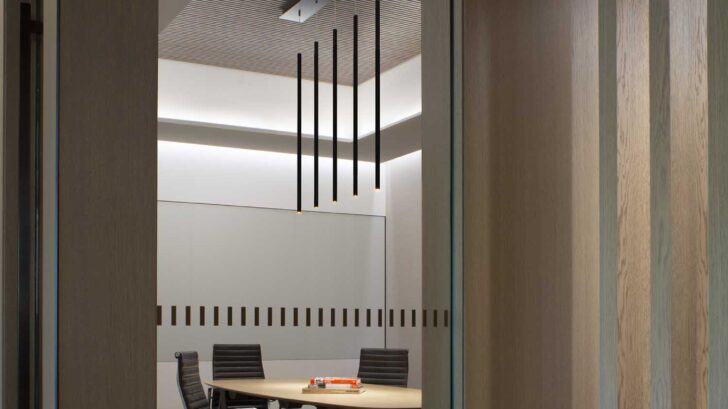 TEF Design team
Douglas Tom, FAIA, Principal In Charge
Bobbie Fisch, Consulting Design Principal
Jennifer Tulley, AIA, Project Architect
Paul Loeffler, Lead Project Designer
Gretchen Korsmo, Team
Rebecca Cisneros, Team
Paul Leveritza, Team
Project Team
Architecture and Interiors: TEF Design
Contractor: BCCI Builders
Millwork: Commercial Casework
Mechanical/Electrical/Plumbing Engineers: Camissa + Wipf
Lighting Design: Architecture + Light
Acoustic Consulting: Arup
Photography
David Wakely
Find more projects by TEF Design: tefarch.com