The Infinite Palace designed by AMO – OMA's design and research studio is created with another team up once with fashion luxury brand PRADA. The pairing is now fashion season after fashion season creating impressive show-spaces at PRADA's HQ at Via A. Fogazzaro, where the label's latest collections are shown four times a year.
The wast existing space was redesigned into a myriad of smaller rooms, which are created to change their proportions in an abstract perspective.  Instead of one singular stage the redesigned showspace has created multiple spaces, allowing a different perspective for the each invited guest.
The progression through the connected rooms simulates endless repetitions and symmetries, while providing the illusion of an infinite palace. As the models move linearly across the enfilade the audience, divided into small groups, are pushed to close and intimate proximity with the collection. A large space in the end of the enfilade unifies the two parallel rows of doors. The tridimensional excavation of the space is alternatively painted in subtle tones of green and pink. In this disorientating landscape aluminum geometric inserts in the ground mark the sequence of spaces. – from AMO
Discover more of the latest PRADA showspace bellow: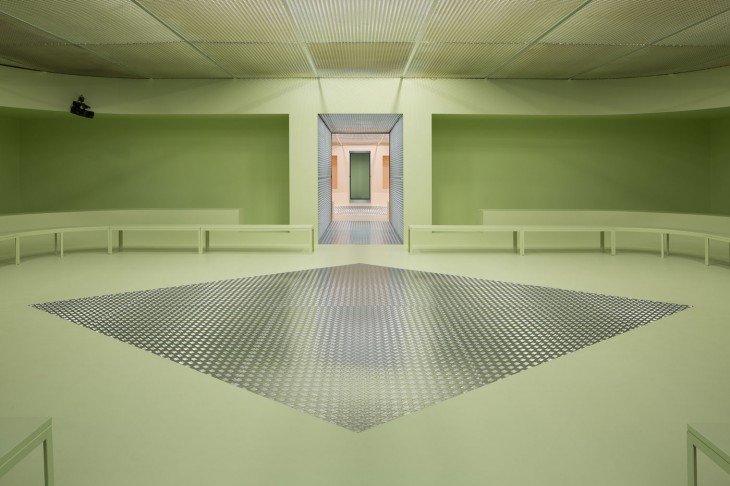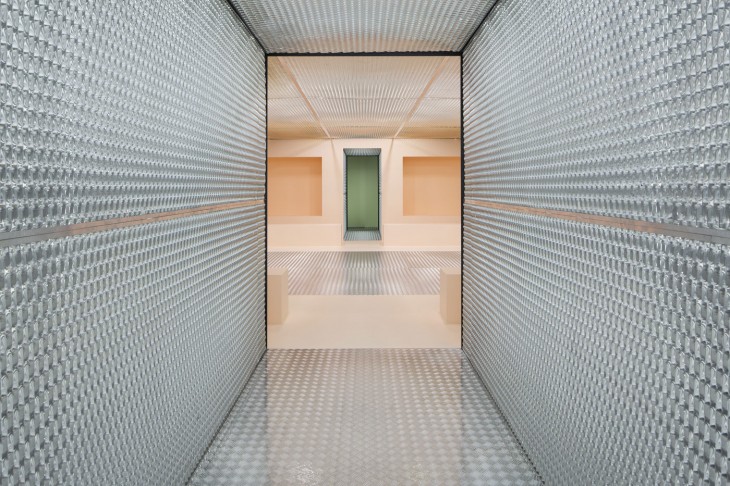 For more log on to www.oma.eu + PRADA.com.