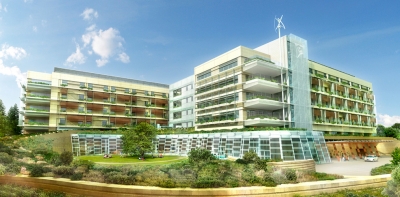 Project: Lucile Packard Children's Hospital
Designed by Perkins+Will
Location: Palo Alto, California, USA
Website: www.perkinswill.com
A modern design with a friendly sentiment created for Lucile Packard Children's Hospital in Palo Alto is coming from Perkins+Will's drawing board. See more of the project after the jump:
From the Architects:
The design of this project seeks to integrate a new 200-bed addition with the existing children's hospital, emphasizing a child's experience of nature as part of a unique healing environment. Our firm, working closely with HGA Architects (the architect of record and medical planner), is responsible for the architectural and interior design for the new addition, which expands upon the master plan developed by KPF.

The site strategy uses the form of the building to create a series of landscaped spaces that conceptually link the enclosed courtyard within the existing hospital to the Stanford Arboretum to the east. Nursing unit wings are organized on either side of an infrastructure spine to define these courtyard spaces, above a landscaped diagnostic and procedure platform.

Patients and families follow an experiential "journey", following sculpted site walls that guide movement through the building and define more intimate spaces within the gardens. A sloped, 2-story curved glass wall defines the main lobby space with views out to a garden area that provides activity space for families and health-related community events. A series of educational play structures within the lobby offer indoor activity for children and opportunities to learn about nature, health and sustainability.

The exterior design of the patient units expresses both a connection to nature and a response to climate. Because the project utilizes displacement ventilation as part of its comprehensive sustainable strategy, direct sun exposure on interior surfaces must be controlled. An integrated system of sunshades, access walkways and planters outside patient windows creates a unique architectural language that breaks down the building scale to give it an intimate, almost residential quality.

The new hospital is intended to achieve a high level of energy savings and create a healthy environment for patients, families and staff. Additional sustainable features include rainwater gathering for irrigation, solar hot water heating and photovoltaic panels crowning the infrastructure spine. Ultimately, by exploring the relationship between children's health, learning and sustainability, the design of the project proposes a transformative new model for pediatric healthcare.