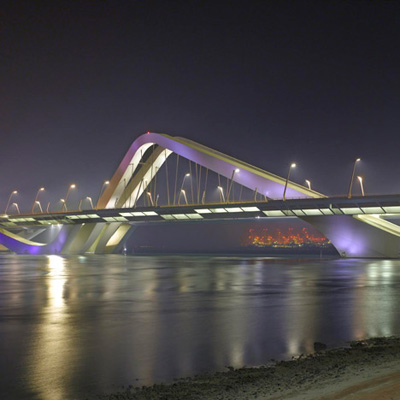 Project: Sheikh Zayed Bridge
Designed by Zaha Hadid Architects
Project Architect: Graham Modlen
Project Team: Garin O'Aivazian, Zahira Nazer, Christos Passas, Sara Klomps, Steve Power
Project Engineer: Joe Barr, Mike King, Mike Davies Highpoint Rendel
Client: Abu Dhabi Municipality
Dimensions: 842m long, 64m high, 61m wide
Location: Abu Dhabi, United Arab Emirates
Photography: Roland Halbe
Website: www.zaha-hadid.com
Zaha Hadid Architects ads another outstanding project to their immense portfolio, this time coming from the field of infrastructure the noted practice has designed Sheikh Zayed Bridge in Abu Dhabi. For more continue after the jump:
From the Architects:
Over several decades, the UAE, an increasingly mobile society, has undertaken ambitious infrastructure projects to create a high-speed highway network connecting the three Emirates together. As far back as 1967, a steel arch bridge was constructed to connect the then fledgling city of Abu Dhabi Island to the mainland, with a second bridge completed during the 1970s.
The Sheikh Zayed Bridge, carrying a two-way four lane highway provides a vital third Gateway crossing, connecting to the expanding highway system on the Gulf south shore. A massive structure, rising 60m above water-level at its highest point, the bridge's fluid silhouette makes it a destination point in its own right. It is also intended to serve as a catalyst for future urban growth in Abu Dhabi.
It rises from the mainland against an open panorama, gathering ground level road structures together, then lifting and propelling them across the channel on cantilevered road decks which run either side of the bridge's spine structure. Asymmetrical steel arches rise and spring from mass concrete piers to form a coherent sinusoidal waveform, which splays and splits from one shore along the central void, before diverging beneath the road decks on reaching the other.
Source Dezeen. *