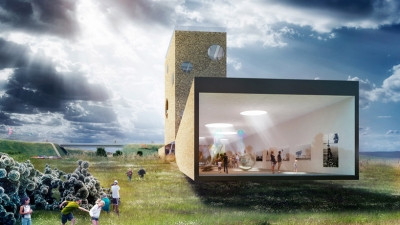 Project: Inspiration Centre in Grevelingen
Designed by Paul de Ruiter Architects
Project Team: Chris Collaris, Mariya Gyaurova, Noud Paes, Christian Guesada van Beresteyn, Wilko de Haan, Niels Groeneveld, Marieke Sijm
Client: Grevelingen Nature Reserve and Recreation Area
GFA: 1 200 m2
Location: Grevelingen, The Netherlands
Website: www.paulderuiter.nl
Shaped with an engaging contemporary sentiment the radiant Inspiration Center in Dutch town of Grevelingen is work of Paul de Ruiter Architects.
From the Architecture:
The structure will be positioned at the midpoint of brouwer's dam which physically separates the two bodies.
A central tower is elevated above two low-profile volumes, creating a place for wind to circulate and introduce daylight into the heart of the building. Lifted above the earth or cut into the land, the structure serves as a benchmark for the uneven and changing ground levels resulting from tidal processes. Taking a visual aesthetic from the surrounding context, the facades are surfaced with reeds and green roofs.
Source Designboom. *