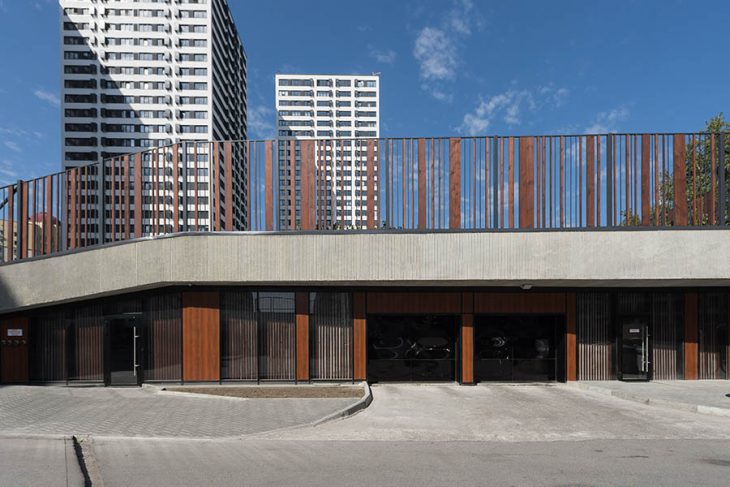 DROM, Arkhikuznya & Brusnika Design recently completed works on this innovative car park in Novisibirsk, Russia. Metal sculptures, whose geometry evokes a bird's eye view of the mountain range, are the most prominent element of this parking lot. The surface was oxidized with peroxide, salt, and acetic acid. Because the Altai Mountains are located near the parking and residential area to which it belongs, mountain is a theme throughout this narrative.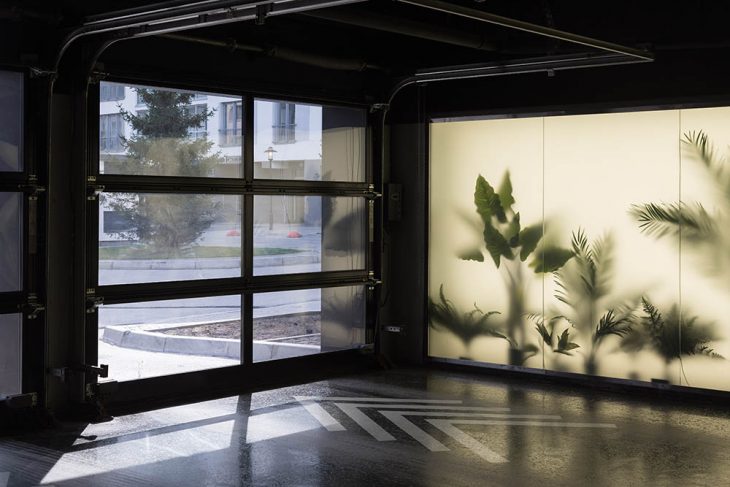 From the architects: Even though a car park is a utilitarian part of housing estates, why should it be unsightly? Brusnika is constantly exploring new ideas for its car parks in different cities.
The team has recently completed a three-storey car park in Panorama residential quarter, located in Novosibirsk. Drawing an analogy between parking vehicles ramps and New York Guggenheim Museum space, Brusnika decided that the parking for 279 cars can additionally benefit from a display of art objects and lighting solutions.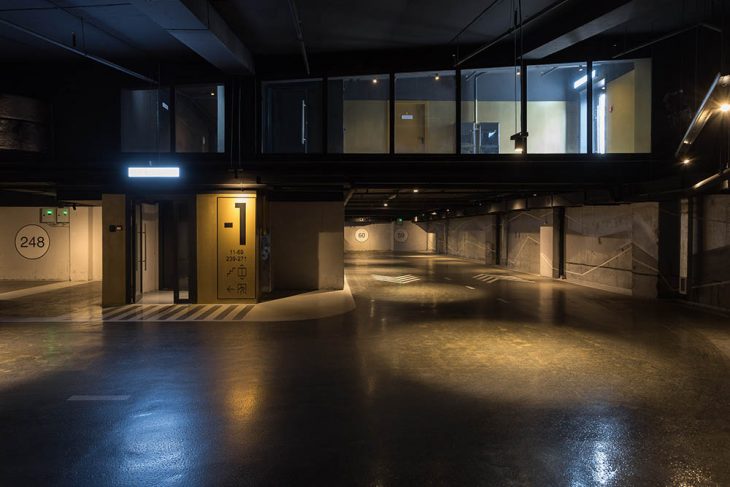 Inspired by the quarter location neighbouring the city alpine ski slope, and Novosibirsk proximity to the Altai, mountains were chosen as the key art theme for the new structure.
The salient feature of the car park are metal sculptures, whose geometry references a bird's eye view of the mountain range. Peroxide, salt and acetic acid were used to oxidise the surface.
Apart from featuring art, the car park has more to offer. The walls are covered with architectural concrete, which was poured into special moulds, resulting in a ridged surface with no need for finishing. The entrance to the car park is enhanced with a plant lightbox, creating a luminous green wall perceived as another art panel.
Dividing marking on the floor and directional signs on the pillars and walls imitate mountains in outline and are covered with light reflective paint changing in the beam of headlights. Facilitating orientation and parking for the driver, they are differently perceptible for the pedestrian in ambient light, who is guided by relevant pedestrian signage.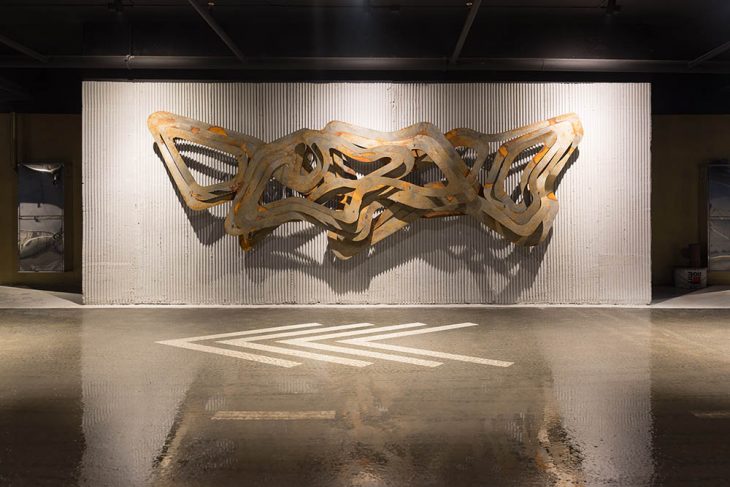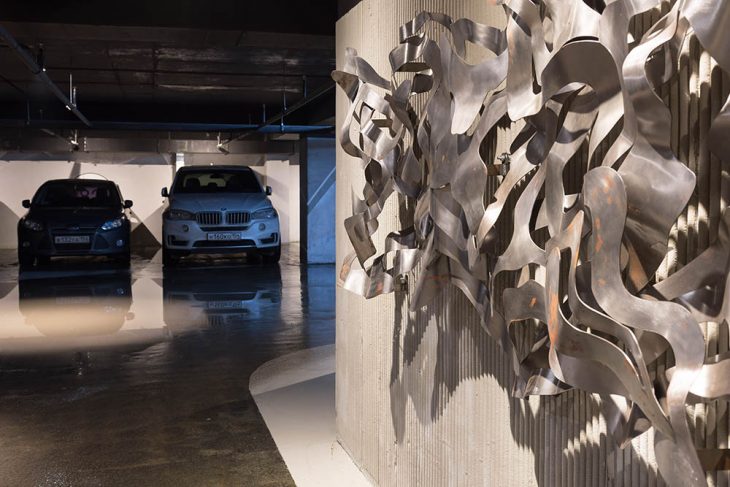 The car park surfaces the courtyard with a split-level ground floor and an operational rooftop with guard railing. The building shape and its inner space are closely linked, for instance, the roof slopes towards the courtyard leading to the parking entrance. The height restriction for the car park is 2 metres. Concrete highlights the Inside-Out concept, while the playground on the roof softens the brutal look of the building.
Location — Novosibirsk, Russia
Project team
Master plan by DROM
Architecture by Arkhikuznya
Layouts by Akb Stal'
Interiors by Arkhikuznya
Completion by Brusnika
Volumetric data
Total structural volume — 27 thousand cubic
metres
Gross floor area — 7,9 thousand square metres
Floor number — 3
Car parking spaces — 279
Design 2018
Completion 2021
Find more projects by Brusnika: moskva.brusnika.ru