Ontario's Lake Country, Muskoka, has long been celebrated for its picturesque landscapes and charming cottages. Among its treasures is the almost 200-year-old Muskoka Cottage, a historic dwelling nestled in this scenic paradise, located just a two-hour drive north of Toronto. Originally part of a vast resort complex, the cottage's story has been one of gradual transformation over the decades. Now, the renowned design studio Reigo & Bauer has given it a new lease on life, preserving its historic charm while infusing it with a contemporary twist that reflects the owner's aesthetic tastes.
The cottage, sprawling over 6,700 square feet, presented a unique challenge to Reigo & Bauer. Their task was to maintain and restore as much of the building's original character and details as possible, all while incorporating the family's contemporary preferences. This ambitious undertaking aimed to modernize the interiors while showcasing a collection of bold and playful furniture that both contrasted with the existing architecture and complemented the client's impressive collection of Pop Art, including works by Warhol.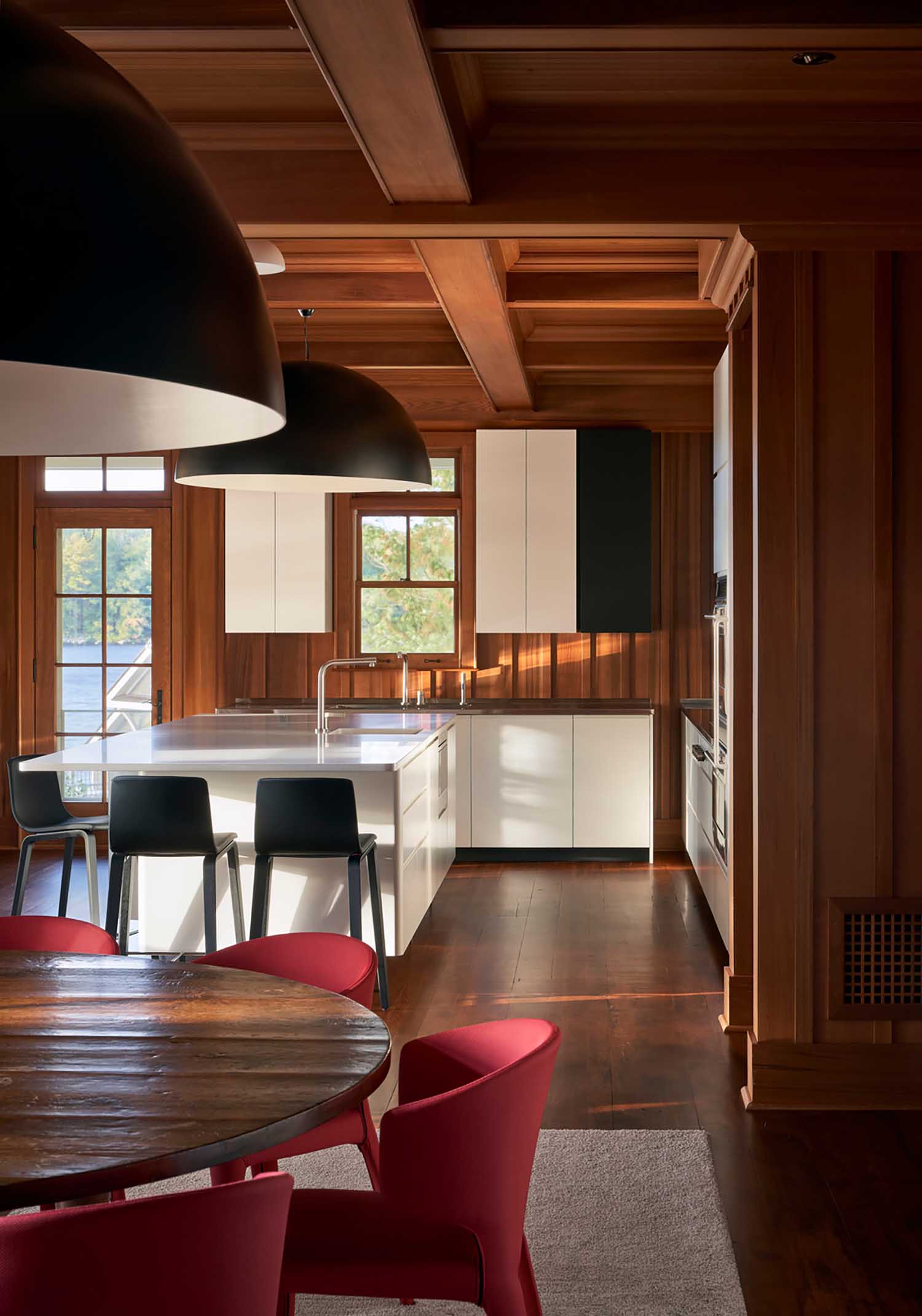 Reigo & Bauer's approach to this historic renovation was marked by a delicate balance between tradition and modernity. The traditional shingle-clad exterior was maintained, but inside, contemporary elements were carefully integrated. The interiors, originally blanketed in western red cedar panels, received a modern touch through architectural interventions in a crisp black and white palette. Color was introduced sparingly but dynamically through accent pieces.
Upon entering the cottage, visitors are greeted by a bright white storage unit and a blue cushioned bench that replaces a series of board-and-batten-clad closets beside the front door, offering an immediate contrast between old and new. In the kitchen, stainless-steel surfaces and appliances create a stark juxtaposition with the original paneling, with custom units forming an L-shaped arrangement around a central island.
The bathrooms are another area where creativity thrives, as vanities hang like artworks in front of cedar walls on powder-coated steel frames, with showers outlined in black and patterned with hexagonal tiling.
Every piece of furniture within the cottage is treated as an art piece, infusing each room with personality through color, textures, and a mix of scales. The design elements create continuity throughout the home, such as the huge domed pendant lights that connect the kitchen, dining area, and hallway.
The screened back veranda was transformed with a fresh coat of white paint, turning it into a bright and airy room that maximizes views of the lake. The space is thoughtfully arranged into separate seating areas for both adults and kids, each delineated with blue Paola Lenti outdoor rope rugs and furnished with hard-wearing, comfortable outdoor furniture.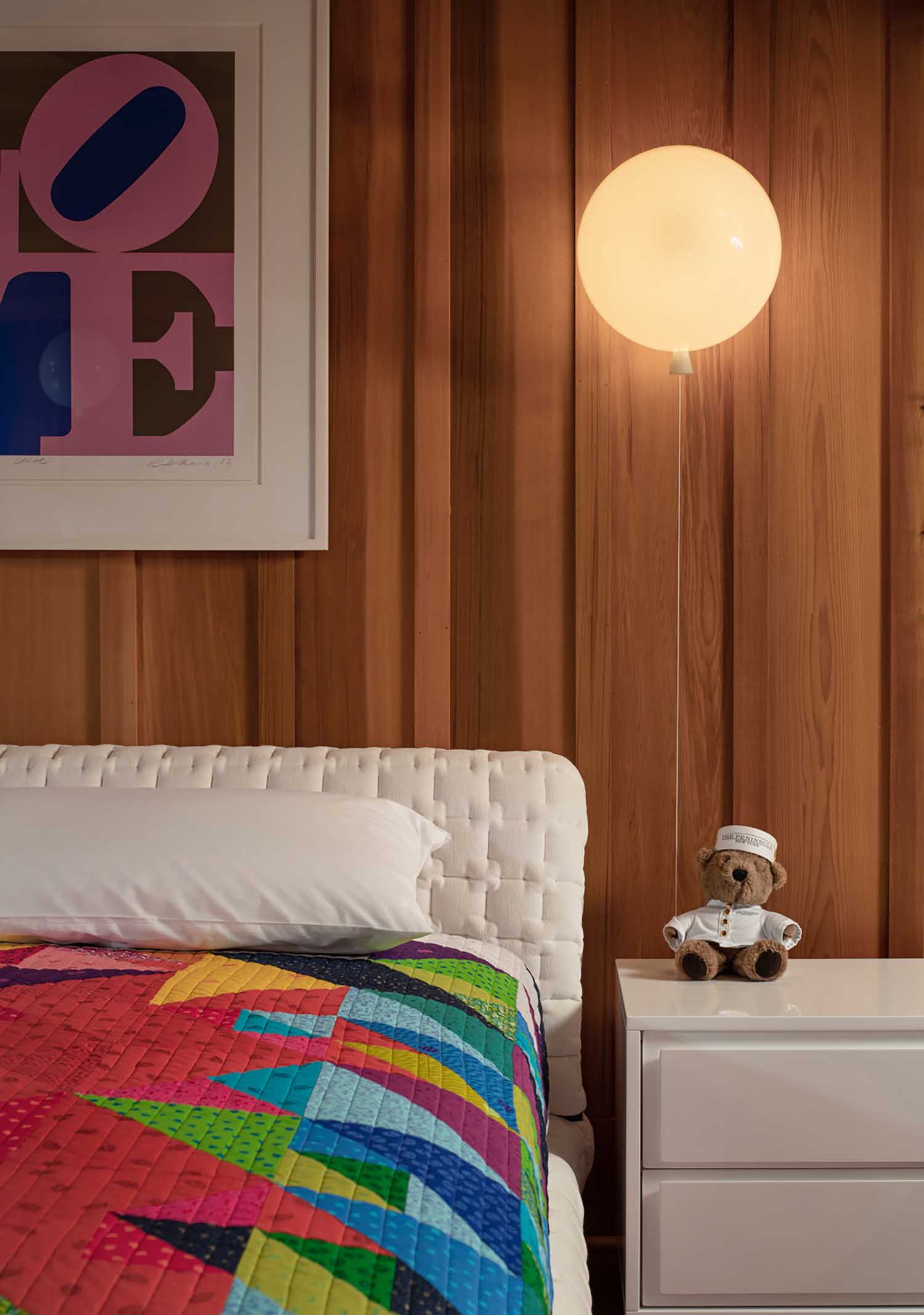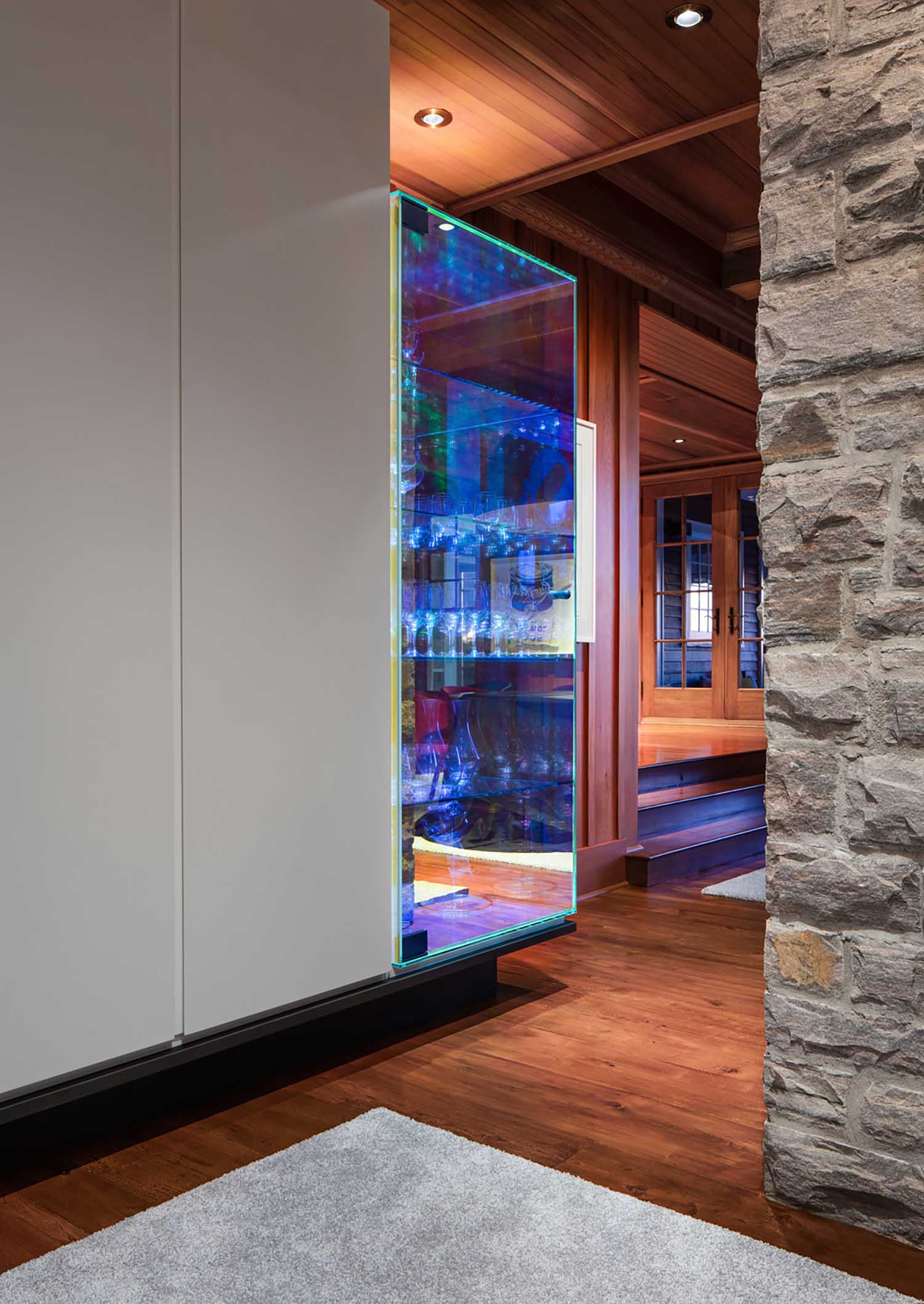 On the lake itself, an additional area for entertaining was created, featuring custom units with storage, cooking apparatus, and even a TV built into a shelter on the dock. These units are designed to resist water damage, especially during spring floods, constructed entirely from powder-coated aluminum and equipped with cleats for quick weather protection.
Throughout the project, Reigo & Bauer's skillful balance between modern and traditional design results in a celebration of the old while fostering an appreciation for the new. The Muskoka Cottage now stands as a testament to the seamless integration of history and modernity, providing a unique and inviting retreat for the family in this idyllic setting.
Project Details
Project Name: Muskoka Cottage
Location: Lake Muskoka Ontario
Area: 6600 sf (615 m2)
Completion: 2022
Architecture & Interiors: Reigo & Bauer – www.reigoandbauer.com
Design Team: Merike Bauer, Stephen Bauer
Construction: Stockridge Construction
Millwork Fabrication: Renca + Heilimo Inc
Metal Fabrication: Filo Timo
Photography: Doublespace Photography