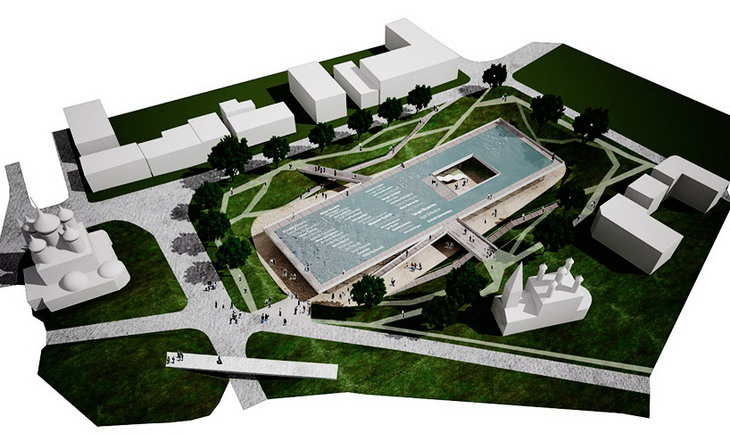 Project for the revitalization of the stadium "Spartak" in the historical center of Yaroslavl (UNESCO Zone) by JAPA Architects has won 1st prize in the Spartacus alive International competition, in Yaroslavl, Russia.
From the Architects:
Project 3X1 explores the possibility of having Multi-programmatic typologies, allowing a single building to held 3 different uses. Thus, we minimize its impact, not consuming different plots, by creating a real sustainable building from its conception.3X1 will held exhibitions in its Ground Floor Level and its roof top will be a Memorial during Summer and warmer months that will transform itself into an Ice skating rink for the people during winter months.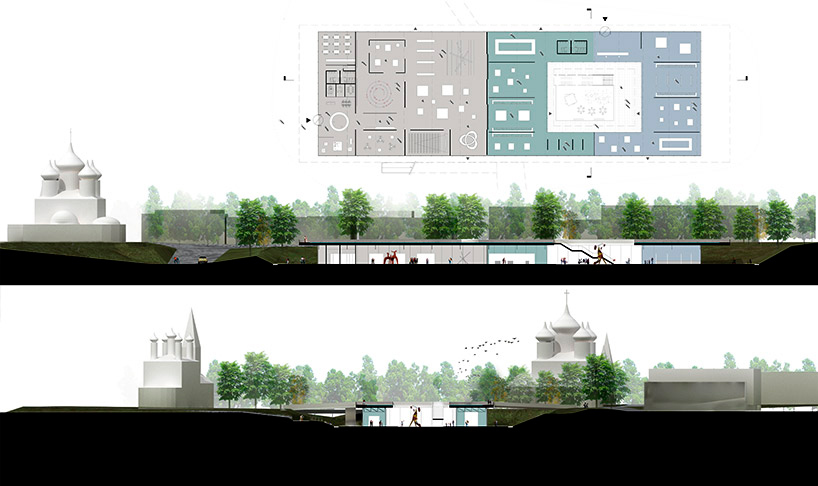 3X1: Revitalization of a currently unattractive space that has turned obsolete due to shape and regulations changes.We propose a series of strategies which focus on the use of space and on programmatic diversification.The project is located in the historic center of Yaroslavl (Russia) – UNESCO World Heritage Site, a city with more than 1000 years since its foundation and which is part of the Golden Ring of Russian historic cities. A proposal which integrate human connections with the building itself and the surrounding context while at the same time gives a new space which foresees the coming future demands. An architectural solution that incorporates in its design the site's DNA and the surrounding elements (History, water and nature).All this within a sustainable and respectful approach to the site's heritage and history. We will transform the existing stadium into a new indoor exhibition space and a Cultural Hub.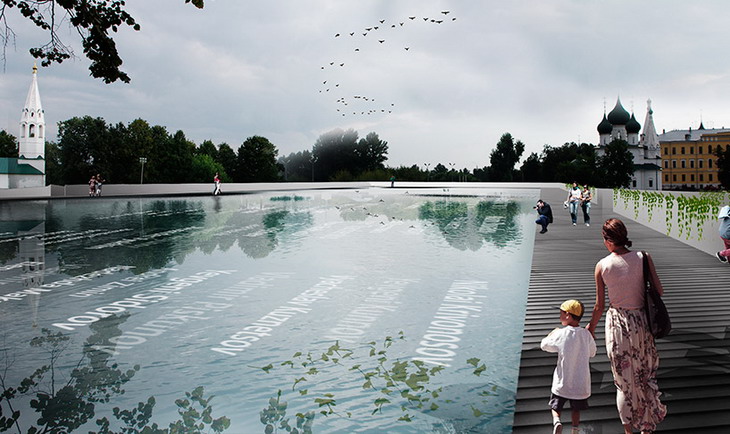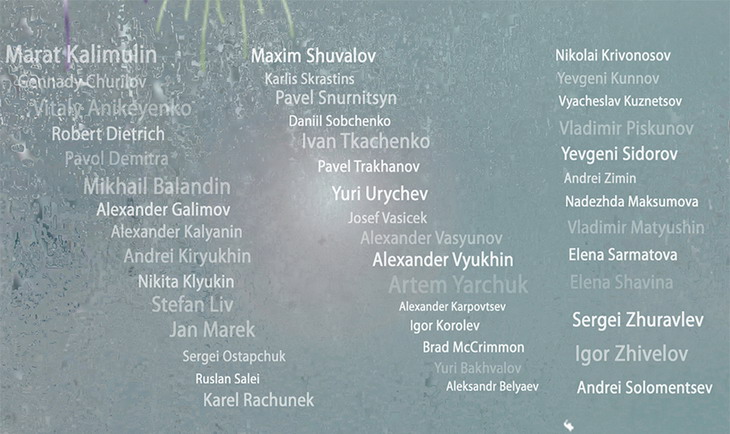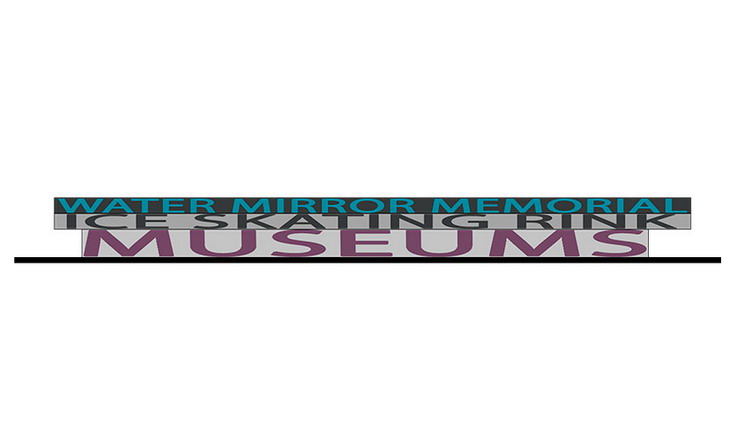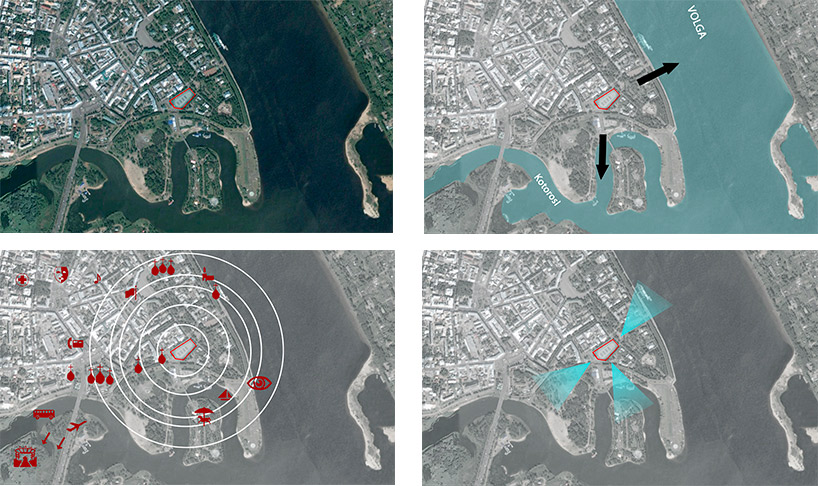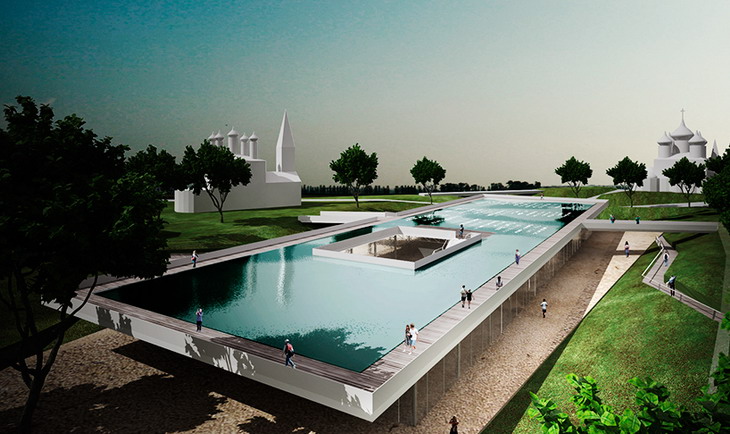 A "Flexible" space taken to another level, not only because the internal building layout / distribution can be changed at any given time, but due to the fact that the building itself has 3 main objectives(programmatic diversification, 3 uses within the same building: to be a container for Culture (Museums-exhibitions-festivals), to become a Memorial site in Summer surrounded by nature in remembrance of the names of the Lokomotiv Yaroslavl airplane crash victims and, during Winter, to transform itself into an Ice skating rink for the people, in order to keep the public space character. The Ground Floor level layout is planned to be an exhibition-demostration continuous space, which can be subdivided in order to held different uses such as exhibitions, festivals, museums or congresses. This will be an extraordinary space to held the Museum of local lore (MLL), the new Yaroslavl Museum of Modern art (YMMA) and the Museum of history of the city (MH).The Rooftop level will be accessible via a series of ramps ,stairs and bridges and it includes a water mirror which integrates each of the names of the airplane crash victims inside the water.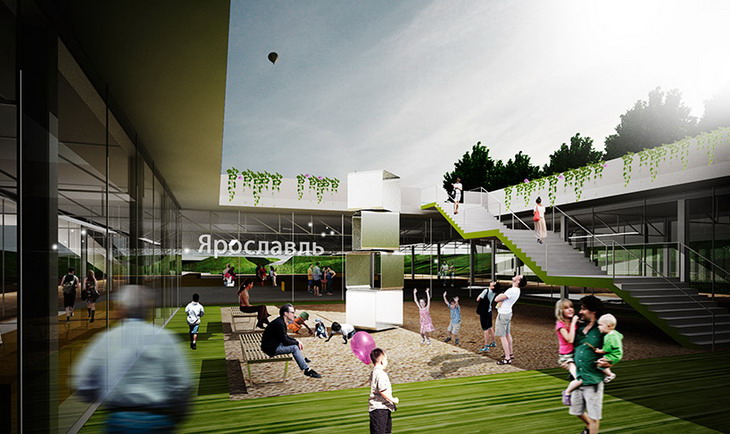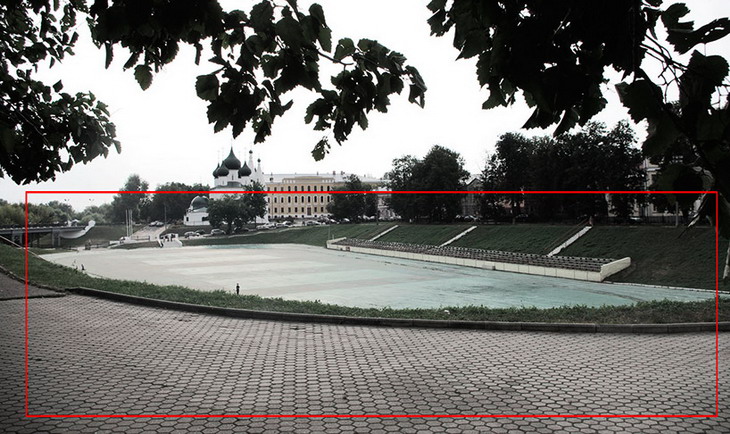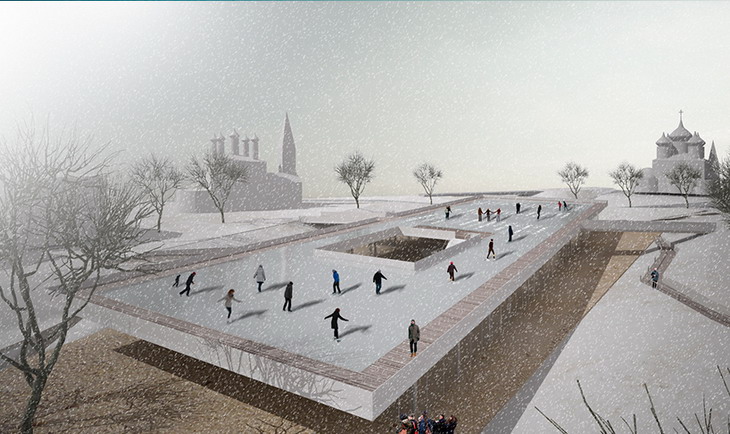 We provide a sustainable design not only because of its ecological design characteristics, but because its programmatic multifunctionality in the same plot, a 3X1 Proposal Constructive Scheme Building constructive rationality: use of efficient materials and construction systems which are suitable to the typology of the new 3X1. We prioritize recyclable materials and modular solutions ,attending to their economy and durability. For the main structure, steel trusses are used which are available from local metallurgical industry in Russia(Avoid long transportation mileage to reduce CO2.), lightweight and recyclable.
Project: 3X1 – New Yaroslavl Museum of Modern Art
Designed by JAPA Architects
Client: City of Yaroslavl,Administration of the region and Museum community,UNESCO, ICOMOS
Location: Yaroslavl, Russia
Website: atjapa.com