Young Architects have recently completed their latest residential project nestled amidst the lush beauty of New Zealand's natural landscape, the Ligar Bay Bach House. This holiday home, designed with separate private spaces, offers a truly unique escape, harmonizing with the surroundings and maximizing sustainability.
One of the standout features of this holiday retreat is its ability to transform into a rental property when not in use by its owners, making it an enticing prospect for those seeking a serene getaway amidst the wonders of nature. The design is rooted in the notion of blending the beauty of the environment with architectural brilliance.
The site chosen for the Ligar Bay Bach House presented its own unique challenges. Situated on a steep and unstable terrain with historical pre-European occupation, the architects had to carefully plan and design the project to preserve the natural environment while creating a distinctive, functional space. Access between the various spaces was crafted to be a journey, reminiscent of moving between tents pitched amongst the trees.
The primary requirement for this project was to create separate living spaces, and the steep topography was ingeniously employed to provide elevated views of the ocean and coastline. The architectural design plays on elevation and massing, using depth, transparency, and reflectance to create a visually striking structure.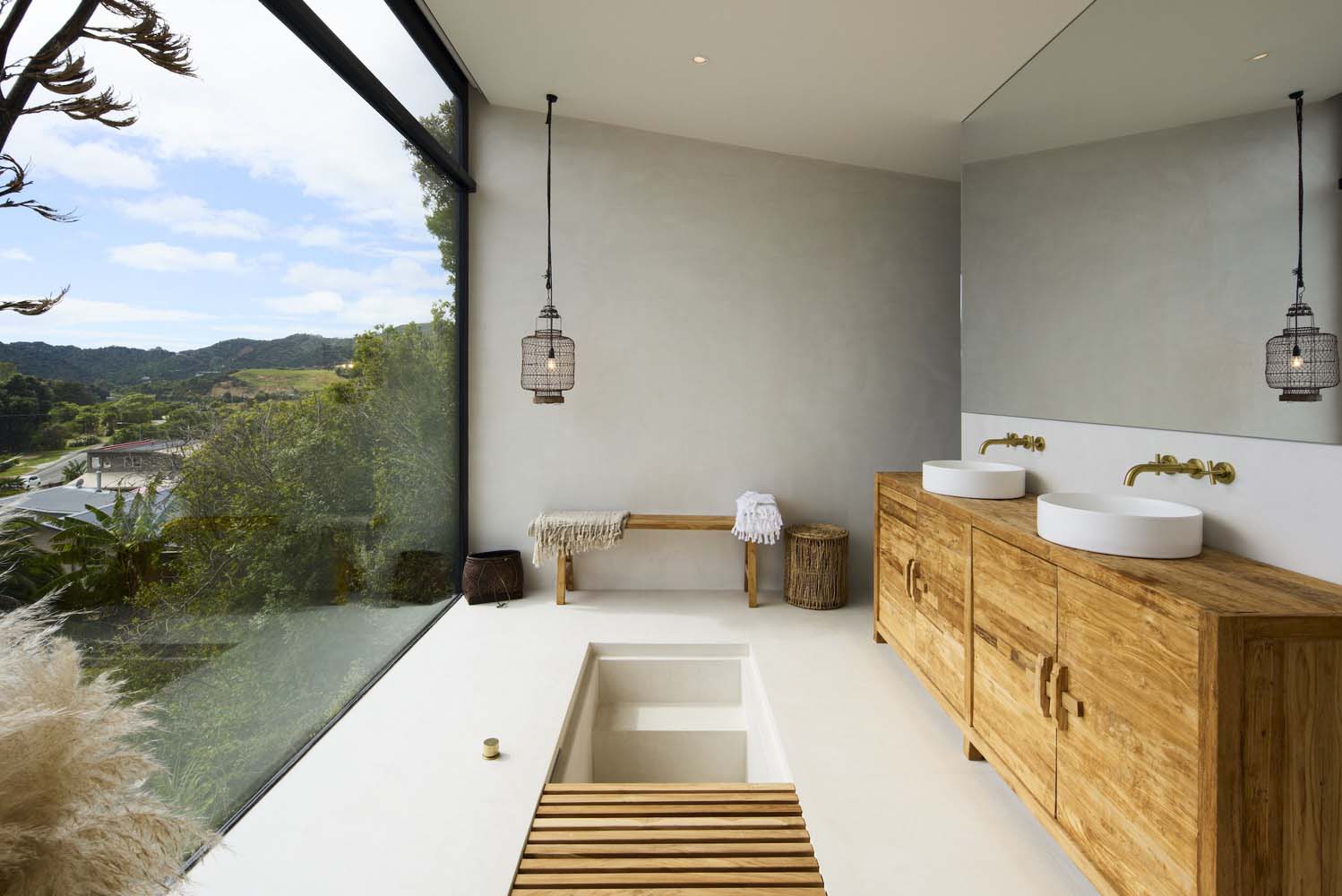 The projects incorporates concrete, timber, and steel. These materials are not only a part of the structure but are also expressed in the finishes, showcasing their honest beauty as part of the aesthetic palette.
The architects focused on sustainable construction practices, ensuring that the materials used were locally sourced, with low-carbon Golden Bay cement and plantation-grown timber, reducing the project's environmental footprint. They also took great care to minimize thermal bridging and heating requirements, with cooling achieved predominantly through passive means, such as opening skylights acting as chimney vents and opening walls providing natural breezeways.
The versatility of the design is another remarkable feature of the Ligar Bay Bach House. While the private suite is separated from the main pavilion, there are two additional bedrooms off the living space, with the potential to add a further bedroom on the lower level in the future, accommodating changing needs and preferences.
Project information
Architects: Young Architects – young.co.nz
Area: 163 m²
Year: 2023
Photographs: Jason Mann Photography
Manufacturers: AutoDesk, APCG Polished Concrete, Abodo timber cladding, Golden Bay Cement, Metro Performance Glass
Lead Architects: Greg Young, ANZIA
City: Ligar Bay
Country: New Zealand