Fabio Mazzeo Architects unveiled a unique and beautiful reflection installation made at the headquarters of the multidisciplinary firm. The piece welcomes and delights guests and visitors and is located in a sizable chamber of the 17th-century property at Via Giulia 167 in Rome.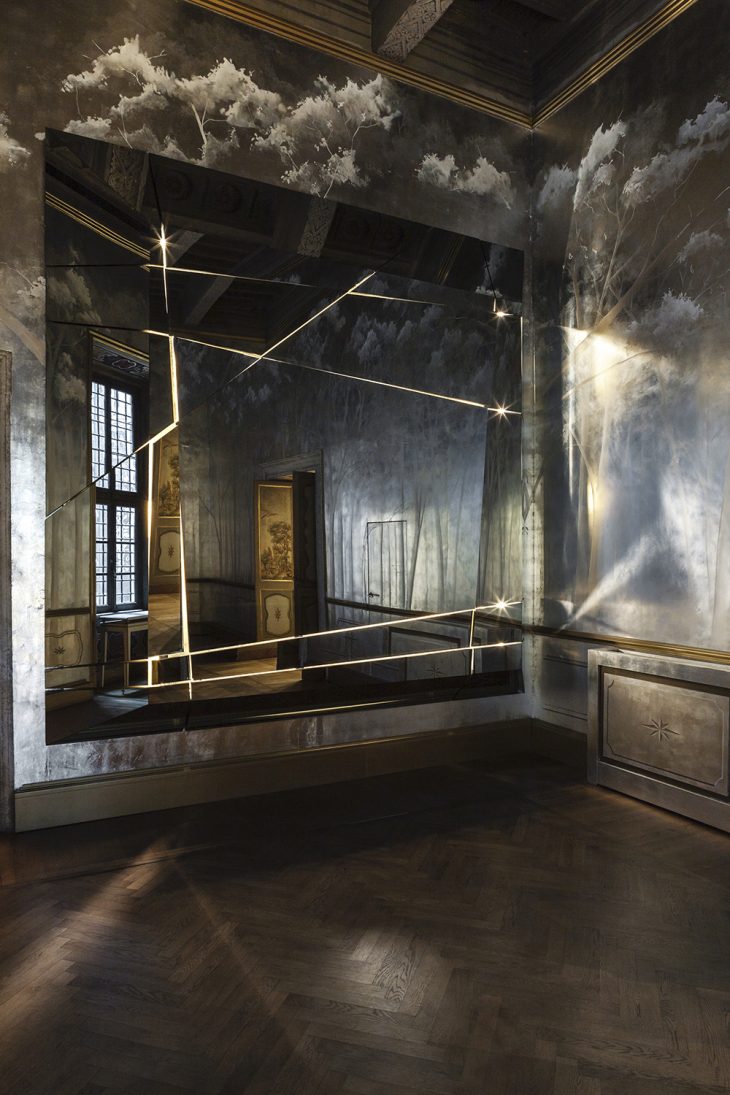 It has a compelling quality that is almost unsettling. It is a mirror of wonders that leads you into an odd and gorgeously bizarre "other" world, like something out of Lewis Carroll's well-known and hallucinatory novel. It causes you to instantly believe in the impossibility, much like Alice's adventure down the rabbit hole.
The large, mirrored wall surface is divided into numerous pieces, each of which moves independently. It is 4.5 meters wide by 4 meters high. The building stimulates the space's multiple viewpoints and angles in a dynamic interplay of reflections, rearranging unexpected pieces of the landscape into a kaleidoscope, shimmering vision.
"As in all our projects, we worked with a tailor's approach, starting from the specifics of the setting to create a piece that could bring out the unique character of a space with such a strong identity. In the large 60-square-meter hall, empty space prevails over solidity. The hand decorated walls depict a forest of Roman pine trees painted white on a silver leaf base, like a kind of virtual winter garden. We wanted toavoid overabundance and excess. That led to the idea of an installation that is neither authoritarian nor imposing, but rather a modern piece that can find a harmonious balance with its historic surroundings. It was designed and built to create a dialogue with the interior and to orient the gaze in space, rather than capture it."
says Fabio Mazzeo, art director of Fabio Mazzeo Architects.
The installation confronts and mirrors the reflection of another priceless Renaissance mirror, allowing for respectful stylistic coexistence between two pieces of art produced 500 years apart.
A imposing sculptural table created by Fabio Mazzeo Architects is another conspicuous piece in the space and a component of the shifting reflections.
The installation, which combines aesthetics and functionality, includes a monitor that makes use of mirror screen technology. This monitor's mirrored surface is enriched with visual cues, and the team uses it to present to clients.
The mirror, which is intended to be a semi-dynamic object, is broken up, and the backdrop covered with gold leaf and the lighting from behind emphasize this. The effect is almost like an underground energy that pulses, similar to the vibrations that drive the Fabio Mazzeo Architects team. They are a genuine creative collaborative where every talent is allowed to express themselves while being carefully supervised by the flamboyant Fabio Mazzeo. The exhibit was created through a collaborative effort by artists, painters, and craftspeople who have worked with the studio for many years, much as in a neo-Renaissance workshop.
This piece straddles the lines of art, architecture, and design, recounting the design philosophy of Fabio Mazzeo Architects and asking us to step through a mirror to the other side, where we can experience and envision fresh, thrilling visions of beauty.
Find more projects by Fabio Mazzeo Architects: fabiomazzeoarchitects.com