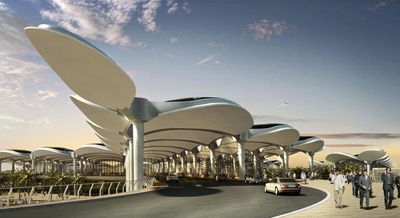 Project: Queen Alia International Airport
Location: Amman, Jordan
Designed by Forster + Partners
Co-Architects: Maisam – Dar Al-Omran JV.
Completion Time: 2005-2012
Website: www.fosterandpartners.com
Project for Queen Alia International Airport Amman designed by by Foster + Partners in collaboration with Maisam – Dar Al-Omran JV. View more images and architects description after the jump: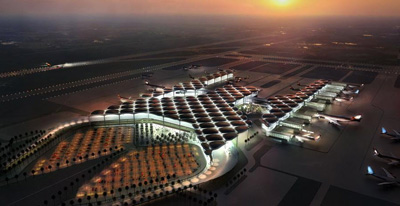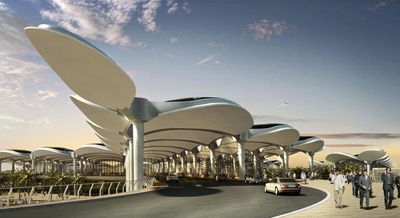 Queen Alia International Airport explores a vision of what the twenty-first century airport could be and offers an approach towards an ecologically sensitive architecture. It is designed to evoke a distinctive sense of place and to provide a greatly enhanced gateway to the region. The scheme allows the airport to grow by 6 per cent per annum for the next twenty-five years, increasing annual capacity from 3 million passengers to 12 million passengers by 2033. It will allow Amman to become the air hub for the Levant Region.
Formally, the building draws from traditional Arabic architecture, with a variety of outdoor spaces and open-air gardens. In the courtyards, water pools reflect daylight into the building, provide passive air-cooling to pre-condition air prior to mechanical ventilation and form a natural focus that directs passenger movement. A broad canopy, its black external surface evocative of Bedouin tents – shelters the large external public area and evokes the excitement of a Middle Eastern bazaar.
The design incorporates a passive environmental strategy. Maximum use is made of natural light and split beams at the column junctions in the roof allow daylight to flood deep into the building. The concrete roof structure acts as a thermal store to heat and cool the building; and a black metal roof covers the domes to act as a heat shield, with a naturally ventilated cavity to release heat build up. Generous roof overhangs provide natural shading to full-height glazed facades against solar gain and mitigate glare issues.