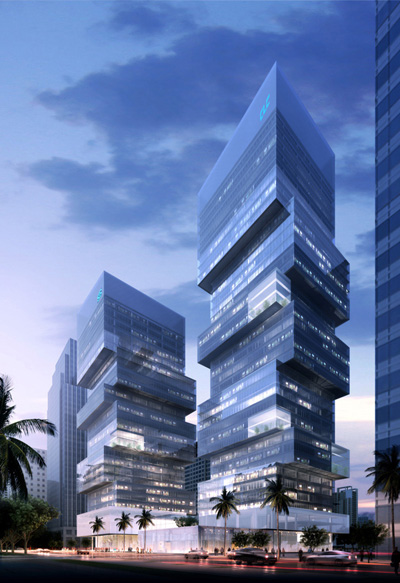 Project: Two Towers
Designed by Saraiva & Associados Arquitectura Urbanismo
Client: CBD Leasing Company (CLC) and Minsheng Financial Leasing Company (MSFL)
Location: Shenzhen, China
Website: www.saraivaeassociados.com
Saraiva & Associados Arquitectura Urbanismo share with us their proposal for the much talked about Two Towers project competition in China, shaped in contemporary manner the design for this 100 and 150 meters high towers follows the rules of green-architecture.
For more images and architects description continue after the jump:
From the Architects:
A unique and harmonious force, a modern and innovative approach, a building of intense character.
The essence found in this project was the result of an international competition in which Saraiva + Associados in partnership with IDU (International Design Union) and Tianhua reached the six finalists: The Two Towers in Shenzhen.
The project required the design of 2 office buildings – CBD Tower with 150 meters and Minsheng Financial Tower with 100 meters. The concept proposes the creation of a landmark that gathers and communicates the power of Principles and Social Responsibilities.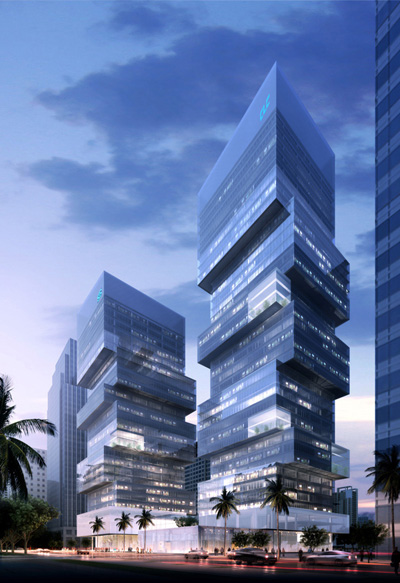 "The Two Towers" proposal aims to resolve in an equal form all the variables in this intervention, creating a strong landmark building that is generous and practical in is form and that can fully embodies modernity, strength, development and eco-friendly. The main idea was to give the two towers a strong sense of responsibility and a modern language – both financial institutions well differentiated yet sharing a common global image.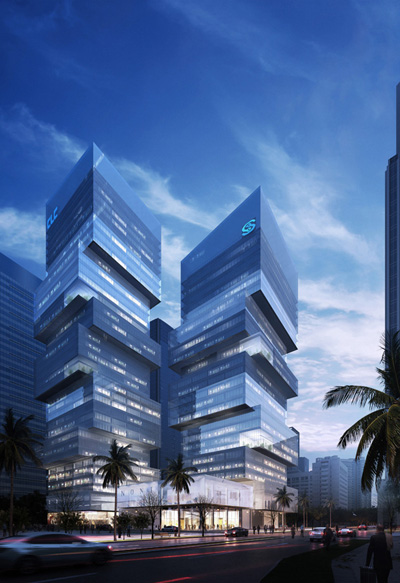 Sitting in the CBD and administrative/cultural center of Shenzhen, this project reflects the study of the city's history, geography and ecology in an integrated development, respecting both urban planning and the stipulated program. As a response, the design reunites two different buildings that would combine into one unique and harmonic force, materialized in an architectural built mass that is fragmented into several blocks. These combined groups of blocks arise from the podium, the strongest piece that connects the buildings to the ground and surrounding environment. Furthermore, the external square highlights the unique entrance to a main, shared, lobby that will then connect to two different lobbies for each company.
Its exterior image follows the idea of a modern, sober and contemporary group of buildings with ample glazed surfaces, interspersed with mesh elements, in a balanced composition of volumes and surfaces.
A simple system of transparency and the introduction of several green spaces on the towers upper floors will give to the overall image of continuity, innovation and modernity, avoiding the impression of main and secondary buildings. On the other hand, the transparency of the facades with the light control elements and the green spaces helps controlling the light on the interior, giving the overall construction the benefits of an apparently discontinuous texture, providing an independent image to the two clients.
Globally, the proposal presents a total construction area of approximately 100.000 sqm, divided by 60.000 sqm for Parcel A (CLC) and 40.000 sqm for the Parcel B (MSFL).