Library & Learning Centre at the University of Economics in Vienna designed in 2008 by Zaha Hadid Architects, has recently opened its doors for the 1st time. The new Library and Learning Centre rises as a polygonal block from the heart of the new University campus.
From the Architects:
The new Library and Learning Centre rises as a polygonal block from the heart of the new University campus. The interior of the LLC is informed by the external landscape of the masterplan which maps out the different levels. The straight lines of the building's exterior separate as they move inward, becoming curvilinear and fl uid to generate a free-formed interior canyon that serves as the principal public plaza of the centre, as well as generating corridors and bridges ensuring smooth transitions between different levels.
Functional Plan

The aim of the functional plan is to clearly defi ne the different areas of the building. The plan is translated into a three dimensional object which outlines the space around the central atrium, the corridors and the canyons. The main block of the building houses the Service Area, the Learning Centre and the Economics Library, with Student Services and Library Management located in the smaller block.
While the interior edges of the site join together in a fl owing free-form, the exterior edges of the building are cut sharply and their alignment contrasts with the site edges specifi ed on the master plan and with the position of the adjacent buildings.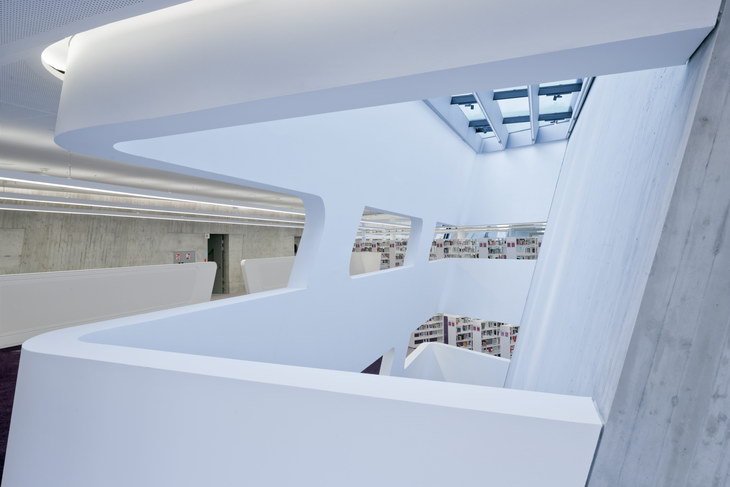 Internal Circulation

From the main entrance of the LLC, visitors can walk directly to the central auditorium which also functions as a large atrium fl ooded by natural light. A system of ramps leads from the auditorium to the library entrance and the central services on the fi rst fl oor. The security and locker areas are located on the mezzanine below.
Visitors can access the library and the student management offi ces via ramps and stairways spiralling upwards from the ground floor. The different areas on the upper levels are connected via platforms, bridges, terraces and galleries.
Façade

The external appearance of the LLC is characterized by two elements of contrasting colours separated by a glass joint: shell and shadow. These different colours facilitate the orientation and understanding of the two primary areas of the building from the exterior.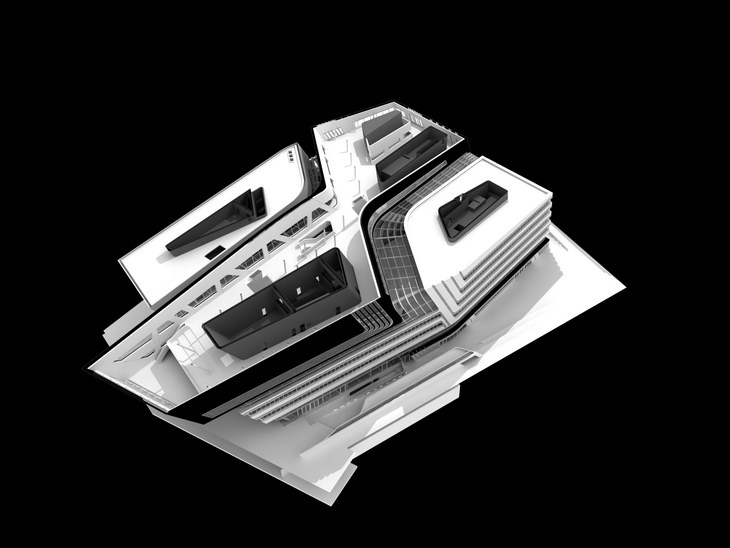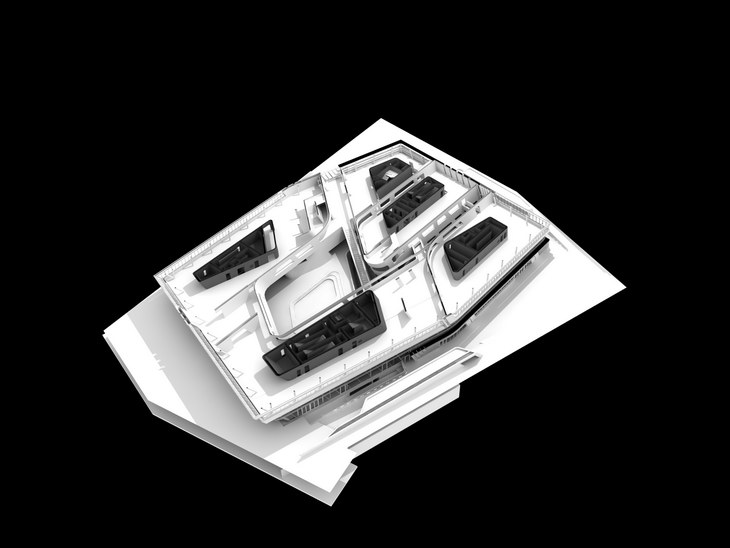 Project: Library & Learning Centre – University of Economics Vienna
Designed by Zaha Hadid Architects
Architectural Design: Zaha Hadid, Patrik Schumacher
Project Architect: Cornelius Schlotthauer
Project Team Construction: Enrico Kleinke, Markus Planteu, Vincenco Cocomero, Peter Irmscher, Katharina Jacobi, Constanze Stinnes, Peter Hornung, Frédéric Beaupère, Mirjam Matthiessen, Marc-Philipp Nieberg, Tom Finke, Kristoph Nowak, Susanne Lettau, Jahann Shah Beyzavi, Florian Goscheff, Daniela Nenadic, Judith Wahle, Rassul Wassa, Julian Breinersdorfer, Nastasja Schlaf, Muhammed Patat, Elisabeth Dirnbacher
Project Team Competition: Cornelius Schlotthauer, Marc-Philipp Nieberg, Enrico Kleinke, Kristoph Nowak, Stefan Rinnebach, Romy Heiland, Richard Baumgartner
Structural Engineers: Arup Berlin
M&E Engineers: Arup Berlin
Façade Engineers: Arup Berlin
Cost Consultant ATP Wien
Fire protection: HHP West, Bielefeld
Render Studio: Stefan Paulisch, Vectorvision, Leipzig
Photography by Iwan Baan
Size: 42,000 m2
Location: Vienna, Austria
Website: www.zaha-hadid.com