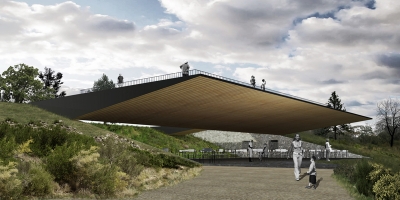 Project: Lookout Point and Cafeteria
Designed by Dellekamp Arquitectos + Claudia Rodríguez
Landscape-Masterplan and Environmental Strategy: TOA
Museum of Modern and Contemporanean Art: Herzog & de Meuron
Project Leader: Jachen Schleich
Team: Armando Bussey
Location: Parque Mirador Independencia of Guadalajara, Jalisco, Mexico
Website: dellekamparq.com
For a spectacular location in Parque Mirador Independencia of Guadalajara studios Dellekamp Arquitectos and Claudia Rodríguez have teamed up to design lookout point and cafeteria.
From the Architects:
This is a neutral architectonic intervention that complements TOAs (Taller de Operaciones Ambientales) landscaping masterplan and Herzog & De Meurons Museo de Arte Moderno y Contemporaneo (Modern and Contemporary Art Museum) located in the Parque-Mirador Independencia of Guadalajara. The lookout-point and coffee-restaurant rivet the natural disemboguement of Av. Independencia but unobtrusively align to the sliding gesture of the landscape. Both facilities were achieved through a single architectonic manoeuver that consisted of an excavation and displacement of the look-out ground onto a jutting platform.
The main virtue of this direct and simple intervention is that both facilities are inconspicuous to sight and their interrelation subtly emulates the landscape gesture of the ravine.