The winning proposal design for the New Holland Agriculture's Pavilion at EXPO Milano 2015 is a work of talented Carlo Ratti Associati and Recchi Engineering. Proposal features two self-driving tractors 'drawing' on the large tilted green roof, the latest in 'agricultural printing'. Set to be a picture-worthy attraction and Milan's EXPO.
From the Architects:
New Holland Agriculture, one of the world's top manufacturers of agricultural machinery, have announced the innovative proposal conceived by Carlo Ratti Associati, as the winner of the international competition for their 17,000 square foot pavilion at the World Expo 2015 in Milan. The proposal, called EARTH SCREENING, features a large agricultural field on its roof, similar to a giant 3D printer thanks to the constant activity of two zero-emission, robotized, self-driving tractors, which will constantly move over the roof, 'writing' and working the land.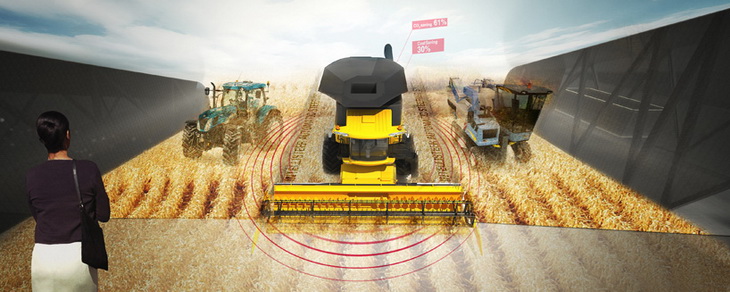 However, the idea of EARTH SCREENING is not just about self-driving tractors, which can draw patterns on the roof of the building. It is about how we can sense and respond to the conditions of the soil to a degree that was impossible before. This points to a future where an agricultural field could be considered as a giant base for 'agricultural printing', with major advantages foreseen in terms of plant biodiversity and resource preservation. In the same way as self-driving cars are expected to revolutionize urban mobility, advanced robotic technologies are reshaping agriculture, with a new wave of innovations helping us to better respond to local terrain conditions.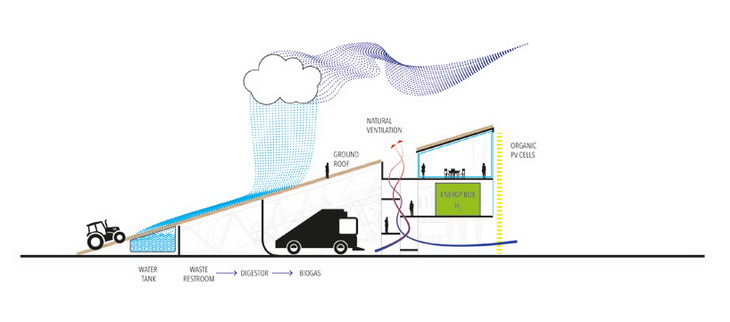 While the roof uses real moving tractors, inside the pavilion visitors can interact with the latest research, products and innovations in sustainable agriculture developed by New Holland, in both a physical and digital way. Using a sort of 'augmented rurality', made of large screens featuring dynamic footage collected from fields across the world as the backdrop for static agricultural equipment, visitors are taken on a journey that closely mirrors the seasons and cultivation cycles and taught about energy and sustainable farming. The aim is that the energy for the pavilion – including that for the self-driving tractors on the roof – will be generated on site. After the Expo, the New Holland pavilion will be dismantled and reconstructed in a second location as an innovative didactic farm, embodying the very idea of recycling and sustainability.
Project: New Holland Pavilion for Expo Milan 2015
Designed by Carlo Ratti Associati, Recchi Engineering
Project Team: Recchi Engineering (group leader), Carlo Ratti Associati (project designer), NÜSSLI, Manens-Tifs, M. Durbano
Recchi Engineering Team: Emanuela Recchi, Davide Sportoletti Baduel, Alexia de Steffani
Carlo Ratti Associati: Carlo Ratti, Walter Nicolino, Marco Maria Pedrazzo (project leader), Monika Löve, Jenni Young, Alberto Bottero, Luis Mesejo
Feasibility and Construction Management: NÜSSLI – Emanuel Rossetti, Isabella Artana, Federica Nalin
Environmental Sustainability Consultant: Manens-Tifs – Fabio Viero, Daniele Guglielmino
Structural Engineering Consultant: Studio M. Durbano – Marcello Durbano
Location: Milan, Italy
Website: www.carloratti.com