Brusnika have recently completed works on their latest project, a riverfront park in Novosibirsk. The park, which is on the Ob River's bank, adds new open space to the city. The landscape architects had to combine several dispersed housing estates into a single, uninterrupted path with access to the river for both locals and city dwellers. The project, a collaboration between three landscape bureaus (the Polish S&P Architektura Krajobrazu, the Russian AFA and Landmark Architects, and the Russian AFA and Landmark Architects), aimed for a balanced distribution of several distinct functions inside the park, bringing in more variety and attracting various user groups, including adults, kids, teens, athletes, and cyclists. Discover more after the jump.
From the architects: Located on the bank of the Ob River, the park creates a new public space in Novosibirsk, Russia. It is part of the European Riverfront, a large-scale redevelopment project led by Brusnika. Designed by KCAP Architects & Planners, the area masterplan comprises the development of the riverfront park to incorporate the city pedestrian and cycling routes. The area mixes several plots by the river, along with the river station park to form a wildlife corridor in the city centre.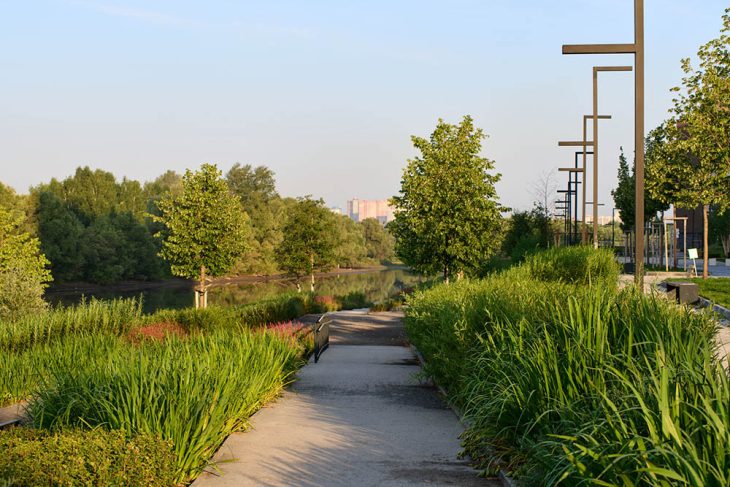 The landscape designers had to embed several fragmented housing estates into one continuous route with river access for both residents and city dwellers. A partnership between three landscape bureaus (the Russian AFA and Landmark Architects, and Polish S&P Architektura Krajobrazu), the project aimed for an even distribution of several distinct functions inside the park, bringing in more variety and attracting different user groups: adults, children, teens, athletes, and cyclists. The riverfront project comprises four phases, going along with the bank development. Currently, the first phase has been realised: a 260-metre stretch joining seven houses.
A cycling route bordering the bank and linking the inner estate streets blends the riverfront with its neighbouring built-in environment. The natural relief splits the riverbank into three layers stepping up to the neighbouring houses. The descents to the river are equipped with staircases, lanes, and ramps. The riverfront park is 25 metres wide.
Covered with larch, the lowest deck of the riverbank is water resistant. Before developing and landscaping the area, the bank was filled up and reinforced with boulders to control water levels. When the water subsides in late spring, the lower deck is usable again.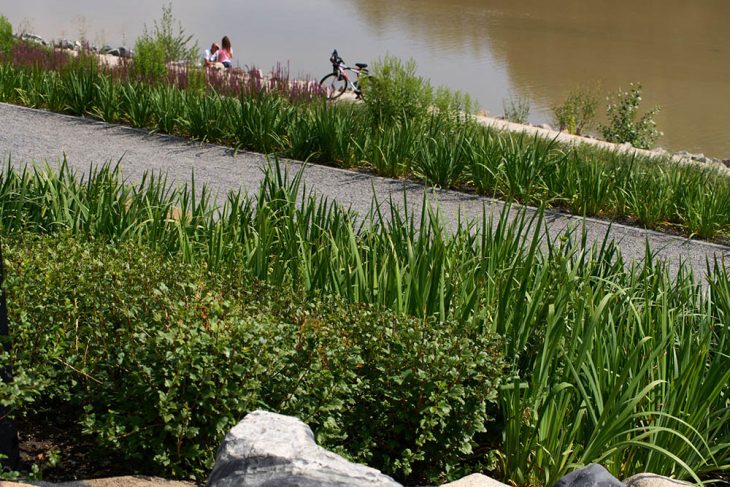 Bar concrete staircases with their urban look, the riverfront is conceived as a wildlife park with dense multilayered greenery made up of mature trees, shrubs, grasses, and perennials, comprising over 50 species of plants. Specifically selected to enhance the all-season landscape attractiveness, the plants take centre stage: the autumn focus is on trees and shrubs foliage, summer brings perennials in bloom, winter features conifers and other evergreens, and ornamental shrubs with brightly coloured stems. Perennial mix borders ensure regular flowering in summer along the pedestrian route. Continuous blossoming and feeders placed among the trees attract insects and birds, promoting biodiversity in the man-made environment. The water ecosystem is supported by water tolerant plants: irises, reeds, cattails, marsh marigolds and others. The choice of plants is determined by river forecasting models. By planting hydrophytes, microorganisms and fishes will thrive. To provide nutrients and ensure healthy growth, coconut matting is used to stimulate rooting; then plants are placed underwater.
A big part of the riverfront park is conceived as a recreational area with lawns for picnics, yoga and beach volley, green alleys for strolling, benches, and wooden decking, where one can sit and read, or enjoy the river views. The activity zones are sited in public squares with piers and vantage points. Spread along the pedestrian route, they vary in character, being either sport / play-oriented or recreational. Each square leads to the inner street of the housing estate.
The sports square features play courts, table tennis, and outdoor fitness, while children's playgrounds are complete with climbing frames, swings, slides, and a rock-climbing wall, making them suitable for 3-year-olds and teenagers alike. Themed areas cater to different scenarios: for instance, a giant sturgeon is a place to hide and climb, while a water play area with educational equipment is a place for exploration and fun. Another project is a playground offering a selection of musical instruments. A variety of activities is intentional: the choice of eight essential scenarios is based on Brusnika and AFA's joint research; they are movement, play, experiment, communication, recreation, nature exposure, and risk-taking. They will be all reflected in the riverfront play zones.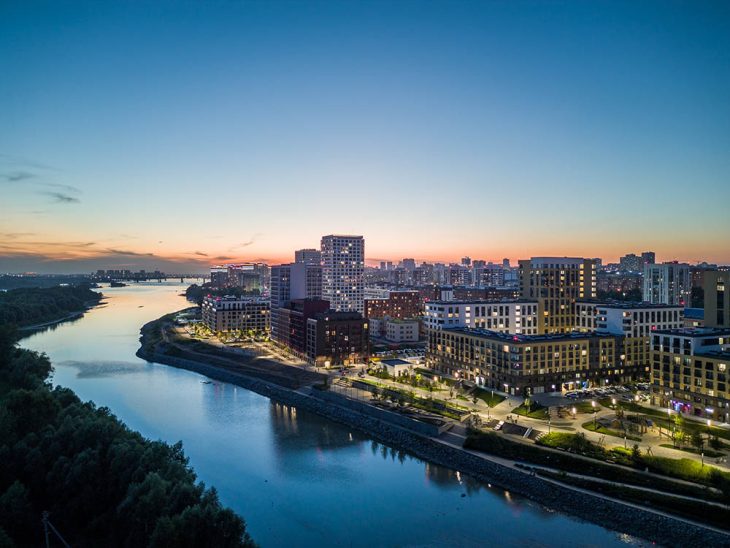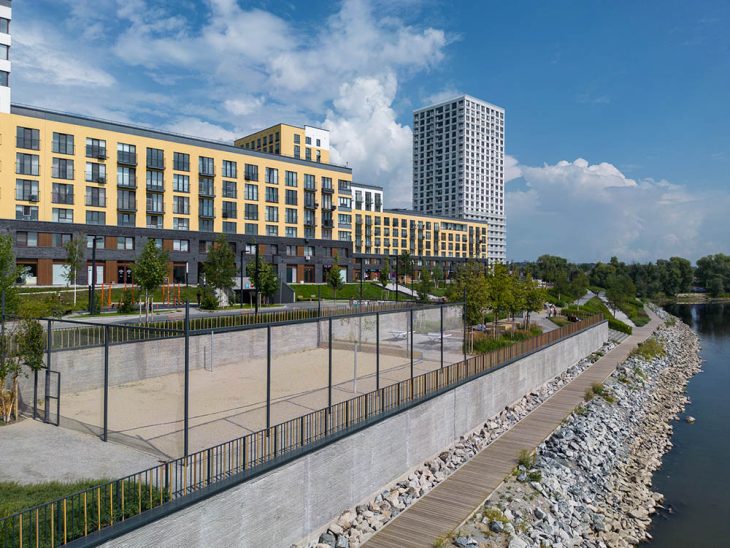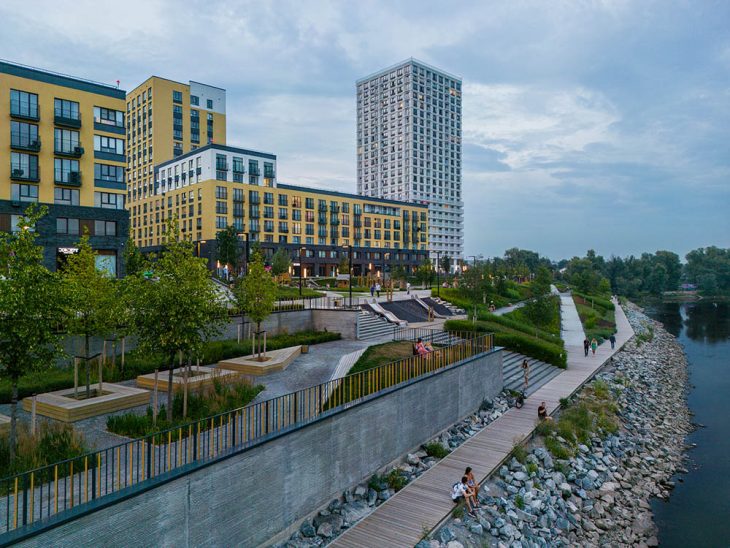 The new park in the European Riverfront estate is both an urban recreational zone and an out-of-town forest sited by the water. City parks are usually limited in space and overloaded with functions due to constricted areas and expensive land. Here, conversely, functions are evenly distributed along the plot, as is characteristic of the countryside, with one zone blending into another. The diversity of activities is entertaining for visitors all along the route. The public space accessible to all has already become the main attraction. Retail and household amenities hosted on the ground floors of the river-facing houses add vibrancy to the area. The water zone will additionally feature various types of water entertainment. SUP surfing with instructional lessons and riding is already available.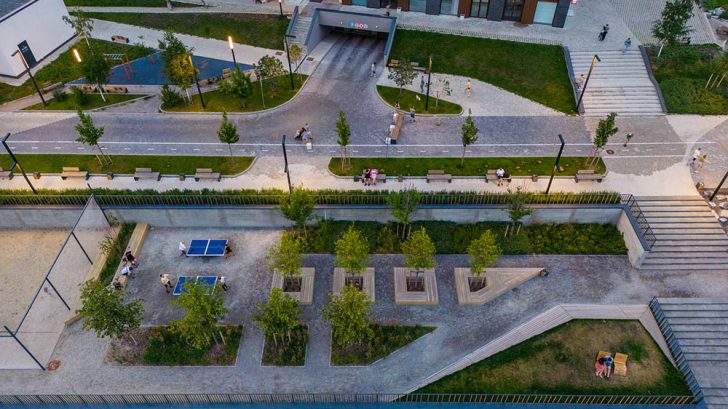 Credits
Location: Vladimir Zarovnoy st., Novosibirsk
Project team
Developer: Brusnika
Masterplan: KCAP Architects & Planners
Landscape design: АFА, Landmark Architects, S&P Architektura Krajobrazu
Completion: Brusnika
Photography: Maxim Loskutov
Areas and programme
Total area: 36 700 m2
Ground floor area: 9 430 m2
Total length: 1020 m
First phase length: 260 m
Width: 20-25 m
Completion
1 phase: completed
2 phase: 3d quarter of 2022
3 phase: 4th quarter of 2023
4 phase: 4th quarter of 2024
Hard landscaping: Silk Holz (Germany)
Nurseries: Pol Plants (Poland), Lorberg (Germany), Baltym (Russia)
Shrubs: wheeling willow Salix ledeburiana kuraica, narrow-leaved willow Salix schwerinii, purple willow Salix purpurea, water iris, mountain currant, tufted hairgrass Bronzeschleie, feather reed grass Overdam, Siberian iris Snow Queen, Siberian iris Blue King, purple loosestrife, narrow-leaved fireweed.
Trees: common lime (Tilia europaea Pallida), silver birch (Betula pendula), white willow (Salix Alba), goat willow (Salix caprea), bird cherry (Prunus padus), grey alder (Alnus incana), common alder (Alnus glutinosa), Scots pine (Pines sylvestris).
Find more projects by Brusnika: moskva.brusnika.ru