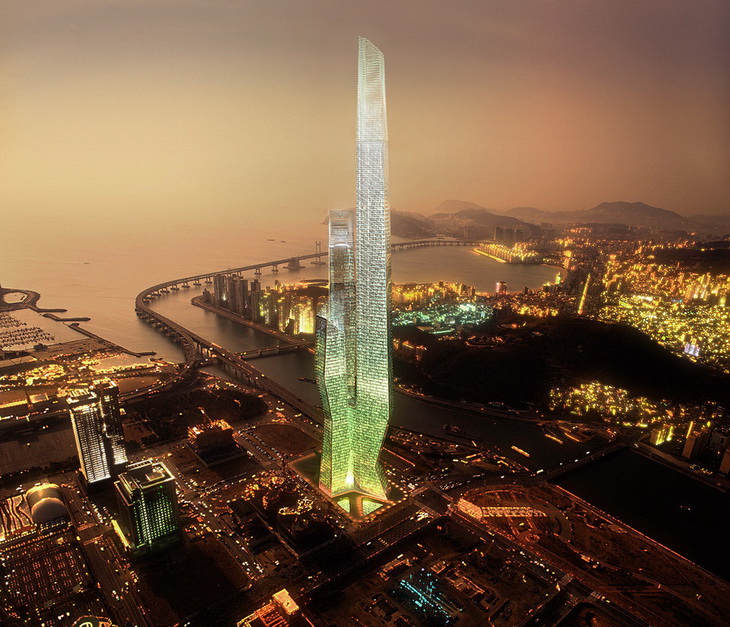 Asymptote's competition winning design for the new World Business Center Busan (WBCB) proposes a 560m tall tower that would place the project as among the tallest towers in Asia.
From the Architects:
The innovative approach to the design of the WBCB tower challenges conventional models of such buildings confronting notions of monumentality, singularity and the banality of rectilinear prismatic approaches.

The Asymptote proposal is comprised of three separate, tapered towers rising out of a base building from the 50th floor and bundled for structural strength. At the top of the base building a public sky lobby provides spectacular views of the surrounding city and expansive vistas to the mountains and sea beyond. It is from this dramatic vantage point that the three slender towers rise even higher, gracefully tapering upwards framing a spectacular central void space and sky gardens.

Initially the design was instigated as a calligraphic gesture in sketch form where the strokes of brush formed the first inklings of the resulting architecture that emerged as a strong abstract figure with a cultural nuance and pertinence set within the city fabric. The composition was inspired by the beauty and grandeur of the BUsan skyline, as this coastal city confronts on one side a backdrop of mountains and nature while on the other side the open and expansive sea.
Project: Millennium Tower Business Center (WBCB)
Designed by Asymptote Architecture
Design Principals: Hani Rashid, Lise Anne Couture
Project Director: Theo Lalis Sarantoglou, Keeyhun Ahn
Design Team: Keeyhun Ahn, Theo Lalis Sarantoglou, Klaus Ransmayr Angie Co, Andrew Bryant, Kasper Ax, Elise Delestre, Alessandro Gess, Martin Henn
Client: Solomon Group ​​
Local Architects: Gansam and Junglim Architects Seoul
MEP and Structural engineer: Arup New York Façade
Consultant: Front, Inc. New York
Vertical Transportation: Lerch, Bates and Associates Inc.​
Size: 289,000 sqm
Location: Busan, South Korea
Website: www.asymptote.net