LMCA Design has officially unveiled the awe-inspiring Deji Plaza Xuzhou, a groundbreaking mixed-use development located at the heart of Xuzhou's Central Business District in China. This ambitious project, winner of the 2023 Architizer A+Awards Popular Choice in the Landscape & Planning, Unbuilt Masterplan category, promises to be a game-changer for urban living and sets a new standard for architectural excellence.
The story behind Deji Plaza Xuzhou is one of innovation, vision, and rebirth. Initially stalled after its original developer's departure, the project found new life when LMCA Design was commissioned by the property's new owner to take the reins and realize its full potential. The site boasted twin 60-story luxury residential towers, with foundations already in place, along with an 11-story retail podium. While structural restrictions necessitated keeping the tower foundations unchanged, LMCA Design had the freedom to reimagine everything above the 11th floor.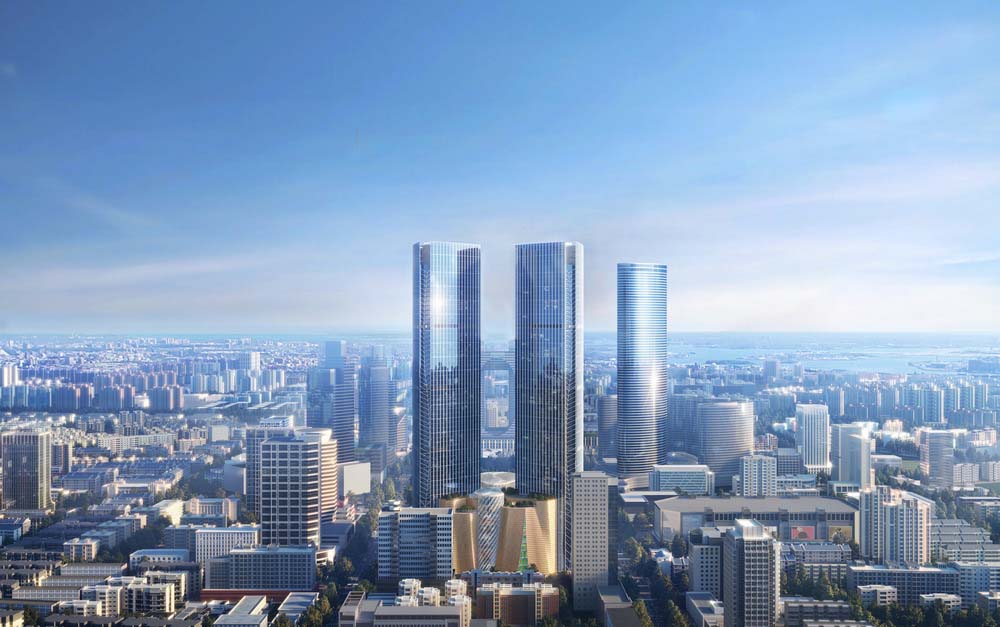 The project is a testament to the firm's commitment to sustainable development and environmental harmony. Embracing the Banyan tree as an ideological guide, LMCA Design drew inspiration from the tree's organic forms and intricate root system. This vision led to a design that blends seamlessly with nature while bringing new art and culture to the forefront of urban life.
The 3,780,350 sq. ft. Deji Plaza Xuzhou complex features an exquisitely landscaped public plaza at its core, setting the stage for a magnificent urban green space masterplan created in collaboration with Ohtori Consultants Environmental Design Institute. Botanical gardens, water features, art installations, and an amphitheater complement the inviting environment, offering residents and visitors a sanctuary within the bustling city.
A cornerstone of the project's sustainability efforts lies in the usage of green building principles, earning it a 2 out of 3-star rating in the China Green Star rating system. The podium boasts a striking façade with alternating frosted and clear glass diagonal slats, mirroring the roots of the revered Banyan tree. Italian travertine panels grace the exterior, symbolizing the earth's strata around the tree's roots. The podium's 17,439 individual panels, embedded with ventilation louvers, not only create a stunning visual effect but also ensure effective airflow, minimizing the project's environmental footprint.
Moreover, LMCA Design demonstrated its commitment to responsible design by repositioning and repurposing existing slabs and structures to save natural resources and reduce embodied carbon from the previous construction.
The retail podium is a haven of art and culture, boasting designer boutiques, an art gallery, IMAX cinemas, and exhibition spaces. Embracing the owner's role as one of China's most extensive private art collectors, the project will integrate pieces from their collection throughout the space, creating a unique and immersive experience for visitors.
The residential towers, originally planned as one residential and one office tower, were redesigned to feature two luxury residential towers housing 1,326 units. Residents will have access to the podium complex through a private residential lobby on the ground floor. In a creative nod to nature, vine-like sunscreens wind their way up the tower spines, providing shade to operable windows and optimizing natural ventilation.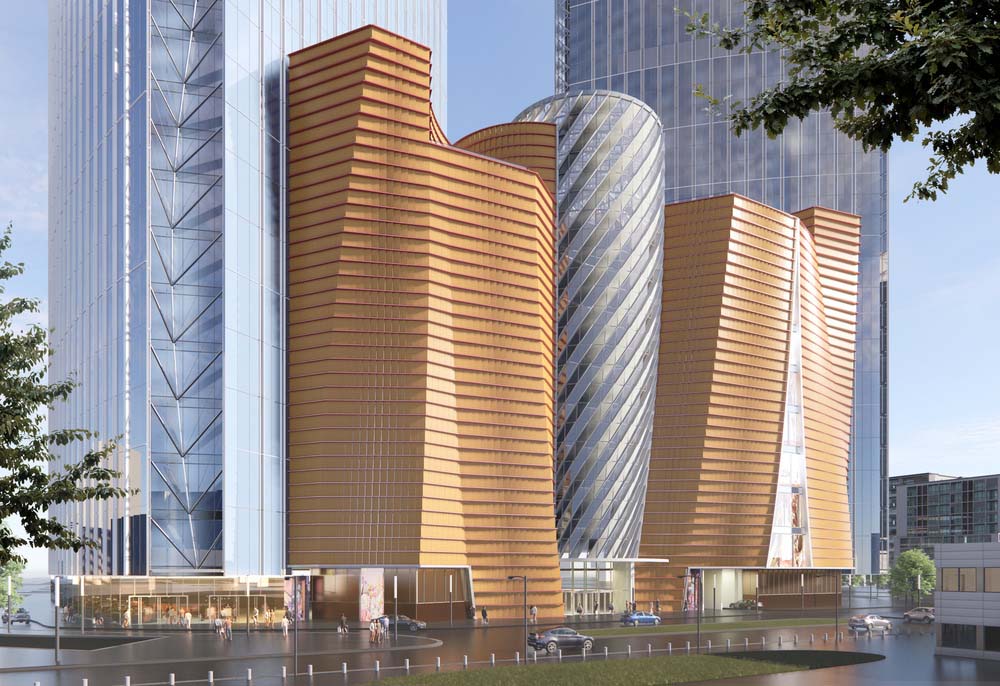 Facing the bustling urban landscape to the south, LMCA Design introduced new setbacks and an undulating façade that breaks the massive street wall, enhancing the southern-facing retail area. The firm also added a second atrium, flooding the retail space with natural light and transforming it into a grand entrance worthy of the project's landmark status.
As the exterior facade and internal core of Deji Plaza Xuzhou are set for completion in early 2025, the city eagerly awaits the transformation of its urban landscape. This groundbreaking project embodies the perfect fusion of nature and architectural brilliance, showcasing the incredible possibilities when sustainable design meets visionary creativity. Deji Plaza Xuzhou promises to redefine urban living and elevate Xuzhou's status on the global architectural stage.
Project information
Project name: Deji Plaza Xuzhou
Height: 259 m / 850 ft
Size: 351,206 m2 / 3,780,350 ft2
Client: Deji Plaza (Xuzhou) Co., Ltd.
Architect (Lead Design Architect): LMCA Design – (Li Min Ching Architecture & Design)
Current – Local Architect of Record / MEP & Structural Engineer: Nanjing Changjiang Urban Architectural Design Co., Ltd.
Prior – Local Architect of Record / MEP & Structural Engineer: Nanjing Architectural Design & Research Institute Co., LTD.
MEP Consultant: Technova
Façade Consultant: CCAT
Interior / Exterior Lighting Design: UNOLAI Design & Associates, Shanghai Branch
Landscape Design: Ohtori Consultants Environmental Design Institute
Transportation Consultant: AECOM Design and Consulting (Shenzhen) Co., Ltd.
Find more projects by LMCA Design: www.lmarchdesign.com