After months of meticulous work, Klánovická Villa in Prague has undergone a remarkable transformation, turning its interior into a comfortable and functional living space. The project, led by the renowned KURZ architects, has brought about a harmonious blend of natural materials, earthy tones, unique furniture, and custom-made accessories.
The project, initiated in 2019 and completed in 2022, saw the collaboration of architects Jan Kurz and Zuzana Kurz, who aimed to create a space that not only met the client's desire for coziness but also addressed the real needs of the household's residents.
The heart of the ground floor is a bespoke piece of furniture, a generous and unified creation crafted from oak veneer sourced from a single tree selected at a public auction. This central piece serves multiple functions, seamlessly integrating storage space, a kitchen unit, a living room wall, a library, and a collection of F1 models. The furniture was complemented by additional pieces, including a dining table and chests of drawers, all crafted by the skilled hands of court carpenter Roman Schuster.
A key element in the transformation is the custom-designed wooden floor with a geometrically symmetrical composition of square-shaped cassettes. This subtle yet intentional design choice prevents the visual elongation or expansion of the space, creating a visually cohesive and engaging atmosphere.
Architect Jan Kurz emphasizes the importance of quiet but essential details, such as the homogenous pattern of oak veneer applied to all bespoke furniture, which contributes to the overall sense of comfort and aesthetics. Similarly, considerations for the structure and color of floors and walls, along with their symbiosis with elements like switches and handles, play a crucial role in enhancing the overall ambiance.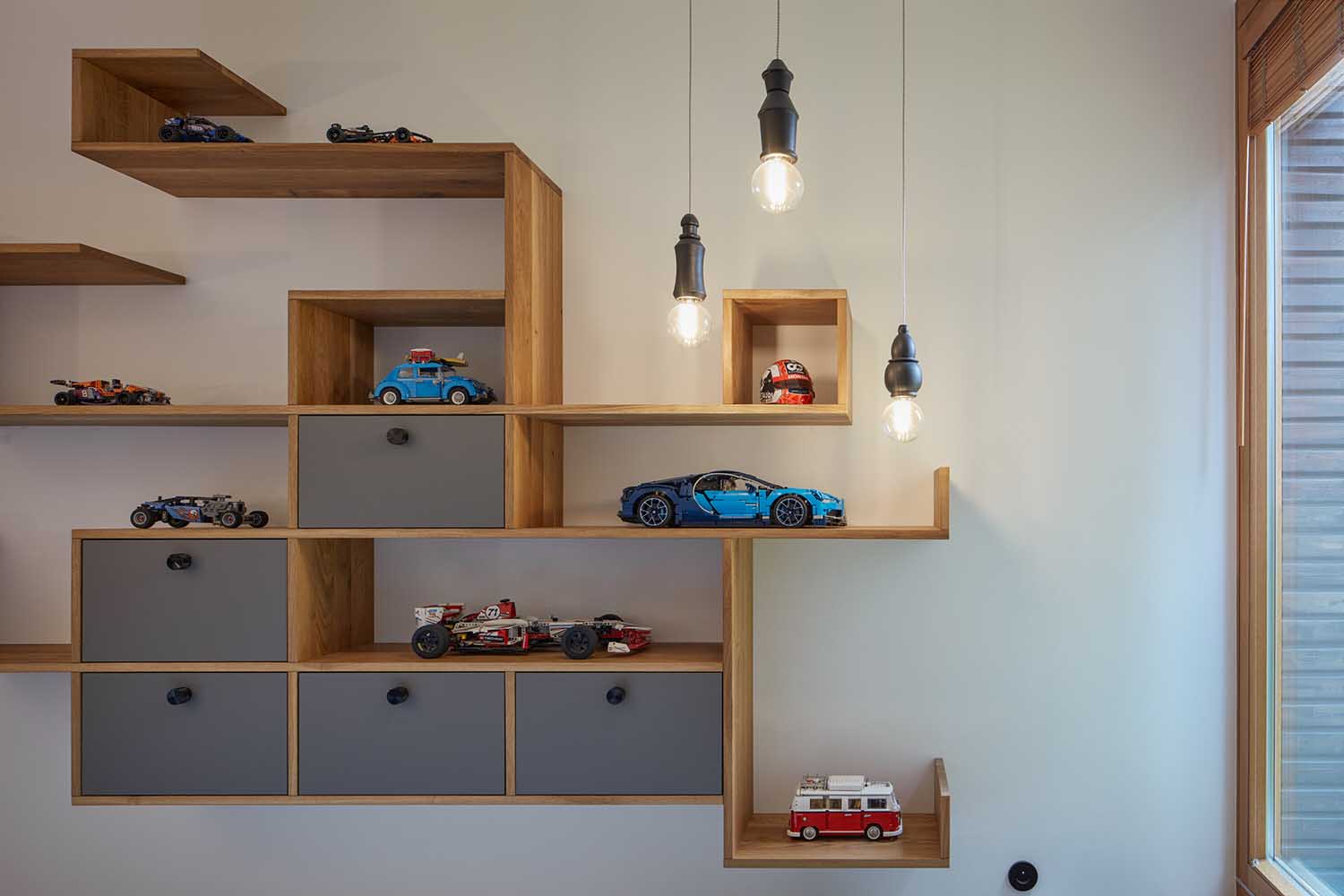 The new layout of the villa caters to different levels of intimacy for its owners. The ground floor is designed to be open and inviting, encouraging family time and social interactions. Meanwhile, the second floor, despite layout adjustments, maintains individual rooms, all rich in storage space, contributing to a calm and orderly appearance.
Notably, a green roof, designed in collaboration with Zahradní architektura Kurz, enhances the house's thermoregulation efficiency. This aspect, combined with the expertise of the general contractor, 4interior&tiles, highlights the success of close cooperation with individual suppliers.
The Klánovická Villa project stands as a testament to the transformative power of thoughtful design, meticulous attention to detail, and collaborative efforts, resulting in a living space that seamlessly combines comfort, functionality, and aesthetic appeal.
Project information
Studio: KURZ architects – www.kurz.archi
Author: Jan Kurz, Zuzana Kurz
Contact E-mail info@kurz.archi
Studio address: Smetanovo nábř. 334/4, 110 00 Prague, Czech Republic
Project location: Prague – Klánovice
Project country: Czech Republic
Project year: 2019
Completion year: 2022
Built-up area: 273 m²
Gross floor area: 456 m²
Usable floor area: 372 m²
Plot size: 1300 m²
Photographer: BoysPlayNice – www.boysplaynice.com
General contractor: 4interior&tiles
Green roof: Zahradní architektura KURZ