In the lush environment of the Chaobai River wetlands, a unique architectural feat has been accomplished with the creation of the "House Under The Boat" by Chaoffice. This innovative project fuses the traditional elements of monastic architecture with modern needs and ecological considerations, crafting a secluded oasis for both dwelling and learning.
Designed for a client who is a professor and an avid collector of over 20,000 volumes of books, the project was both a challenge and an opportunity to create a serene living space that embraced nature and provided ample room for study.
Unique Design Features
The new house had to meet the challenge of storing a massive collection of books without overshadowing the lush surroundings. Chaoffice accomplished this by dismantling a section of the existing building, and placing a large volume at the site's center. From an inner perspective, this volume generated a vast cavity.
The problem of the expansive scale was cleverly addressed by inverting the roof in a double-height space measuring 7m x 14m. Resembling the hull of a ship, the descending roof and towering 6-meter high bookshelves form a flowing and diffusing entity, mirroring the idea of dry land becoming a river or pond.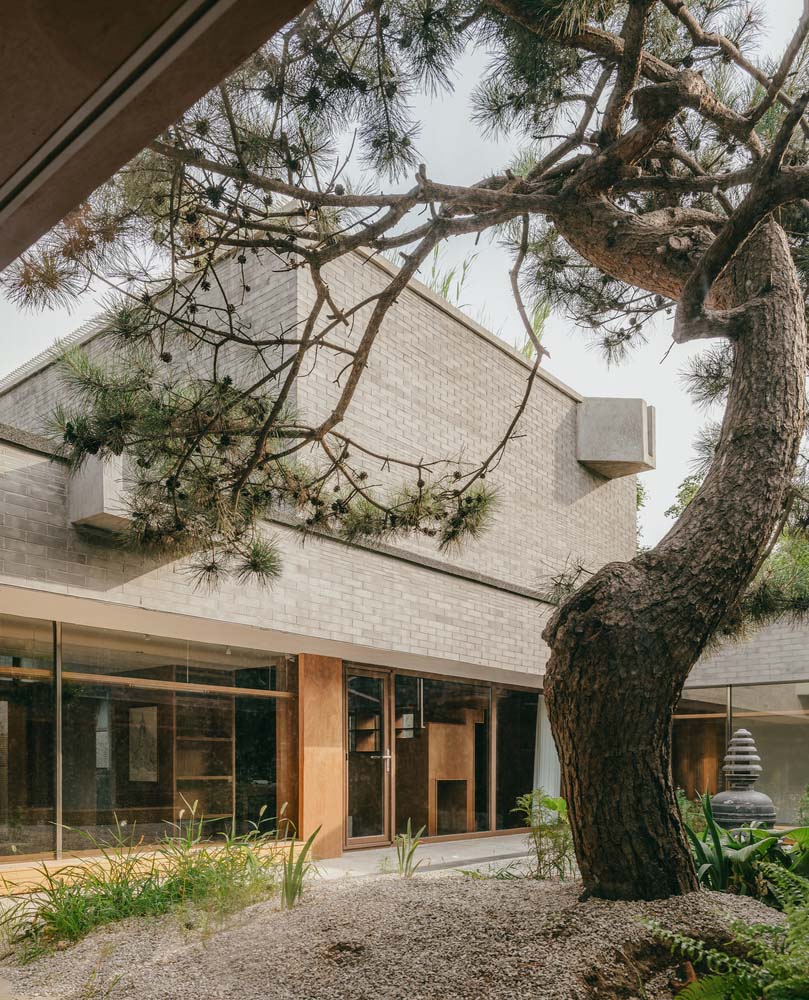 Connectivity with Nature
With an abundant array of trees and plants at the northern end of the site, great care was taken to preserve this natural element. A series of smaller courtyards were formed by inserting volumes between buildings and the outer wall, creating an intricate interplay of indoor and outdoor spaces.
The entire northern side was sunken by 1 meter, maintaining the height of existing trees but resulting in a 750mm elevation difference between indoor and outdoor areas. In summer, this elevation forms an oversized floral arrangement, integrating the surroundings with the architectural design.
High Value for Privacy
In a location where privacy is of utmost importance, the unique roof design still offers an accessible space connected to nature without impacting the visual integrity of the neighborhood.
Project information
Architects: Chaoffice @chaoffice
Area: 480 m²
Year: 2023
Photographs: Yumeng ZHU, Zhi Cheng
Lead Architects: Zhi CHENG
Design Team: Di WU / Juhao PAN
Engineering: Xuemei GAO
Consultants: Yuebo MIN
Collaborators: Cheng LUO
Construction: Beijing Xincheng Construction Engineering Co.
City: Distrito de Chaoyang
Country: China