Prior Barraclough has recently completed its latest project in Northcote, Australia. The Union Street House is a single-fronted, fully attached workers' home in Northcote that has been extended at the back. It was created for a retired couple who wished to downsize and relocate near the city. The addition has a study on the mezzanine of the first floor and a kitchen, dining, and living area on the ground floor.
An articulated surface that gathers and conceals all auxiliary functions and envelops a roomy interior defines the extension's architecture. The surface shrink wraps a stairway, entertainment unit, kitchen, and wet spaces utilizing a straightforward and exact sequence of folds. It was designed as a responsive media. By doing this, it serves as a circulatory and generative element in addition to an infrastructural armature, controlling internal movement, setting interior zones, and framing views of the sky and backyard.
The surface balances internal stresses with functional needs, and it also reacts to its surroundings by tilting down toward the backyard to collect rainfall in an underground tank and make room for a substantial number of solar tiles. Internally, the plan's organizational structure and the inclined ceiling work together to provide an open volume some spatial definition. The dining, kitchen, and study are gradually more lively as the plan narrows and the ceiling approaches its dramatic high point. The low area of the ceiling corresponds with the widest part of the plan to create an intimate and muted living space.
In order to create a sense of mystery and surprise as the surface is unfurled to expose its underlying functions, a rigid and constant grid of expressed joints is used to articulate the surface's unique materiality, which is lined with Australian hardwood. Secondary spaces are lined with materials that give a strong contrast to the texture and detail of the timber, such as stainless steel in the kitchen and glazed mosaic tiles in damp areas, to underline the programmatic shift.
This project's architecture was thoughtfully designed to combine a variety of contradictory factors into a single, cohesive form. The end result is both utilitarian and gestural, offering a high level of comfort as well as intriguing spatial drama.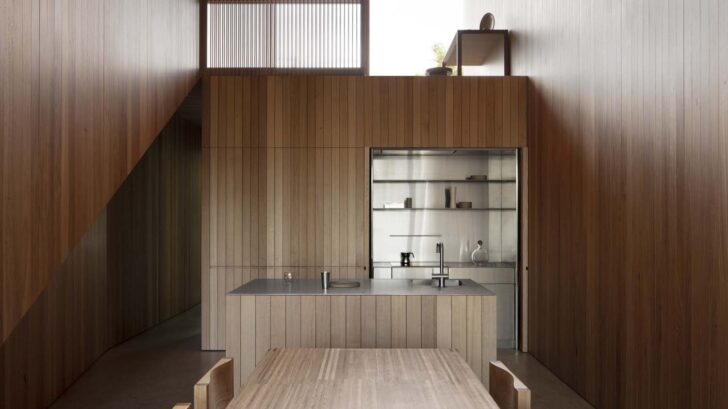 Project information
Architects: Prior Barraclough – priorbarraclough.com
Area: 110 m²
Year: 2022
Photographs: Ben Hosking
Lead Architect: Michael Barraclough
Builder: Camson Homes, Ben Monagle
Structural Engineers: Adams Engineering
City: Northcote
Country: Australia